LYNX PROFESSIONAL
13 built-in grills. Up to 98,000 BTU of output and 1,555 sq. in. of cooking area.
Precise power from one to three Trident™ Infrared Burner and three Cast Ceramic Burners combining to provide up to 98,000 BTU (varies by model)
Reliable speed—Hot Surface Ignition system lights burners quickly and safely
Stable design—Lynx Hood Assist absorbs 95% of the front hood weight
Slow-cooking excellence—a dual-position rotisserie internally powered by a heavy-duty three-speed motor
Brilliant innovation—electro-mechanical valves automatically maintain the preset surface temperature
Quick visibility—temperature gauge
Easy opening—Lynx Hood Assist
Indulgent extra—premium smoker box included
Generous capacity—up to 1,555 square inches of cooking surface (varies by model)
Beautiful illumination—backlit blue control knobs and halogen grill surface light
Premier platform—stainless steel grilling grates (with a limited lifetime warranty)
Steady performance—heat-stabilizing design
Smooth opening—fluid rotation handle
Premier platform—stainless steel grilling grates
Steadfast durability—heavy-duty welded construction eliminates gaps where grease can collect
Elegant protection—carbon fiber vinyl cover included
Available in natural gas or liquid propane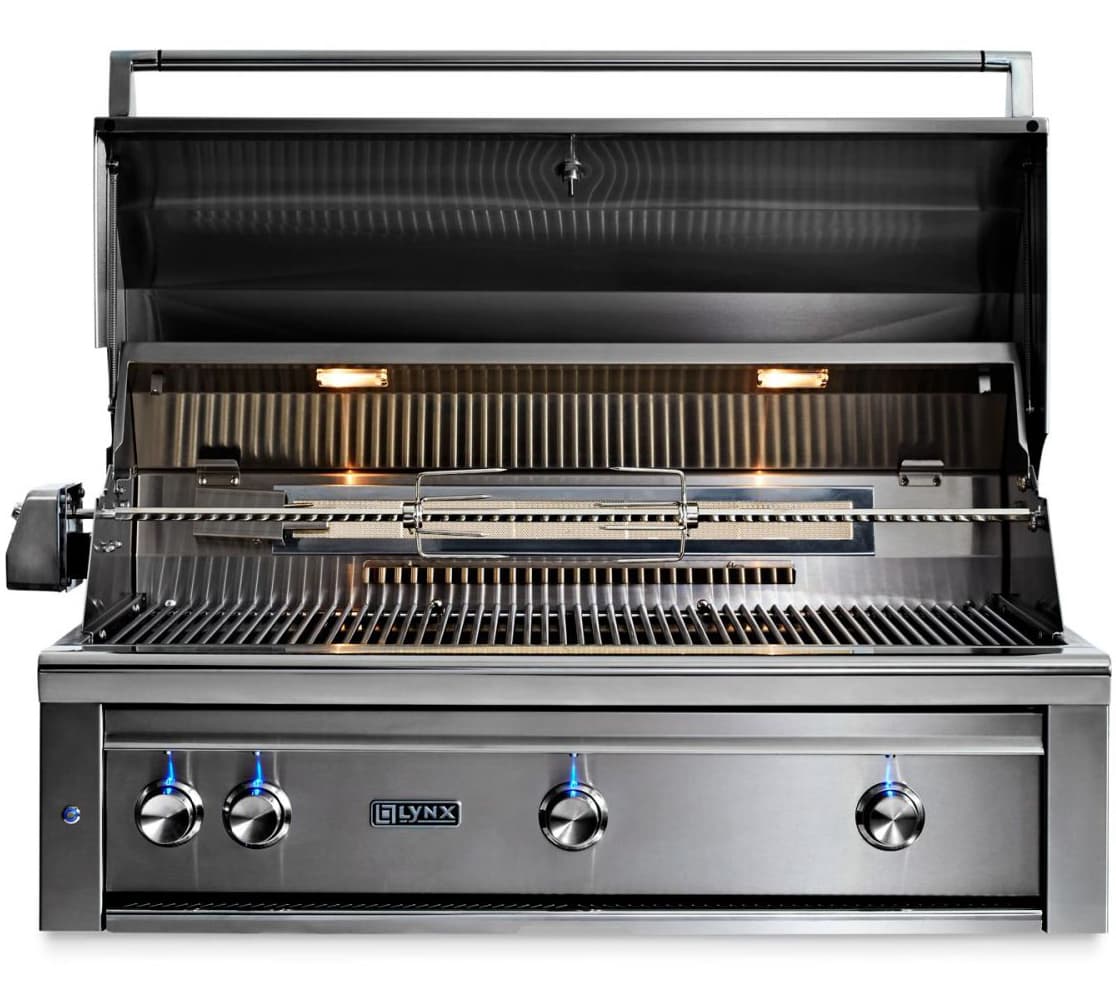 TRIDENT™ INFRARED BURNER
When you have refined taste, you recognize perfect control. You relish performance that you can restrain—and call upon at your own will. Traditional grill burners are hard to control, because they cook by heating the air around your food. That takes time to change.
A Lynx Trident™ Infrared Burner directly heats the grate beneath your food with 23,000 BTUs of intensive heat. With temperature control that's instantaneous, ranging from 300 - 1000˚, it's the method employed by the world's leading chefs, and now it's in your grill. This kind of control can cook a perfect salad—putting a delicious char on romaine lettuce without wilting a leaf. Now, just imagine what it does for tenderloin or tilapia.
CERAMIC RADIANT BRIQUETTES
Perfect outdoor cooking begins with even heat. Charcoal briquettes can form a steady glow of heat beneath your food—but traditional gas grill burners can create irregular hot spots, forcing you to continually flip and move your food to achieve an even finish.
With Lynx Ceramic Briquettes, your gas grill emanates a perfectly even heat across the base of your grill. For your convenience, in five minutes, you can cleanse the briquettes by reversing the tray and raising the heat.
SEAMLESS WELDED CONSTRUCTION
A Lynx welder pauses to focus on an unwelded seam… then, with one swift and steady stroke, he sweeps his torch across the seam—like painting a perfect line—and an unbroken edge emerges.
Lynx does not use mechanical fasteners. They form every sheet of metal into a solitary, seamless body of shimmering steel, free of gaps and seams where moisture could collect.
Hand-tooled, precision welded, and highly polished by the skilled specialists in their shop, each and every grill is inspected before it leaves our floor. Lynx examine details on every side, step back, and check reflections in every light, to ensure that your grill embodies Lynx—finished with invisible welds and hand-polished edges that shine like mirrors.
HEAT STABILIZING DESIGN
Nature's tempests can arise in even in the most scenic places. Mountain resorts, beachside villas, and even inland estates are sometimes subject to great and turbulent gusts of wind.
Lynx has found that these gusts can affect typical grills, entering through the vents. They create swirls of temperature change beneath the grill's hood, and subject tender cuisine to uneven cooking. Lynx research led them to develop an exclusive wind-deflecting fin along the back of their hoods. It's how we ensure that people in spectacular places can always create spectacular food.
HOT SURFACE IGNITION
It begins with a perfect start. Lynx Hot Surface Ignition lights your grill with the push of a knob. It is weather-tested electronic ignition that simply works, every time, vaporizing the uncertainty and inconvenience of lighting traditional gas grills.
EXPANSIVE GRILLING SURFACE
Lynx's expansive grilling surfaces provide greater depth, extending to more than 20 inches deep on most models. You might not need it all. It just feels good to have it.
ROTISSERIE SYSTEM
A rotisserie unlocks a new realm of food. There is no better way to carefully and evenly cook generous meats like whole chickens and roasts, or baskets of vegetables, chicken wings, and sides.
The Lynx Rotisserie has a dedicated burner, selectable positions, and selectable speeds to ensure you have a full range of options. With the optional Lynx Rotisserie Basket, you can carefully cook smaller dishes and sides while preparing a main—you can even roast your own coffee beans.
SMOKER BOX
When a meal has been cooked with seasoned wood smoke, it has a flavor that's like nothing else. It's something that must be experienced—a nuance of hickory, mesquite, pecan. That's why Lynx provides an easy to use stainless steel smoker box. You don't always need to use it, but it's nice to have the choice.
CERAMIC BURNER
Traditional grill burners are inconsistent, because their metal changes as they cook. They suffer when extreme heat expands and contracts the metal, loosening bonds over time. Performance weakens as food residue clogs ports, or corrosive outdoor weather degrades the material.
The Lynx ceramic burner is made from cordierite ceramic, a material chosen for kilns and commercial ovens because of the temperatures that it endures. Lynx tested these burners relentlessly, igniting them thousands of times, even when encrusted with sauce or encased with ice.
LYNX HOOD ASSIST
Solid stainless steel gives Lynx grills a sense of substance. They feel firm at every touch, with a sound and an aura of permanence. But you can lift the hoods with just a finger—each one is centrally balanced, and has a heat-treated assist system that makes it surprisingly weightless to open and close.
You'll probably do it twice—just to feel it again.
INTEGRATED ILLUMINATION
Every Lynx grill incorporates elegant blue illumination emanating from each knob with a calm blue light. As you lift the lid, intuitive halogen illumination shows you exactly how your food is looking.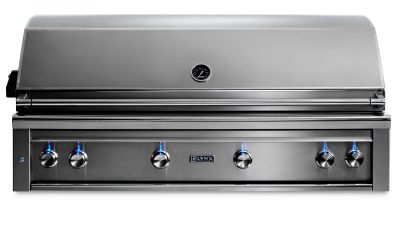 54" (L54TR)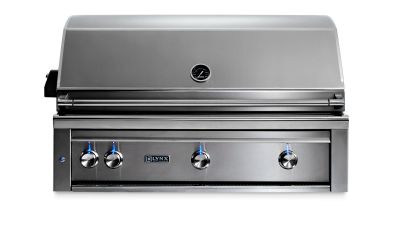 42" (L42ATR)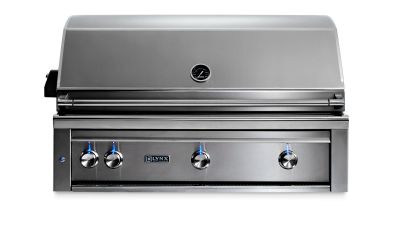 42" (L42TR)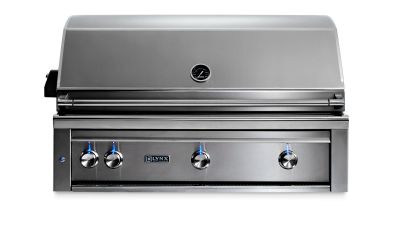 42" (L42R-3)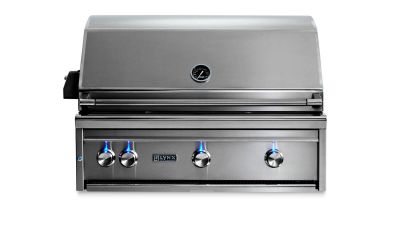 36" (LF36ATR)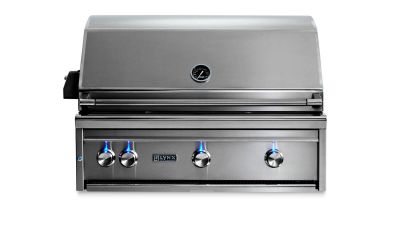 36" (L36ATR)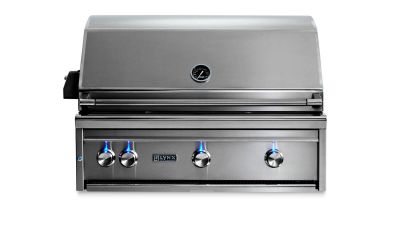 36" (L36TR)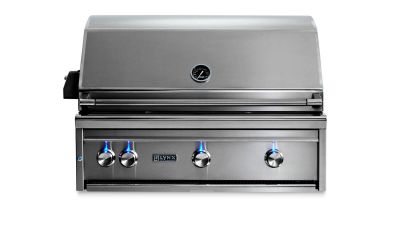 36" (L36R-3)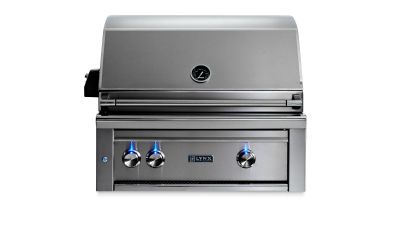 30" (L30ATR)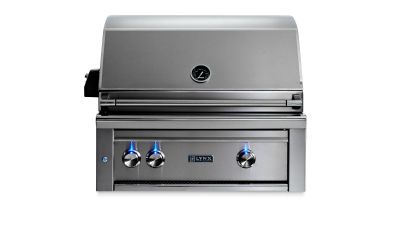 30" (L30TR)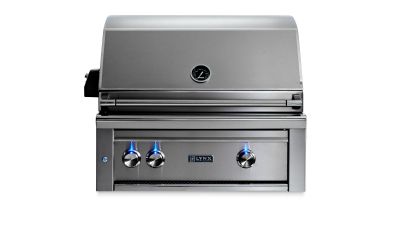 30" (L30R-3)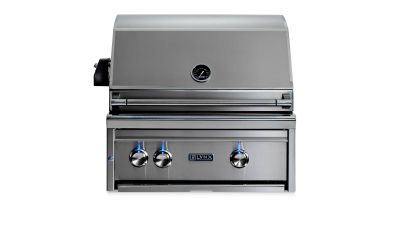 27" (L27TR)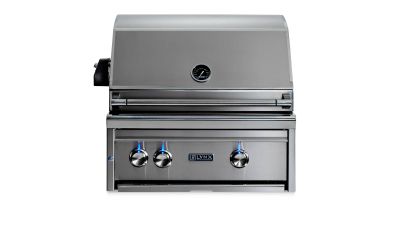 27" (L27R-3)
COMPLIMENTARY DESIGN CONSULTATION
Let's discuss your outdoor kitchen project.