There are plenty of home improvement projects that are suited to a DIY approach, but many projects are best left to the professionals.
Complex jobs like replacing electrical wiring, plumbing fixes, roofing upgrades, or a room remodel are no place for anyone who can't tell the difference between a wrench and some pliers.
Installing landscape lighting and audio is another type of home upgrade project that is smarter to leave for a pro instead of attempting to do yourself.

A landscape lighting and audio project needs a pro's touch
If you're planning to improve an existing outdoor cooking area or add an outdoor kitchen, making landscape lighting and audio upgrades to the areas surrounding this space is important.
These two additions will enhance your outdoor living space with extra functionality and boost your backyard curb appeal.
You'll want to ensure the project gets done properly, on time, and with products that will last. Most of us don't have the time or patience to contend with the headaches a project of this nature can present to an inexperienced DIYer.
Therefore, the wise choice is to hire a professional for the job. Here are five reasons to hire an expert for your landscape lighting and audio installation.
1. They'll use high-quality landscape lighting and audio products
There are many outdoor audio and lighting products of a higher quality on the market that are only available to professionals and not the general public. These high-end components are vastly superior to the products available in your local home improvement store.
For example, Coastal Source products are designed to withstand temperature changes, moisture, and basically any type of weather conditions. In our challenging Canadian weather, that kind of durability ensures greater reliability and less maintenance for your lighting and audio products.
Cheaper models of outdoor speakers produce lacklustre sound and limited functionality. Premium audio products with high-performance sound and modern features that conveniently allow you to control the audio system with a mobile device will make your outdoor living experience that much more enjoyable.
High-quality LED outdoor lighting products also typically come with a better warranty and are more energy-efficient than cheaper lighting products.
2. Design and installation experience matter
Experienced lighting and audio professionals have a deep understanding of the art and science of installing these features on your property.
They know what works, what doesn't work, and how to achieve the look you want for your outdoor kitchen and entertaining space.
The installation process will be completed seamlessly and with care, so as not to disturb your home's existing style and outdoor décor.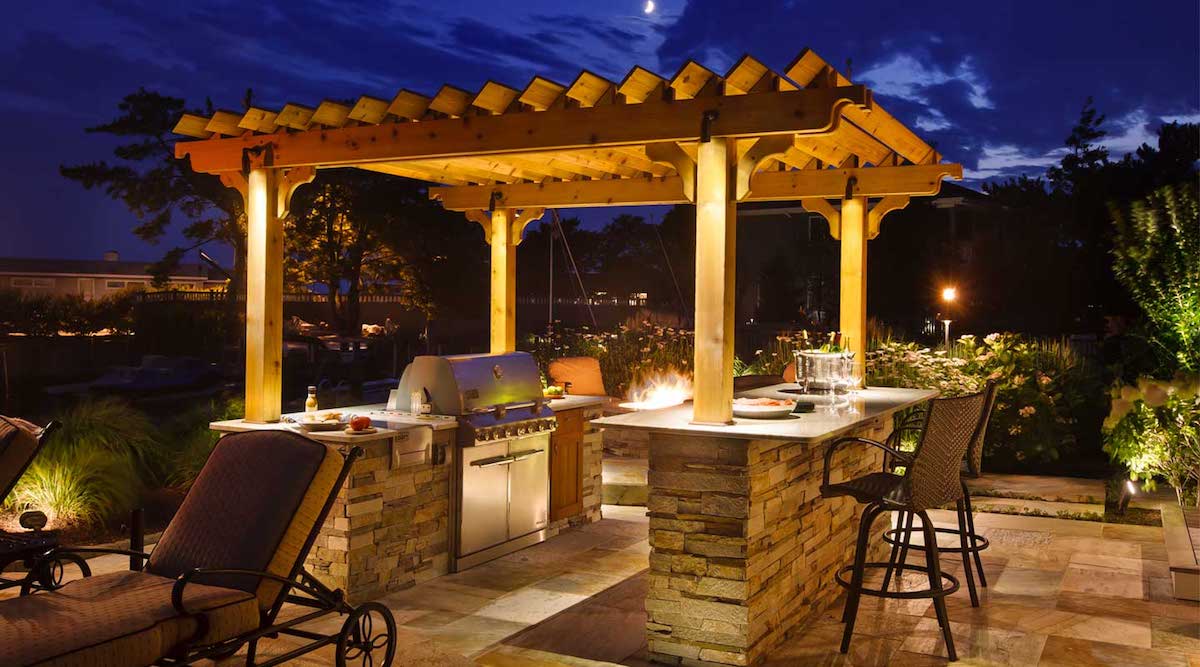 3. The results will be more satisfying
Choosing a pro to handle a landscape lighting and audio installation gives a home a higher-end, more professional look that's more satisfying than if you attempted the job yourself.
You'll see results that you never imagined, such as how the architectural accents of your home are now more noticeable at night.
Both the audio and lighting systems will be inconspicuous and blend effortlessly into the surroundings of your outdoor living space.
Setting up an outdoor audio system isn't as simple as placing many speakers simply anywhere. A pro will know the perfect locations to place the speakers and properly balance them for an optimal listening experience.
4. You'll save money in the long run
Even though you might not think hiring a professional will save you money, it will in the long run.
When you buy landscape lighting and audio products online or from a big-box store, the quality of the products is typically inferior to what a professional would use.
Chances are, you will have to replace low-quality lighting and audio fixtures more often than fixtures and components of a higher quality.
DIY installation mistakes due to inexperience can also necessitate getting a pro out to your house to fix a poorly executed outdoor lighting and audio project.
An expert can help you avoid those costly mistakes.

5. Add to your home's value
Professionally installed audio and lighting will significantly add to the outdoor aesthetics of your house at night, which can increase the value of your home.
When your home is properly lit and complemented by an outdoor sound system that has been professionally installed and optimized for your outdoor living space, you will boost your home's backyard curb appeal.
Please share this post if you found it useful.