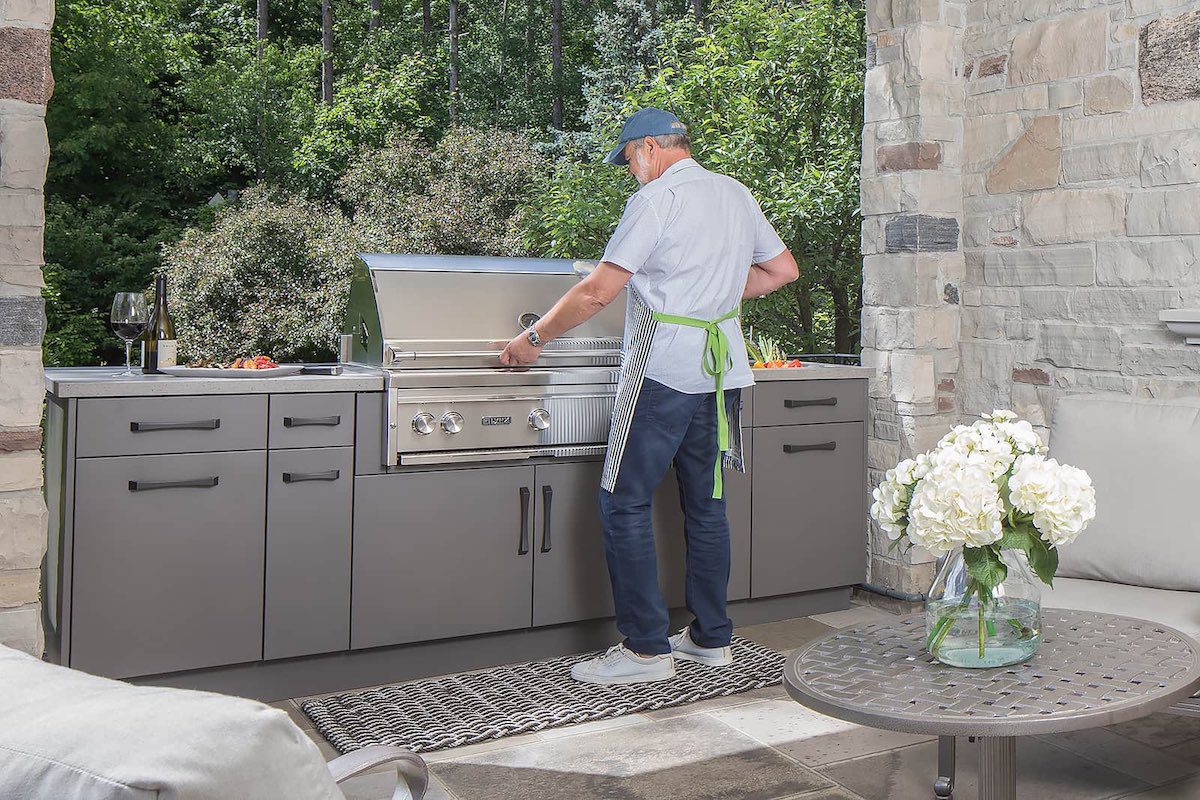 One of the first questions anyone interested in getting an outdoor kitchen will have is simple: is an outdoor kitchen worth it?
Outdoor kitchens are very popular right now and not just due to the pandemic. Increased interest in outdoor living spaces predates our recently turbulent times.
Once viewed as a lavish feature that was typically found in luxury homes, outdoor kitchens now have much more mainstream appeal. More homes are being renovated to add outdoor cooking and living spaces. Architects and interior designers are making them a higher priority for their new building projects as well.
Get all the facts about why an outdoor kitchen is worth investing in.
6 reasons an outdoor kitchen is worth it
Outdoor kitchen additions are one of the most popular home renovations right now for many reasons. Here's a brief overview of the reasons why an outdoor kitchen is worth it:
Outdoor kitchens expand a home's living space. An outdoor kitchen is its own entire room. This adds to a home's livable square footage and improves its functionality.
Homes with upgraded backyards are more family-friendly. In non-pandemic times, it can be difficult getting everyone together at home for some quality family time. Having a nice outdoor living space the whole family enjoys using makes it easier to gather with

everyone more frequently.

Better home comfort helps with self-care. The importance of making our homes as comfortable as possible to nurture our mental well-being is front of mind these days. A multi-purpose backyard living area

improves a family's living quality by providing an ideal space to relax and recharge.

Outdoor kitchens are tailor-made for entertaining. If you enjoy regularly hosting get-togethers, adding or upgrading an outdoor living space is one of the smartest lifestyle investments a homeowner can make. What could be better than having a beautiful backyard space that is specifically designed for maximum fun and enjoyment with your friends and family?
An outdoor kitchen boosts curb appeal. Curb appeal isn't limited to merely the front and side of a home's exterior – it includes the backyard, too. A well-designed outdoor kitchen adds decorative appeal and complements the exterior features of a house.
Outdoor kitchens add value to homes. For all of the reasons listed above, an outdoor kitchen adds undeniable value to a home. Outdoor kitchen additions have a solid return on investment that you'll benefit from whenever you decide to move.
Let's dig a little deeper into why outdoor kitchens are so popular right now, how they improve a living space, why they appeal to homebuyers, and how much you can expect to pay for one.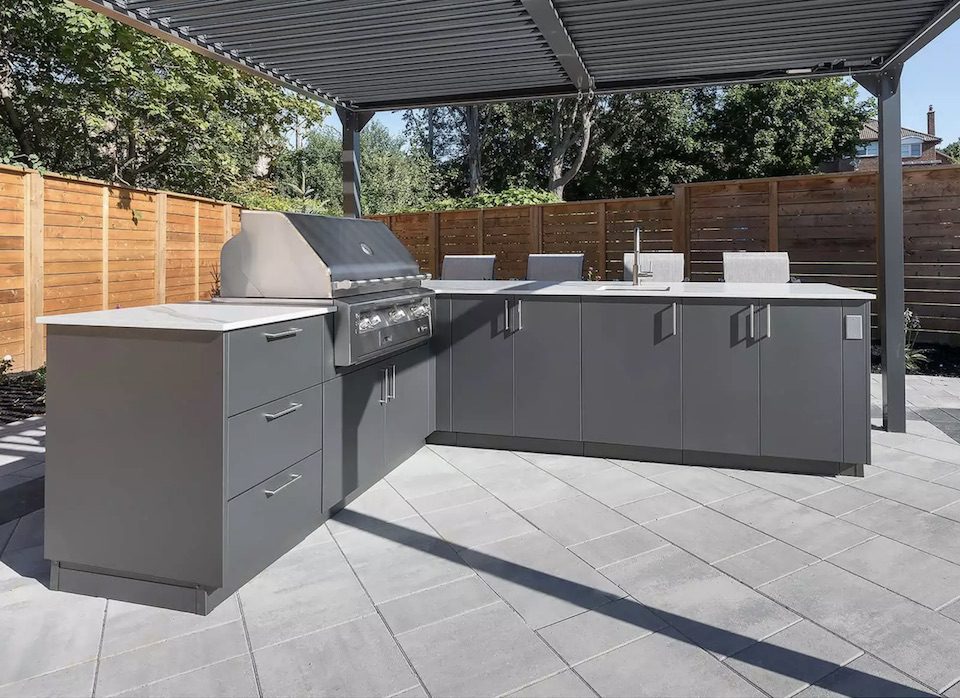 Why are outdoor kitchens so popular?
Consumer interest in outdoor living improvements exploded during the pandemic as homeowners looked for ways to optimize their living spaces.
HomeStars' 2021 Reno Report found that 94% of the Canadian homeowners they surveyed had completed at least one indoor renovation during the pandemic. 66% of the respondents invested in outdoor home renovations. Resort-style backyards with deluxe outdoor kitchens were the most desired "fantasy feature" for Canadian homeowners in both the 2021 and 2022 Reno Reports. 
These additional statistics show the popularity of outdoor living spaces and how much the pandemic influenced home renovation trends:
67% of men and 54% of women said a backyard retreat was their most desirable home feature. (2022 Zolo Homebuyers Survey of 3,300 Canadian new homeowners and potential first-time buyers)
Outdoor improvements were the fourth-most popular project homeowners would undertake if given $10,000. (2021 Research Institute for Cooking & Kitchen Intelligence Quarterly Tracking Study)
Only 32% of surveyed homeowners who renovated during the pandemic were motivated to tackle their projects because of their extra time spent at home. (

HomeStars 2021 Reno Report)

68% of the homeowners who did a pandemic renovation were primarily motivated by the desire to refresh the aesthetic and atmosphere of their living spaces. (

HomeStars 2021 Reno Report)

56% of the home design experts surveyed by Fixr.com believed homeowners put a high priority on making their outdoor living spaces look and feel more like their interior spaces. (Fixr.com 2022 Outdoor Living Trends Report)
A trend with staying power
Backyard upgrade projects may be trendy right now, but they're a trend with staying power.
It took a pandemic for a lot of homeowners to notice the amazing design potential sitting right in their own backyards.
The fundamental shift in how we view and utilize our homes has left very clear writing on the wall: there will always be value and practicality in expanding the functionality and comfort level of our homes. And creating multifunctional outdoor living spaces that are bigger and better is the perfect way to make that happen.
Low-interest rates were another factor that contributed to the home reno boom of the past few years. Rising interest rates and higher material costs have slowed things down a little, but the home renovation market is expected to remain strong for the foreseeable future.  
How outdoor kitchens create a more complete living space
Another reason an outdoor kitchen is worth investing in is the simple fact that outdoor kitchens double a home's cooking space.
Traditional kitchens are considered the heart of most homes and one of their hardest working rooms. Supplementing this vital part of the house with even more room to cook is extremely practical and makes a home a more useful and complete living space.
From a strictly cooking point of view, outdoor kitchens allow you to:
take a break from using your indoor kitchen
eat healthier because grilling is better for you than frying and broiling your food
enjoy the unique, delicious taste of home-cooked flame-grilled food more often
expand your summer menu options by trying new grilling recipes
Outdoor kitchens come in all shapes and sizes
A basic outdoor kitchen can consist of a built-in grill, a small counter area, and a few cabinets for storage. On the higher end, an outdoor kitchen can be designed for maximum functionality by including:
a large premium grill
ample counter space
a sink
lots of cabinets for cutlery, dishes, glassware, and cooking tools
enough appliances to handle anyone's cooking needs
Add a dining area, stylish outdoor furniture, a bar, and an outdoor living room with a fire pit and a home's footprint expands even wider. Covering an outdoor kitchen and living area with a pergola, gazebo, awning, or roof extension maximizes the amount of time you can use the backyard.
It stands to reason that a house that's been designed to be a more complete living space makes a house more marketable when it's being sold.
What is an outdoor kitchen's return on investment?
You might think homeowners would put a higher priority on the short-term and medium-term impact a renovation has on the quality of their family's daily life, rather than how it can financially benefit them years from now.
In fact, most homeowners take the future into account when they're planning a remodel. RE/MAX's 2021 Renovation Investment Report found that 59% of Canadians consider how a renovation's return on investment will impact the market value of their home.
Return on investment (ROI) measures how effectively a renovation adds to a home's value, relative to the renovation's cost. For example, a kitchen remodel that costs $10,000 and adds an estimated $8,000 of value to a home when it's sold would have an 80% ROI.
Finding reliable outdoor kitchen ROI figures online can be confusing because the estimates vary quite widely. At the lowest end, you'll find estimates of 55-60%, which is considered a modest ROI. A lot of real estate professionals attach a 70-100% ROI for an outdoor kitchen addition. You'll even find some estimates that go as high as a 175% ROI.
The truth is somewhere in between these wide-ranging estimates, which means outdoor kitchens undoubtedly boost your home's resale value and make it more attractive to potential buyers.
Determining a renovation's ROI is clearly an inexact science, but the estimates of contractors and real estate pros do provide some useful guidance about which projects deliver a better bang for your buck.
Remember that the value an outdoor kitchen retains will be impacted by the quality of its materials, how well the space is maintained, whether or not the kitchen is covered, and other factors.
Homebuyers notice outdoor living upgrades
Most backyards don't have a professionally designed and installed outdoor kitchen. The homes that do have nicer outdoor living spaces immediately stand out to potential buyers.
In addition to improving a home's overall livability, a backyard with a stylish, high-end look shows you care about your property and impresses guests, neighbours, and future homebuyers.
Certain renovations like adding a home theatre or pool cater to a very specific homebuyer. Most Canadian homeowners enjoy grilling outdoors, which broadens the appeal of an outdoor kitchen.  
Real estate marketplace Zillow analyzed the sales of 4.6 million U.S. homes a few years ago and found that houses with upgraded outdoor features sold for 24.5% more than listings without exterior home upgrades.
How much is an outdoor kitchen?
Hopefully, we've made a good case for why an outdoor kitchen is worth it, which brings us to one of the final questions you probably have: how much do outdoor kitchens cost?
Small outdoor kitchens with a basic level of functionality can start at around $5,000. Large, fully-loaded outdoor kitchens with high-end appliances and premium materials can cost $30,000 and higher.
Many factors will determine the cost of an outdoor kitchen, including:
the size of the kitchen
the complexity and scale of the kitchen's design
the quality of products and materials used
costs for having the kitchen professionally designed and installed
permit costs
utility costs to hook up natural gas, water, and electricity
whether or not it's being covered with a roof
Whatever your budget is for an outdoor kitchen building project, prioritize buying high-quality, durable products with weather-resistant materials that will last and work reliably for many years. Shown below are the most popular outdoor kitchen features.
Discover why an outdoor kitchen is so worth it!
If you're still on the fence about whether or not an outdoor kitchen addition is worth it, try viewing it as an investment, not an expense. You're investing in creating years of great memories with your family and friends and improving your quality of life.
An outdoor kitchen will become an essential part of your home that elevates your outdoor living experience and prove to be a valuable asset whenever you sell your house.
Are you ready to unlock the full potential of your backyard? If so, schedule a free design consultation with Outeriors to get started on your dream kitchen design.
Please share this post if you found it useful.
See also: