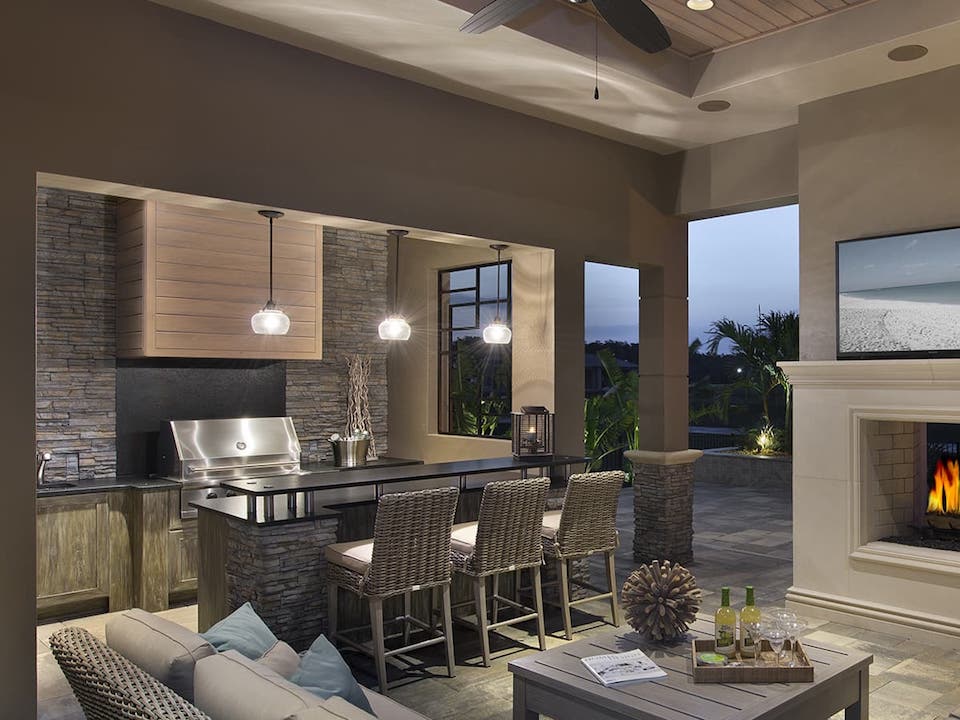 What's better than having one nice living room you enjoy spending time in? Two of them, of course, in the form of an outdoor living room.
When people look to increase the amount of living space their home has, it's usually a house extension or addition that comes to mind.
Anyone who has undertaken a renovation project like this knows how daunting it can be. They're messy, expensive, tend to drag on for longer than expected, and will inconvenience your family.
Instead of knocking down walls to expand your living area, why not make better use of the space you already have?
One very practical way to extend your home's living space is to upgrade the backyard to include an outdoor living room.
There's an outdoor living boom
The livability of our homes has never been as front of mind as it is these days. The pandemic has reminded us that our families and our homes are everything.
Prioritizing the functionality and quality of our living spaces has made the backyard a logical area to focus on when making homes upgrades. The increased interest in backyard improvements actually started well before the pandemic and now the outdoor living boom is in full bloom.
High demand for outdoor living products means there are a wealth of buying options when you're shopping for things like outdoor rugs, outdoor furniture, patio heating sources, and outdoor kitchen products.
Bringing the indoors outside to expand our living spaces led to an 8% surge in outdoor living product spending in 2020, according to a study from The Freedonia Group.
Experts weigh in on the hot outdoor living trends
Fixr.com, an online network that connects consumers with renovation professionals, revealed some interesting statistics in their recent annual Trends for Outdoor Living Spaces Report. A group of industry experts were surveyed about which outdoor living trends they expected to be popular with homeowners:
80% of the experts believe outdoor spaces that have been upgraded would be used for gathering with friends and family.
61% said outdoor kitchens were the most in-demand addition for outdoor living areas.
48% of the surveyed experts expect outdoor spaces to be designed for year-round use.
85% said that homeowners are more interested in outdoor living space upgrades compared to before the pandemic began.
63% of the experts said that homeowners wanted bigger outdoor living areas than before the pandemic.
Benefits of an outdoor living room
A well-designed outdoor living room adds practical exterior functionality to the home. There are innumerable ways to decorate the space, which gives the home's décor an update as well.
Just like indoor living rooms, no two outdoor living rooms will look the same. Each design will be dictated by how the owner plans to use the space, as well as personal style and décor preferences.
Once your backyard lounging room is completed, here are just a few ways it can be used:
for outdoor dinner parties with your friends and neighbours
as a great setting for a kids birthday party
for exercising or meditating
as a spot to watch the sunset while enjoying a nightcap
to work on your tan
as a quiet backyard sanctuary where you can put your feet up and enjoy a good book
as a makeshift work-from-home space
To design the ultimate deck or patio outdoor living room with all the trimmings, here are 10 ideas you can't go wrong with.
1. High-quality outdoor living room furniture
You can't do much "living" in a living room without comfortable, high-quality furniture.
Modern outdoor furniture design has come a long since the days of those wobbly folding patio chairs in gaudy colours and hard Muskoka chairs that you could never quite get comfortable sitting on.
That also means good outdoor furniture isn't cheap, either. If you're going to the expense of having an outdoor living space built, make room in your budget to buy the best quality furniture you can.
Looks, comfort, and function are the main things you concern yourself with when buying indoor furniture. Since exposure to the elements is now a factor, you have to add durability and how much maintenance is required to your list of outdoor furniture considerations.
Choosing materials for outdoor furniture
Wood, wicker, plastic, and metal (commonly wrought iron and aluminum) are the materials used to make most outdoor furniture. Wood furniture is the most high-maintenance, while plastic and metal furniture require the least amount of upkeep. Invest in furniture with resilient, easy to clean fabrics.
Note that furniture made with cheap metal does rust quickly. If possible, buy metal outdoor furniture that has a powder-coated paint finish, which protects against rust.
Consider the weight of the furniture if you expect to change the arrangement of your seating from time to time. You also want it to be heavy enough to stay anchored in windy weather.
A wide array of outdoor furniture types are available to help you decorate your room exactly how you want. Outdoor tables, chairs, sofas, ottomans, umbrellas, loungers, and day beds are a few examples.
To maximize your outdoor storage space, buy furniture that has room for hidden storage where things like cushions and blankets can be stashed.
2. Cover your outdoor living room
There are few things more enjoyable than spending time in a comfy outdoor living room when the weather is perfect. But when that sun gets too hot or the skies open up, an outdoor living space isn't much use unless it has some sort of overhead covering.
If a home's roof is extended to cover the outdoor living area, it's important to keep the sides of the room as open as possible to still make you feel like you're outside. The photo below is a good example of this.
A large awning is an ideal option for anyone who wants some versatility with their outdoor living room. The room can stay uncovered when the weather is nice and then quickly covered up when you need to take refuge from the hot sun or rain.
A pergola is another popular backyard shade protection solution. The overhead slats provide just enough partial coverage from the sun to keep things comfortable. Pergolas can be custom-designed to create a beautiful backyard showpiece. This chic pergola with a lattice roof and gorgeous white drapery really caught our eye.
Locating your outdoor living room inside a pavilion or gazebo are additional ways to keep the space covered. And for a less costly way to stay dry and cooler, there's always the reliable patio umbrella.
3. Add some style underfoot
To accentuate the flooring of an outdoor living room on a deck or patio, add a stylish outdoor rug or two.
Whether it's the flooring materials or the materials used in an outdoor kitchen, most outdoor living space colour schemes lean heavily on earthy neutral colours like brown, grey, and beige. While this looks beautiful and ultra-modern, you may want to add some pops of colour to your outdoor setting. Furniture fabrics, cushions with bold colours, and some colourful rugs are great ways to accomplish this.
To really make your outdoor living room's décor stand out, put in some extra effort to find rugs that coordinate nicely with your outdoor furniture. And if you want to switch up the look of your room in an instant, get reversible outdoor rugs with stylish patterns on both sides.
Many types of outdoor rugs are made with 100% recycled plastic and are stain-resistant and UV-resistant. They're low-maintenance and can be cleaned with a hose. For more stubborn stains, simply use a little laundry detergent.
Outdoor floor tiles are also worth looking at as a backyard floor décor upgrade option. They're super-easy to install and come in a variety of styles that simulate the look of grass, stone, and wood.
4. An outdoor kitchen and dining area
The only thing better than relaxing in an outdoor living room while enjoying the weather and the company of your friends and family is to do it on a full stomach.
An outdoor living room by itself qualifies as an outdoor living space, but pair your backyard lounging area with an outdoor kitchen and dining area and now you've got a truly complete outdoor living space.
Clearly, more homeowners feel this way based on the results from that Fixr survey, as well as other recent surveys from Brown Jordan Outdoor Kitchens and the National Kitchen & Bath Association. Data from those organizations are surprisingly consistent and show that 60-65% of homeowners consider an outdoor kitchen to be an important part of an outdoor living space.
Like the living room, outdoor kitchens are another big part of the trend of adding interior functionality to the outside of our homes.
Outdoor kitchen designs can be so elaborate nowadays that they can even rival the designs of many indoor luxury kitchens!
With a high-performance grill, a range of outdoor appliances, sturdy countertops for dining and food prep, and weatherproof outdoor cabinetry for storage, cooking in the backyard has never been easier or more fun.
5. An outdoor bar
An outdoor kitchen and living room takes your backyard's functionality to the next level, but there's still something missing…like an outdoor bar.
Brown Jordan's 2021 Outdoor Living Report, which was part of that trio of surveys we referenced above, found that 42% of homeowners want their backyard space to include an outdoor bar. During the pandemic, online searches for outdoor bar products skyrocketed.
To set up an outdoor bar that enhances your backyard living space even more, here are some of the essential features to include:
an outdoor fridge
a kegerator/beer dispenser
an ice making machine
an outdoor sink
a complete beverage centre/cocktail station that includes a sink, ice bins, and bottle storage area
comfortable bar stools
6. Bring the home entertainment room outside
Remember when watching TV in the backyard involved using one of those tiny, boxy portable TVs with lousy reception and a grainy picture to catch the afternoon ball game? Thankfully, we've come a long way from those days.
Modern outdoor televisions offer the same high-quality features available on "regular" indoor TVs, such as 4K video resolution, smart technology integration, and streaming capabilities.
You might hear outdoor TVs referred to by a few different names, including:
weatherproof TV
weather-resistant TV
all-season TV
four-season TV
waterproof TV
outdoor-rated TV
They're all essentially the same thing and specifically built to be used outside. High-quality outdoor TVs are constructed with materials and electronic components that are durable enough to handle moisture, dust, temperature fluctuations, and humidity. Part of their weatherproof design includes exteriors that have powder-coated finishes.
Just as with a modern indoor TV, the thin flatscreen design allows for some versatility when you're considering where to locate it. Most people choose to wall mount their TV. Although most outdoor TVs provide a brighter picture to offset the effects of glare and natural outdoor light, you still need to locate it in a good spot that is out of direct sunlight.
If you want to make your outdoor living room even more unique, you could have a pro install the TV so it folds down from the ceiling when you want to use it or raises from the floor at the touch of a button. Talk about a conversation piece!
Audio ideas for an outdoor space
When you're enjoying summer movie night in the comfort of your backyard, you'll want the same movie theatre-quality sound we've become accustomed to in our indoor entertainment rooms.
A good soundbar built for outdoor use can produce rich, dynamic sound that makes the experience of watching a movie or sporting event more immersive. You could also opt for a more traditional audio setup with low-profile speakers or hidden speakers that are incorporated into the outdoor living room design.
Wireless speakers are being used in more homes because of the cleaner look that comes without any wiring. There's also less setup involved with them and they offer convenient smart tech functionality.
7. Make your outdoor living room more private
If you're looking for a little more privacy in your outdoor living room and don't have a few years to wait for a new hedge to fully grow, there are a few options to consider.
A fence is a natural solution to add more backyard privacy. A trellis is another way to give a backyard living area a decorative touch and more privacy, especially if you add vining plants to grow on it.
Along with giving an outdoor living space shade covering, pergolas are also useful for providing privacy and a structure to decorate with greenery. In addition to climbing plants, you can hang planters from the roof.
Waterproof outdoor curtains and patio privacy screens are other ways to maintain your privacy and they'll also help out a little with bug control.
It's important to avoid overdoing it with any privacy-related additions to the overhead and sides of your outdoor living space. You don't want the space to feel too enclosed and be unable to enjoy a mild spring or summer breeze!
8. Add heating for more comfort
As you can see from the above infographic, homeowners want to use their outdoor spaces all year round. The most practical way to make an outdoor living room a three-season or four-season room is to add some type of heating element.
Outdoor heating allows you to stay outside longer when a summer evening cools off and also during the early parts of spring and late weeks of fall.
The most popular outdoor heating products include:
gas or propane outdoor fire pits or fire tables
wood-burning fire pits
gas or propane outdoor fireplaces
wood-burning fireplaces
gas lamps/patio heaters
electric outdoor infrared heaters
Gas and propane fire pits have quickly become a favourite backyard heating solution for homeowners, mostly because of their ease of use.
59% of the experts in that Fixr survey named fire pits as a must-have for outdoor living areas.
9. Pamper yourself with a hot tub or spa
If you have the square footage in your backyard living space and really want to pamper yourself, add a hot tub or spa.
If you're wondering what the difference is between a hot tub and a spa, it's quite simple: a hot tub is installed above-ground, while a spa is typically installed in-ground.
A spa or hot tub provides a soothing space to relax, can be used for hydrotherapy, and are sure to become one of the most memorable features of your outdoor living space for guests.
If possible, try to strategically locate a spa or hot tub to take advantage of one of the best views your outdoor living space has to offer.
10. Light up your outdoor living area
Good lighting is essential for a backyard living area. You want your outdoor lighting to look elegant and add ambiance, while also providing enough illumination so you can function in the backyard after dark and navigate around safely.
Enhancing your backyard curb appeal with lighting can include using everything from mini lights to floor lanterns to patio lanterns to outdoor chandeliers.
There are lots of cheap outdoor lighting products out there, so do your homework before buying anything. Choose products that are built to last in Canadian weather and have a good warranty.
Unless you have experience with installing outdoor lighting, it's best to let a trained pro handle the job. They'll ensure everything works safely and things like wires are well-hidden.
Make your outdoor living room something special
We hope this article has given you some ideas and inspiration to help make your planned outdoor living room and backyard living space something special and unique.
Get started on making better use of your backyard with an outdoor living project that is customized for your home. Schedule a free design consultation with Outeriors today.
Please share this post if you found it useful.
See also: