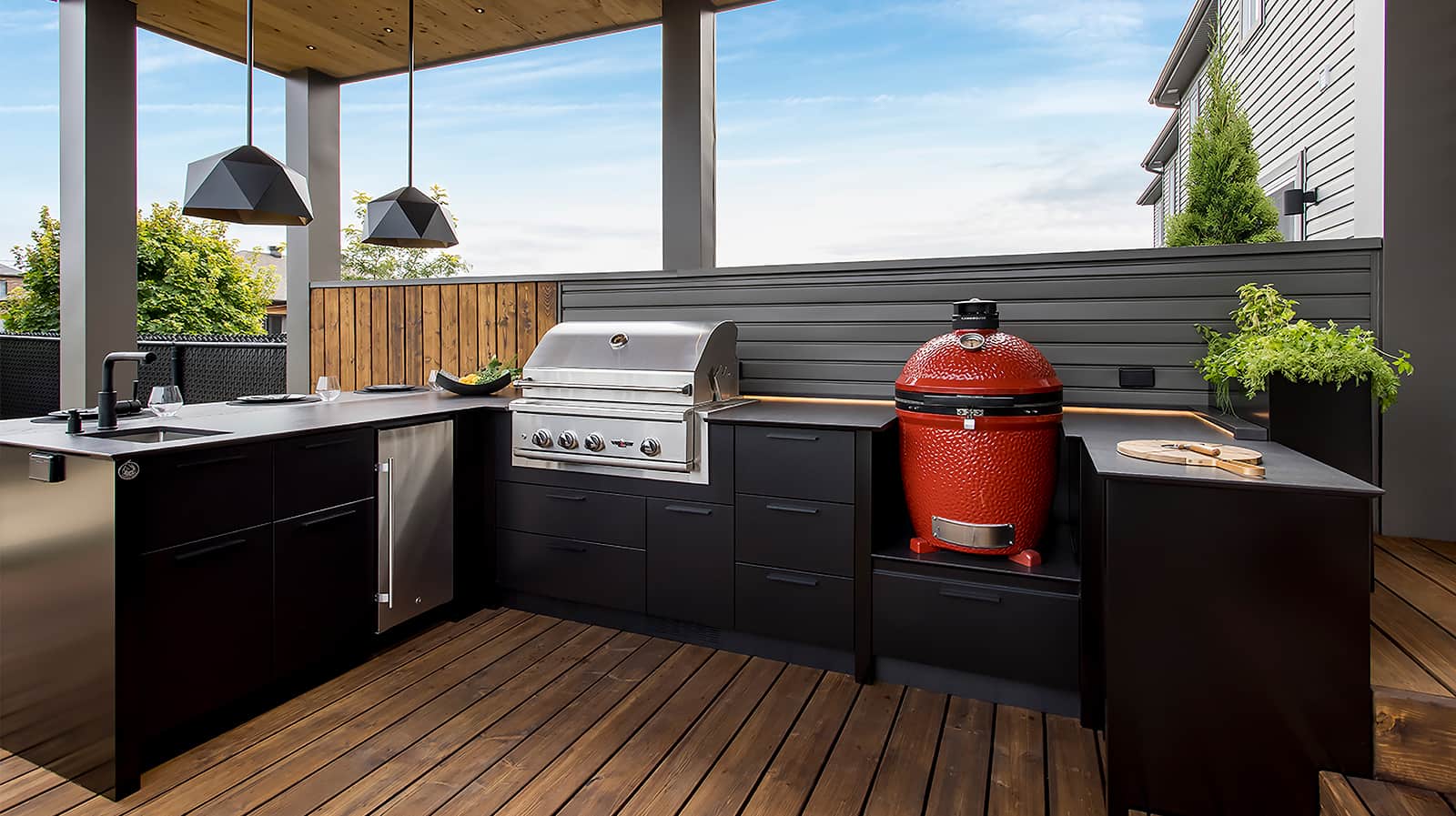 Consider how important an indoor kitchen's cabinets are. Without them, kitchens couldn't function nearly as efficiently, and the room would have a much different aesthetic.
Outdoor kitchens are no different. Outdoor kitchen cabinets provide essential storage functionality and help define what outdoor cooking spaces look like. That has a big impact on our enjoyment of using outdoor kitchens.
When designing an outdoor kitchen, one crucial element that demands careful consideration is the choice of cabinetry material. High-density polyethylene outdoor kitchen cabinets have emerged as an excellent option.
Cabinets made with high-density polyethylene (HDPE) offer many benefits that can enhance the functionality, aesthetics, and longevity of an outdoor kitchen.
We'll explore the top benefits of high-density polyethylene outdoor kitchen cabinets and why they're the ideal choice for your backyard cooking space.
What is high-density polyethylene (HDPE)?
Most people have never heard of high-density polyethylene, so let's briefly explain what it is. HDPE is a type of petroleum-based polymer that was invented in the 1930s. The material is used to make many of the things we use every day like:
water bottles
cereal box liners and other food packaging
outdoor furniture
shampoo bottles
toys
playground equipment
High-density polyethylene is known for its durability and application versatility, especially for outdoor use. Outdoor-use HDPE products are typically made with marine-grade HDPE. As the name implies, the material was created specifically for marine applications, such as making decking, boats, and boat parts.
Marine-grade HDPE is specially formulated to provide higher resistance against damage caused by prolonged exposure to the elements. It's also stronger than standard high-density polyethylene and won't rot, or rust like metal can.
For all of these reasons, you can see why it's so well-suited for making outdoor kitchen cabinets. Outeriors carries two lines of Station Grill outdoor kitchen cabinets that are made with marine-grade HDPE.
Until recent years, most plastic outdoor kitchen cabinets and other plastic outdoor living products like furniture had a reputation for being low-quality. That's no longer the case, however.
Technological advancements have significantly improved the quality, durability, and stylishness of outdoor living products made with HDPE, PVC (polyvinyl chloride), and other synthetic materials.
7 benefits of polyethylene outdoor kitchen cabinets
Anyone who is having an outdoor kitchen designed will have four main priorities. They want their outdoor kitchen to:
• look amazing
• provide all the functionality they need
• last a long time
• be low-maintenance
Marine-grade HDPE outdoor kitchen cabinets check all of these boxes. That's why synthetic outdoor kitchen cabinets made with high-quality materials like HDPE are increasingly becoming a smart option for anyone looking for alternatives to traditional cabinet materials like stainless steel and aluminum.
HDPE has similar attributes to these cabinet materials and a few that set them apart as well. Here are seven benefits you'll enjoy if you invest in high-quality polyethylene outdoor kitchen cabinets.
1. Polyethylene outdoor kitchen cabinets are weatherproof
Outdoor kitchens face non-stop exposure to the elements. The backyards of Ontario homes experience just about every type of weather there is, ranging from scorching heat and intense UV rays to heavy rain to snow and freezing temperatures. That's why outdoor kitchen cabinet materials have to be so resilient.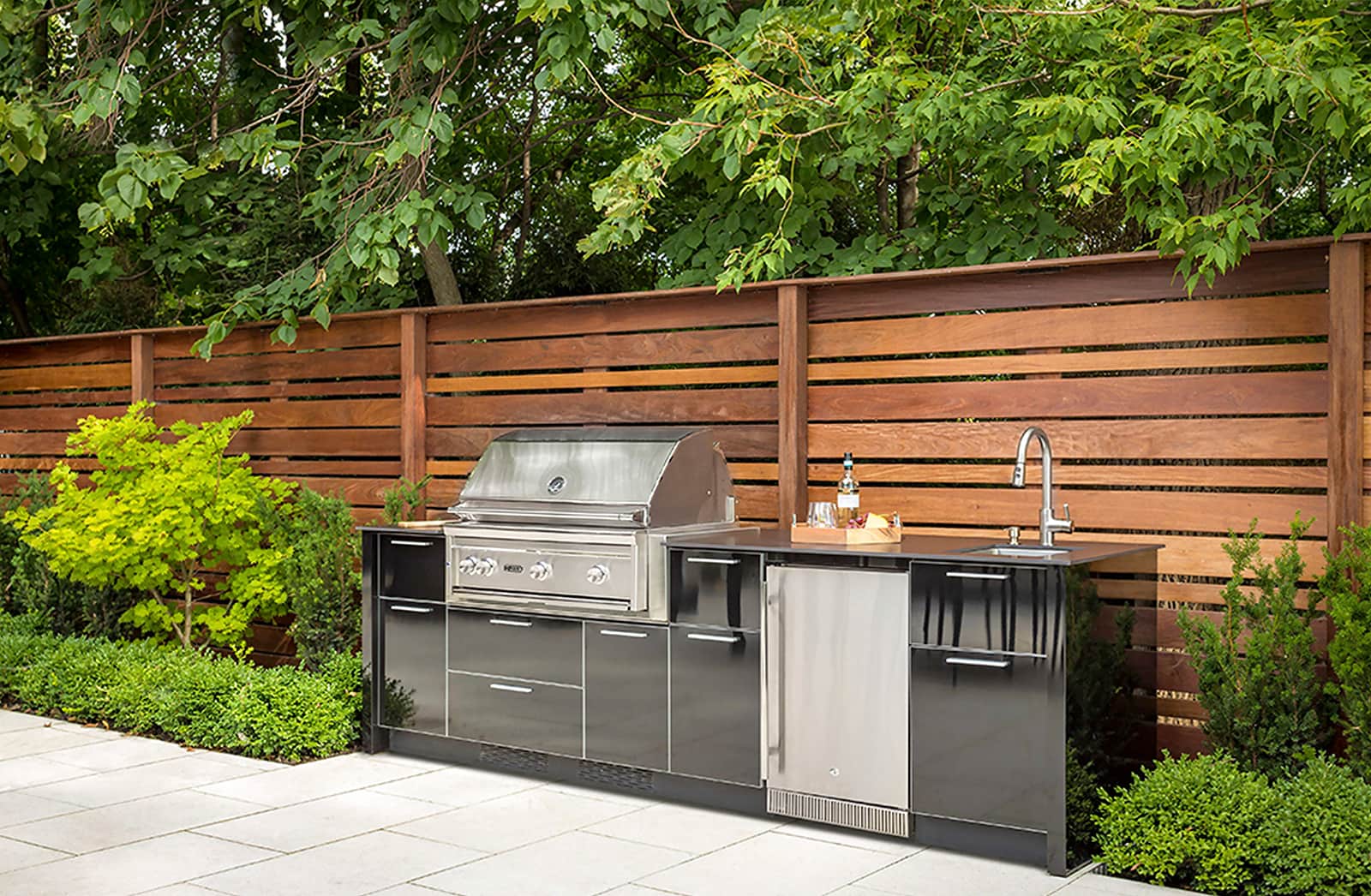 Moisture exposure takes the biggest toll on outdoor kitchen cabinets. Marine-grade HDPE outdoor kitchen cabinets like Station Grill's Pur and Classic models are weatherproof and water-resistant. They're designed to withstand exposure to water and humidity, which prevents moisture-related issues like corrosion, mould, mildew, swelling, and warping.
Sunlight is also harsh on outdoor living products. The best high-density polyethylene outdoor kitchen cabinets are specifically engineered to prevent the discolouring and deterioration that can occur from ultraviolet light damage.
Because HDPE is a high-strength, weather-resistant material, it can also handle the extreme hot and cold temperatures of Ontario's climate.
2. HDPE outdoor cabinets are extremely durable
The superior weathering resistance of synthetic outdoor kitchen cabinets made with HDPE ensures longer durability. Exceptional cabinet durability isn't just important for weather-related reasons, it's also important for outdoor kitchens that get used a lot. If you choose a high-quality cabinet brand like Station Grill, your investment will remain in pristine condition for years to come.
HDPE's high-strength properties allow products made with the polymer to be lightweight, yet extremely sturdy and resilient. Here are five examples of the durability that marine-grade HDPE outdoor kitchen cabinets offer:
HDPE is resistant to dents, scratches, and impacts
cabinets are resistant to stains, odours, and most chemicals because HDPE is non-porous
the flexibility of HDPE prevents cracking, warping, and other types of structural damage
higher-quality cabinets made with UV inhibitors prevent the product's colours from fading
HDPE is coloured during the manufacturing process, so there's no paint finish to peel or flake off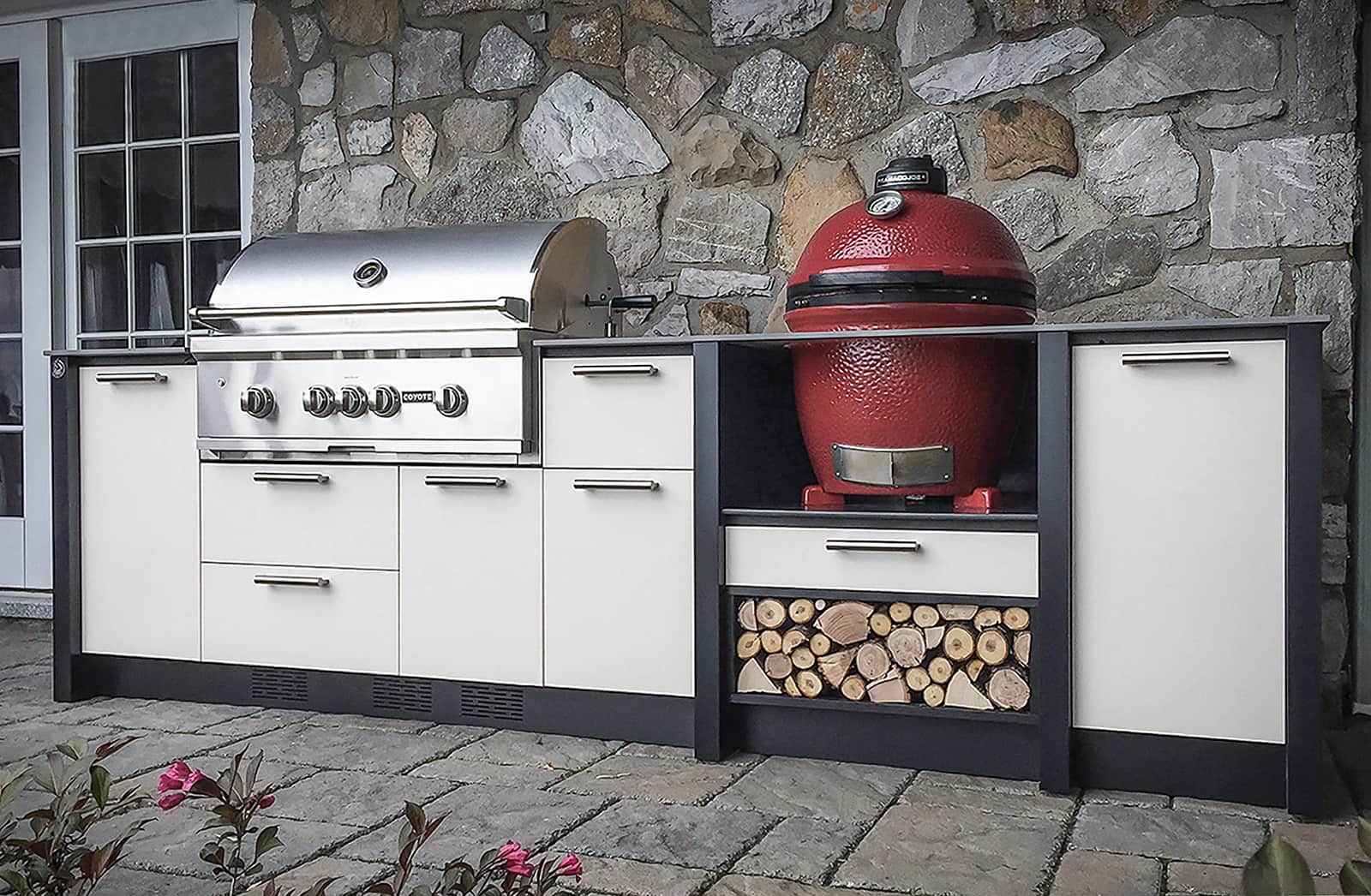 Stainless steel and aluminum are two of the most popular types of outdoor kitchen cabinet materials for many good reasons. However, even the highest-quality cabinets made with these materials can't provide all of these benefits.
Be aware that not all HDPE outdoor kitchen cabinets are of the same quality. You'll find lots of cheaper HDPE cabinets for sale that aren't marine-grade, for example, which will shorten the product's life.
3. Design flexibility and a high-end look
An outdoor kitchen's main function is to provide homeowners with an additional cooking space, but it should look nice and boost a backyard's curb appeal, too. An attractive outdoor kitchen makes a home feel more comfortable and becomes a dynamic part of your living space you can't wait to show off to guests.
The cabinets may stand out more than any other feature in an outdoor kitchen, so it's important to make the right design choices for them. That's why you'll want more than one or two colour choices to effectively coordinate with the rest of the kitchen's design, as well as your deck, patio, or other exterior home features if desired.
Many HDPE outdoor kitchen cabinet brands are available in an array of styles and finishes, allowing you to customize your outdoor kitchen to suit your unique taste and design preferences. To create a high-end outdoor kitchen look, invest in a high-quality HDPE outdoor kitchen cabinet brand like Station Grill.
Station Grill's Pur collection of cabinets is available in six colours with a stylish lightly-textured finish and v-shaped edges. Their Classic cabinet line also comes in six colours with lightly-textured finishes and doors and drawers that have a shaker-style look with distinctive "V" grooves.
4. Polyethylene outdoor kitchen cabinets are cost-effective
Building an outdoor kitchen is a significant investment, so more budget-conscious homeowners may want to find an area or two where they can keep project costs down without sacrificing the quality of the products they're buying.
High-density polyethylene is one of the most affordable types of outdoor kitchen cabinets. Because of their resilience, reliability, and ability to give outdoor kitchens a luxurious look, HDPE cabinets offer great long-term value for your money.
Even if you spend a little more to get higher-end HDPE cabinets, it's still a practical, cost-effective investment. Marine-grade HDPE's excellent durability will require less time and expense to keep the cabinets maintained and you won't have to worry about replacing them for many years.
5. HDPE cabinets are low-maintenance
One of the most compelling advantages of HDPE outdoor cabinets is that they require virtually no maintenance. That means you can spend more time using and enjoying your outdoor kitchen and less time trying to keep it clean.
Marine-grade HDPE won't smudge and show fingerprints easily like metals can, nor does it require annual applications of a protective sealant. Outdoor cooking can naturally get a little messy, but the non-porous surface of HDPE cabinets prevents grease and food stains from setting in.
The cleanup process with polyethylene outdoor kitchen cabinets is a breeze. Spills and splatters can be easily wiped up and some mild soap, warm water, and a soft cloth or soft-bristled brush will keep the cabinets looking like new. Because marine-grade HDPE is waterproof, a hose can even be used to give them a quick cleaning if needed.
You can cut down on your outdoor kitchen cleaning time even more by keeping the space covered. Although outdoor kitchen cabinets, appliances, and countertops are weather-resistant, having a cover will extend the life of everything in the kitchen and allow you to grill and stay dry when it's raining.
6. Outdoor kitchen storage and more
When anyone thinks about backyard grilling, it's the cooking process that comes to mind first. Someone who doesn't know much about outdoor kitchens may be wondering if it's really that essential to include much storage space, or why they might need more than just two or three storage cabinets.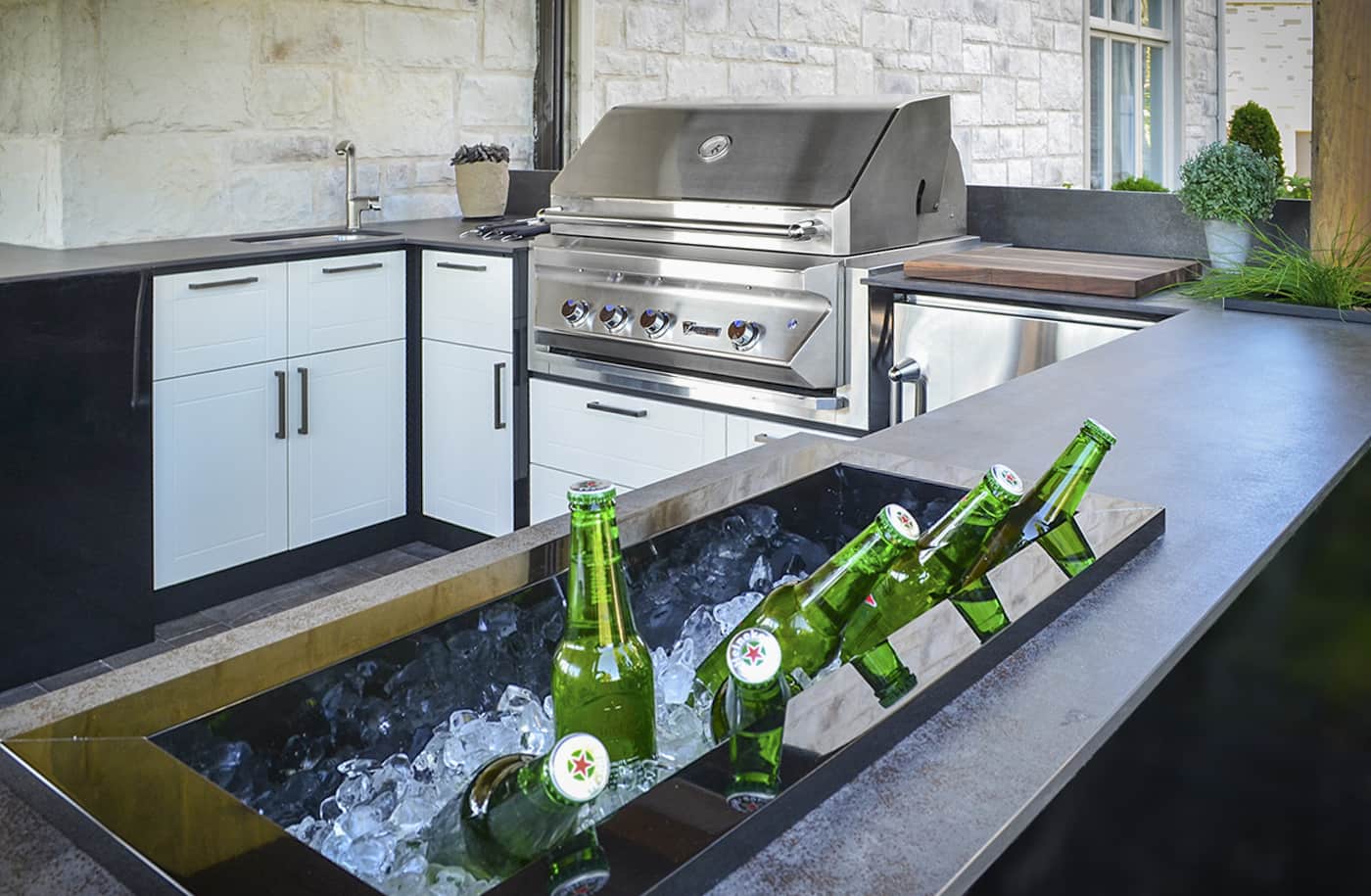 We've already mentioned how they can be used for decorative effect and cabinets also obviously have valuable functionality for storage. Here are four more important functions outdoor kitchen cabinets provide, most of which are directly related to the storage space they provide:
Organization: lots of things get used in outdoor kitchens, especially if you're a skilled cook and have an outdoor dining space. Cabinets keep your cookware, utensils, dishes, glasses, and other items well-organized and hidden away.
Design functionality: built-in outdoor kitchen appliances save space and create a seamless, integrated kitchen look. Custom cabinets accommodate built-in appliances like a grill, warming drawers, and side burners, as well as a sink.
Convenience: the more storage space an outdoor kitchen has, the fewer trips you'll need to make indoors to get things for cooking or taking care of your guests. That makes your outdoor kitchen more convenient to use.
Efficiency: an organized kitchen that has all the amenities you need to cook and host get-togethers elevates the functionality of the cooking space, which means you'll enjoy using it more.
7. HDPE cabinets are more eco-friendly
Plastic may not be the most environmentally friendly material, but eco-conscious consumers who are looking for the best plastic outdoor kitchen cabinets will find HDPE cabinets appealing for a few reasons.
HDPE is considered one of the easiest plastic polymers to recycle. HDPE is a category 2 recyclable material (indicated by the number two recycling symbol) and most products made with the material are 100% recyclable. This contributes to less plastic waste ending up in landfills, where it can take hundreds of years to decompose.
Recycled materials are used to make most HDPE outdoor kitchen cabinets, which reduces the environmental impact during the manufacturing process. Recycled high-density polyethylene is also used to make things like:
outdoor furniture
composite lumber
recycling bins
storage containers
Additionally, the longevity of HDPE outdoor cabinets means they won't need to be replaced for a long time, which minimizes waste and conserves resources.
Enjoy the benefits of owning HDPE outdoor kitchen cabinets
If you're planning to build an outdoor kitchen, HDPE cabinets offer a host of benefits that can elevate your outdoor cooking space.
Make a great investment in your home and choose high-quality Station Grill outdoor kitchen cabinets, which are made right here in Canada.
Let's dive into designing your dream outdoor kitchen. To get started, schedule a free design consultation with Outeriors today.