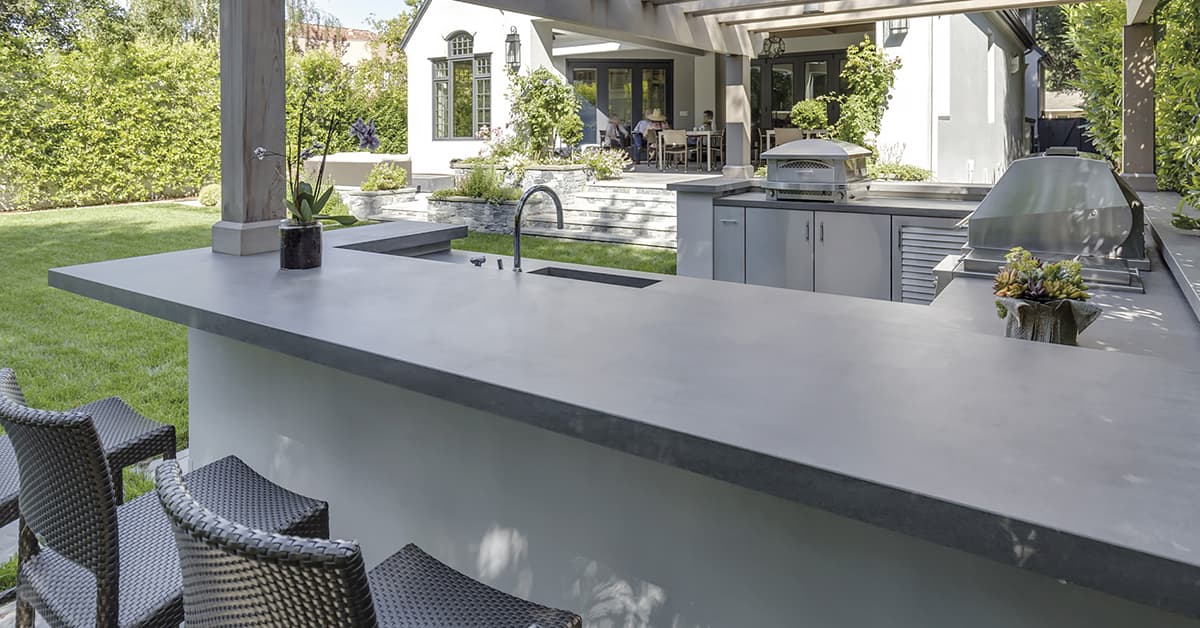 An outdoor kitchen design includes many different elements, not least of which is the countertop.
The grill is often the focal point of an outdoor kitchen. Because the countertops significantly affect the overall aesthetic of an outdoor cooking space and provide some of its structural makeup, they can also be the centre of attention.
Indoor kitchen countertops offer plenty of different materials and designs to choose from and so do their outdoor counterparts (excuse the unintentional pun).
With so many outdoor countertop materials to choose from, it can get overwhelming trying to choose the best one for your backyard.
Some material types require a lot less maintenance than others. Maybe you have a specific look in mind that only one or two countertop materials can provide. Budget limitations will also naturally affect your range of choices, as prices can vary widely from one type of material to another.
This article will provide some clarity about what the numerous types of outdoor countertop materials offer. Keep reading to learn more about which countertop types are worth buying, which ones you should think twice about choosing, and the types to steer clear of.
Why your outdoor countertop material is so important
Perhaps the hardest working part of a backyard kitchen is the countertop, even more than the grill. A backyard food preparation work surface deals with all sorts of things that test its durability. That includes everything from encountering spills and food and drink stains to handling hot temperatures, to having sharp cutting tools being used on it.
The functionality of countertops doesn't stop there if you have a larger outdoor kitchen design that incorporates a bar and dining space. The countertops in a multi-functional outdoor living space are a magnet for activity. They'll be used to dine on, mix drinks, as a resting spot for drinks, and even just as a surface for people to lean on while conversing with others.
Outdoor countertops don't only need to be strong enough to handle the rigorous use that's demanded from them, they need to contend with the harsh Canadian weather, too.
As important as the looks of any countertop are, durability has to be an even bigger priority with outdoor countertops.
With that in mind, here are the features and qualities (excluding looks) to prioritize for the outdoor countertops you buy:
overall weatherproofing performance
ease of maintenance
high-strength construction
abrasion and impact resistance
non-porous materials
UV resistance
colour stability (meaning how effectively the colours are retained)
resistance to high temperatures
The best outdoor countertop materials
It only makes sense to start our look at outdoor countertop materials with the most popular types that you're most likely to find in any backyard with an outdoor kitchen.
There is no shortage of great countertop options to choose from. Here are the best countertop materials for outdoor usage, in no particular order.
Granite
One of the most popular outdoor countertop materials is granite, which has an appealing combination of durability, looks, and fairly easy maintenance.
Granite countertops come in many different colours and finishes. This gives homeowners more options to create a dynamic, unique outdoor kitchen design.
The toughness of granite lets it stand up well in an outdoor setting. It can tolerate high temperatures and resists scratching, abrasions, and stains. With an effective seal, granite surfaces won't fade from prolonged sun exposure and will last longer.
Most outdoor granite countertops need to be resealed periodically (typically once a year) to maintain a non-porous surface that protects against stains, mould, and mildew. Higher-grade granite surfaces have a higher density, which makes them less porous. That means they can go longer without needing to be resealed.
Granite does have one drawback – its cost. It is on the more expensive side compared to other outdoor countertop materials.
Dekton
Dekton is a relative newcomer to the outdoor countertop market. It's manufactured by Cosentino, who are renowned for their technologically advanced, high-performance surfaces, including brands like Silestone and Sensa.
While Dekton may not have the countertop name recognition of granite, concrete, or porcelain, it's well worth a look. The high-tech Sinterized Particle Technology process Dekton is made with produces ultra-compact surfaces made from a combination of porcelain, quartz, and glass.
Because a Dekton slab is so dense, it can be fabricated into countertops much thinner than what other stone materials offer. Dekton's ample design versatility extends to its many pattern and colour options, which allows for a vast array of aesthetic possibilities.
Dekton's extremely durable, innovative design is tailor-made for use outdoors. Here are a few more benefits it offers:
highly UV-resistant to maintain the countertop's colour
completely stain-proof and resistant to abrasions and scratches
exceptional thermal expansion properties that are ideal for Ontario's climate
the low-maintenance, non-porous surface never needs sealing and can be easily cleaned
competitively priced with other natural stone countertop materials
withstands high temperatures without burning or cracking
Soapstone
One of the biggest selling points for soapstone countertops is that they're non-porous, which makes them well-suited for the outdoors.
Soapstone countertops are very dense and don't require any sealing, although liquids can darken the surface if they're not regularly cleaned with water and soap. An occasional application of mineral oil helps protect the surface and maintain its shine.
As well as soapstone can endure outside and withstand high temperatures, it is a soft material. That makes it more susceptible to scratches and abrasions, which may be a concern for those who anticipate using their outdoor kitchen a lot.
Soapstone is a dark natural material. This limits your range of colour choices to darker shades. Those darker colours become a notable factor for an outdoor countertop because they can become uncomfortably hot in direct sunlight.
If you are considering soapstone outdoor countertops or dark countertops made from another material, prioritize keeping them shaded with an overhead covering.
Concrete
Concrete outdoor countertops are quite trendy right now and it's not hard to understand why. Because these countertops are produced by pouring a cement mix instead of installing a manufactured slab, an abundant number of design options open up.
Unique countertop shapes that most other materials can't produce without costing significantly more (if they can be made at all) are possible with concrete. Moulded features like a sink cutout can be crafted by a skilled tradesperson to add even more of a custom look and specialized functionality to the countertop.
You're not limited to the dull grey look of concrete, either. Concrete countertops can be stained virtually any colour and can also have artistic effects added for more visual appeal.
Considering that concrete is one of the strongest building materials, it's not surprising that when installed and maintained properly, outdoor concrete countertops can last a long time.
Some ambitious people have had success DIYing concrete countertops for their outdoor kitchens. We'd advise against this unless you're proficient in moulded concrete applications, however. You don't want to be one of those DIY novices who have had the unfortunate experience of seeing their concrete countertop project fail when the supporting base collapsed from the weight of the poured concrete!
Another reason to think twice about DIYing a concrete countertop is that a poor installation job can lead to all sorts of headaches, especially cracking.
There are three other notable drawbacks of choosing concrete as an outdoor countertop material:
because concrete is very porous, it needs to be resealed annually to prevent cracking and damage from stains and mould
concrete countertops that aren't protected from direct sunlight can lose their colour and start to yellow over time
intricate countertop designs can be expensive to mould and install
Quartzite
It may be pricier than other types of countertops because it's made with a rarer natural material, but quartzite is an intriguing choice for a few reasons.
The beauty of quartzite is undeniable, highlighted by the material's colourful hues and an elegant look that often gets confused with marble.
Quartzite, which is not the same as quartz (the former is a natural stone and the latter is an engineered product), is very durable. It's harder than granite and although quartzite is porous, one of these countertops will last for many years as long as it gets resealed once a year.
The material can withstand hot temperatures from the sun and retains its colours nicely. Quartzite performs less effectively compared to other materials when it comes in contact with high heat, such as setting a hot pot down on the surface. Quartzite does scratch a little easier as well.
To learn more about quartz vs. quartzite, take a look at Ownerly's article – How Much Are Quartz Countertops?
Porcelain
Another in-demand countertop material is porcelain. It has most of the attributes of a high-quality outdoor countertop:
very durable
excellent UV resistance and colour stability
high heat resistance
non-porous
low-maintenance
excellent stain, cracking, and scratch resistance (except ceramic blades)
Because it's man-made, porcelain slabs can be manufactured in a wide range of colours, finishes, and patterns. That makes them capable of exhibiting the kinds of attractive characteristics and patterns that natural stone produces.
Porcelain is one of the most hygienic types of countertop material, so food prep can occur right on its surface safely. That's worth noting for anyone with a busy outdoor kitchen.
Adding another tick in the "pros" column for porcelain is the fact that it's priced very reasonably compared to most other popular outdoor countertop materials.
Slate
Slate can be a finicky material to choose for an outdoor countertop because its quality tends to be more inconsistent. You really need to pay close attention to the quality of the slate the countertops are made with, as it can vary widely.
Lower-quality slate is less durable and less dense. Remember, less density means the material is more porous and more prone to staining, scratching, cracking, and abrasions. As with any non-porous countertop material, regular sealing applications will protect the surface and extend the countertop's life.
Higher-quality slate provides better strength and durability and requires less maintenance (like resealing) because it's denser and less porous. Slate is a softer stone, so extra care is needed to prevent the surface from getting scratched and chipped. The material also has a high resistance to heat.
Glass
If you're looking for something different from the popular look of stone for your outdoor countertops, glass is worth considering.
Because we instantly associate glass with fragility, some might be surprised that it's a viable option as an outdoor countertop material. Keep in mind that a glass countertop can be manufactured to be several inches thick.
Although glass is more breakable than any of the other outdoor countertop materials we've covered and scratches a little easier, it's still well-suited for use outside. It's non-porous, very hygienic, won't get damaged from prolonged sun exposure, extremely easy to clean, and modestly priced.
Acidic drinks and foods can stain regular glass countertop surfaces easily. You can avoid this worry by buying higher-quality white glass countertops.
A major benefit of glass countertops is the high level of design customization they have. Here are some examples of the unique design options glass offers:
available in many different shapes and sizes
lots of colour options
add patterns and textures
embed stones, shells, or other materials
incorporate dynamic LED backlighting (a guaranteed conversation starter!)
Think twice about buying one of these countertops
Now let's look at three countertop materials that present a few more questions than the above materials about their viability for outdoor use.
Marble
This one might be a tad controversial, but while researching this article, we found that marble outdoor countertops were less favoured by design professionals.
Although marble is certainly aesthetically pleasing and durable, concerns came up more than once from them about marble's resiliency in colder climates. A honed or tumbled finish is strongly recommended over a polished finish for a marble surface, which won't wear well over time.
Marble is porous and a softer stone, so more care needs to be taken to prevent stains and scratches. Like several other countertop materials, regular surface resealing will protect your investment.
Wood
If you're partial to the natural, rustic look of wood as a countertop material, it will come at the cost of more maintenance.
That means putting in time every year to preserve the surface by sanding, oiling, and sealing it. For some folks, that may be a deal-breaker. After all, an outdoor living space is supposed to be for relaxation, not creating extra work projects.
Because wood surfaces are more vulnerable to the elements, make sure they're protected by an overhead covering.
Stainless steel
The biggest drawback of having stainless steel countertops is they don't play well with the sun. Unless they're in a shaded area, outdoor stainless steel countertops will get very hot and cause a blinding glare.
Stainless steel is fairly durable and low-maintenance. However, it is more prone to denting and is typically on the higher end in terms of cost.
If you can live with these shortcomings, stainless steel is still a solid choice, especially if you're aiming for a sleek outdoor kitchen aesthetic.
Avoid these outdoor countertop materials
There are three countertop materials you should steer clear of altogether when your outdoor kitchen design is being put together.
Tile
Ceramic, porcelain, and stone tile countertops are one of the cheaper options and offer a wealth of design possibilities. Unfortunately, tile is not a good choice for cold climates.
Even in ideal temperatures, tile can break, chip, and crack easily. That becomes a much bigger issue when the tile resides outdoors and has to deal with the elements, especially freeze-thaw cycles. The countertop's colours will fade much quicker compared to most other countertop materials, too.
Another major issue with tile countertops is their grout. We all know how fun it is trying to keep the grout in our bathrooms and kitchens clean. You can imagine how much more of a challenge this is when the grout is outside.
Even with a grout sealer and if the countertop is in a covered space, it's still a lot of extra work to keep the grout clean and stain-free. And on top of this, grout applied outdoors is a lot more vulnerable to cracking.
Quartz
Quartz is another popular material for indoor countertops that doesn't hold up well in most outdoor climates. The exception would be a climate that's drier and has consistent, moderate temperatures. Even then, outdoor quartz countertops need to be located in a well-sheltered area.
Although quartz may be non-porous, the resin it's made with will yellow from the sun. Extreme cold and hot temperatures, as well as humidity and moisture, will cause quartz countertops to warp and deteriorate faster than most other materials.
Laminate
When anyone pricing outdoor countertop materials takes a look at laminate, it quickly stands out as one of the lowest-priced options. Laminate is also likely the worst choice for an outdoor countertop.
The structural integrity of this type of countertop will reveal its shortcomings relatively quickly because low-quality particle board is used beneath the laminate. That makes the material vulnerable to moisture and humidity. Issues with mould, rot, and warping are virtually guaranteed to eventually occur.
Get the best outdoor countertop for your kitchen
Now you can make a more informed decision about which outdoor countertop material to use for your outdoor kitchen.
Outeriors will work with you on a customized design to make your outdoor kitchen and living space the heart of your home this summer, featuring a high-quality Dekton countertop.
Schedule a free design consultation with us to start planning your dream outdoor living space.
Please share this post if you found it useful.
See also: