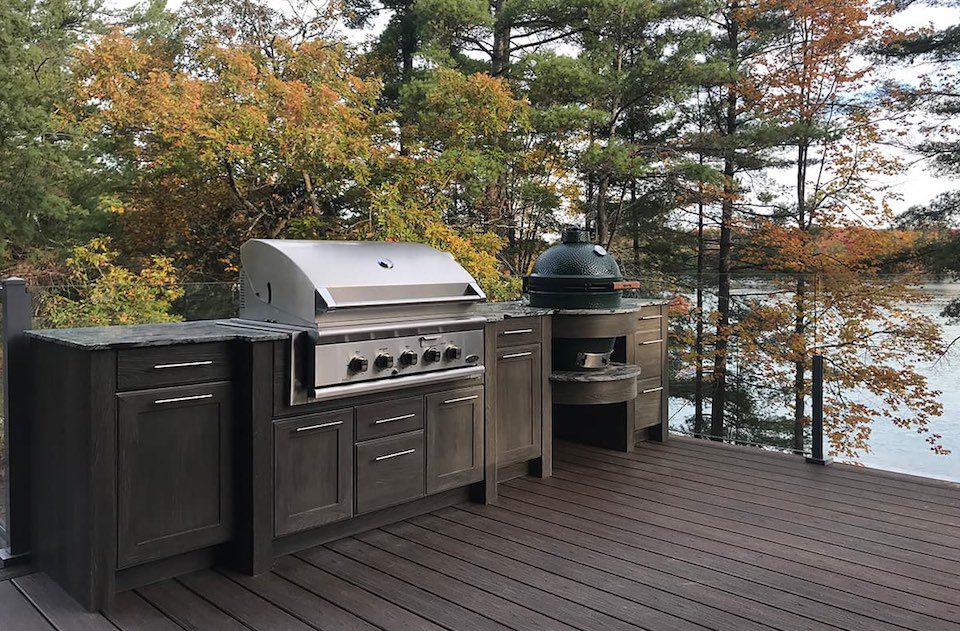 As the days of autumn whiz past, there is more urgency to squeeze in just a little more fall outdoor living time on our decks and patios.
It won't be long before the snow and frigid temperatures make the backyard a recreational no-go zone until next spring.
The enjoyment of spending time in the backyard doesn't have to come to an end so early into the fall, however.
How to improve your fall outdoor living experience
By making some forward-thinking decisions for an outdoor living space's design, you can maximize its functionality for use virtually year-round. And by adding some simple fresh design elements, an outdoor living area can be made to feel cozier.
Backyard get-togethers with the family and friends can continue well into the autumn season. Use your outdoor living space as a spot to take a break from doing your fall chores like raking the leaves. Or just curl up beneath a blanket beside the warmth of a fire pit on a crisp fall day with a hot drink and a good book.
If you enjoy the bounty of autumn's magnificent sights and smells and are looking for ways to extend your patio season, there are plenty of ways to revamp your outdoor living area.
Here are seven tips to improve your fall outdoor living experience.
1. Turn up the heat
An absolute essential to make your fall outdoor living experience more comfortable is a good heating source. When it's chilly, nothing boosts the cozy feel of a space like adding some warmth to the area, especially if it's generated by real flames.
Popular product choices to warm up an outdoor living area are fire pits (which also come in table and bowl designs), outdoor fireplaces, chimineas, propane patio heaters, and electrical heating appliances like infrared heaters.
There are numerous advantages of using propane or natural gas to fuel an outdoor fire source instead of wood:
propane and natural gas burn much cleaner than wood
there's no cleanup or maintenance required
starting and extinguishing gas-powered fires is instantaneous
both gases are cheaper to use than wood
there's no annoying smoke to deal with
You'll naturally want to locate any heating sources as close to your seating and dining areas as possible.
A high-quality fire pit/table/bowl becomes the centrepiece of an outdoor room. It doesn't only have a magnet-like effect on everyone because of the heat it provides, they also add ambiance, a sophisticated touch, and visual appeal to an outdoor living space.
Before buying a heating product for your backyard, be sure to check on what your local laws allow for operating open fires. For example, the city of Toronto doesn't allow residents to operate backyard fires that are fuelled by wood.
2. Enjoy fall outdoor entertainment
An outdoor room with the right design can be used to bring the indoors outside and add another dimension to a home's living space.
When coupled with a reliable heating source to help keep you warm and toasty, an outdoor living room can be used for longer into the year as an entertainment space.
The fall is prime time for North America's four major professional sports. The NHL and NBA seasons get underway, the NFL is in full swing, and Major League Baseball offers up the excitement of September pennant races and October playoffs.
Why not enjoy your favourite fall sporting events or a family movie night with your friends and family in the comfort of your backyard? An exterior entertainment space with an outdoor TV, a great audio system, and high-quality furniture creates a comfortable extension of your living space.
To boost your comfort level, consider adding thermal outdoor curtains, which can usually be attached fairly easily to an outdoor living area's overhead covering. They'll help keep an outdoor living space's heat in and are useful year-round for privacy, bug control, and blocking out the sun and wind. If you're using a propane patio heater, just be sure the area has enough ventilation.
3. Keep your outdoor kitchen open longer
There's no substitute for the unique, savoury taste of food grilled over a flame. It's not difficult to set up an outdoor kitchen so it can be used well into the fall and beyond. A grilled meal during the winter is a welcome menu option that helps to alleviate those February blahs (use these winter grilling tips).
Any outdoor kitchen needs a good grill, so don't cut corners when it comes to buying the most essential appliance in an outdoor cooking space.
Invest in a premium grill that provides a headache-free cooking experience. High-quality grills are more reliable and will:
start up every time
hold steady cooking temperatures
cook food more quickly and efficiently than cheap grills
allow you to grill foods at different temperatures with variable heating zones
offer convenient features like smart tech and under-hood grill task lighting
The damper, colder weather of fall is a good reminder that your outdoor kitchen cabinet and countertop materials need to be of the highest quality to endure through Canada's ever-changing weather.
Outeriors offers a wide selection of distinctive outdoor kitchen countertops and cabinets in a variety of attractive materials, styles, and colours.
To feel cozier while spending time in your backyard on chillier fall days, set up a hot beverage station in your outdoor kitchen. Beverages like hot apple cider, hot chocolate, wassail, and pumpkin spice latte are perfect for autumn and will warm you up as you extend your fall outdoor living time.
4. Use high-quality outdoor furniture
An outdoor living room's furniture is another element where investing in higher-quality products will serve you better in the long run.
Winter may be the harshest season of the year, but the fall and spring's unpredictable weather and constantly fluctuating temperatures will take a toll on outdoor furniture, too, especially cheap furniture.
Spend a little extra to buy high-quality outdoor furniture that has everything you look for when buying indoor furniture, including comfort, visual appeal, and durability. The latter characteristic is a little more important with outdoor furniture, of course.
Prioritize buying outdoor furniture made with weather-resistant materials that will reduce the likelihood of the furniture rusting, developing mould, fading, and warping. These outdoor furniture materials are considered the most durable:
powder-coated steel and aluminum
wrought iron with a weather-resistant finish
hardwoods such as teak, white oak, and eucalyptus
polyresin wicker
Weather-resistant cushions are another essential for outdoor furniture. No one likes to sit on a hard surface at any time of the year and especially not when the weather is cooler. Metal furniture materials like wrought iron can feel ice-cold on a chilly day and cushions act as a welcome buffer.
To extend the life of your outdoor furniture, keep them in a covered space to protect them from the elements and cover the furniture pieces up whenever possible.
5. Upgrade your exterior lighting
As the days get shorter, the lights come on earlier. That makes having good lighting extra important for an outdoor living space that will be used during the fall.
Lighting that is dim and harsh can singlehandedly neutralize any of your efforts to make a deck or patio area feel cozier in the autumn with heating and some decorative upgrades. The look and feel of a space is hugely impacted by lighting and simply using more bulbs to brighten an area isn't a good strategy.
Incandescent and halogen lighting is considered outdated. Even relying solely on LEDs, today's preferred exterior lighting choice, isn't enough since there are a variety of bulb styles and colours that produce different results. Lighting also needs to be strategically located.
Consulting with a professional who can help with your outdoor living area's lighting is a good idea. They'll know how to achieve the best results so everything is well-lit for functionality and safety. A pro will also know how to effectively highlight the best parts of an outdoor living space and its surrounding landscaping.
6. Gimme shelter
Another of the essential fall outdoor living ideas to consider is adding an overhead covering for more comfort. A roof extension, covered pergola, gazebo, pavilion, or large awning are the most common solutions for covering an outdoor living space.
An outdoor living space should ideally have some sort of overhead covering to provide protection from the sun and rain during the summer. This is even more important in the fall when the combination of cool temperatures and rain is enough to drive everyone inside.
An overhead covering also prevents snow from covering your outdoor kitchen and living room area. That extends the life of your outdoor living products and allows you to continue using the grill year-round. When the weather won't cooperate with your cooking plans, you won't need to get out an umbrella or snow shovel before you fire up the grill.
7. Add cozy fall touches
Cool temperatures make it harder to feel cozy in a space. Along with heating your patio area, add some decorative touches that incorporate fall-themed decor elements to infuse the outdoor living space with a cozier vibe.
It doesn't take much effort to quickly change the look and feel of a room by getting creative with the décor. This can be done several ways:
switching out furniture cushions
adding texture and softness to the space with outdoor area rugs, throw pillows, and blankets
using fall-inspired colours on your furnishings to set a seasonal and festive mood
adding seasonal accents like a table centrepiece and foliage garland
light fall-themed candles to enhance the mood
Upgrade your fall outdoor living experience
There's no reason any outdoor living space shouldn't be enjoyed late into the fall, even in Canada!
All of the fall outdoor living ideas we've covered aren't just practical in the autumn – they provide the same comfort benefits for the chillier days in spring when you're itching to get outdoors after another long winter.
Outeriors provides the total package outdoor living remodel experience. Schedule a free consultation with us to get started on the design for your custom outdoor living space.
Please share this post if you found it useful.
See also: