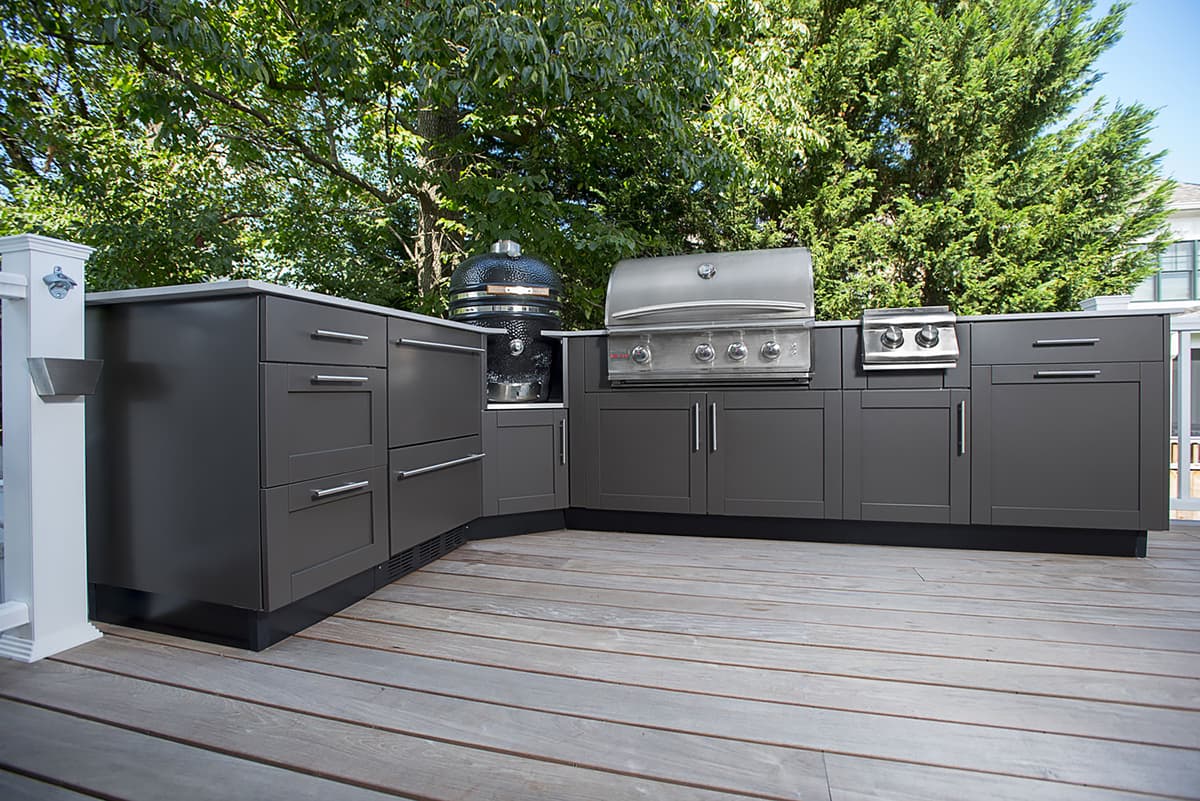 When you buy indoor kitchen cabinets, the two main things you'll be considering are how much storage space they provide and what they look like.
Good indoor kitchen cabinets should last at least 15-20 years before they need to be replaced, refinished, or refaced, so longevity is much less of a concern.
With outdoor kitchen cabinets, however, durability will be at or near the top of your priority list when a buying decision is being made.
Because they need to be able to withstand the demands of an outdoor environment (especially in the harsh Canadian weather), the type of outdoor kitchen cabinet materials you choose is important if you want to enjoy years of use from them.
4 considerations when choosing outdoor kitchen cabinet materials
There are several outdoor kitchen cabinet materials available. The most popular types are stainless steel, marine-grade aluminum, masonry, PVC, and wood.
The four most important considerations you'll have when choosing between the various types of outdoor kitchen cabinets materials are:
Durability: even if they're in a covered outdoor kitchen, are the cabinets highly resistant to moisture, sturdy enough to withstand extreme temperature changes, and able to handle prolonged exposure to the sun?
Aesthetics: do the cabinets have a high-end look and aesthetically complement the other key features of your outdoor kitchen, such as the countertop, grill, and other appliances?
Construction quality: is the construction quality of the cabinets capable of handling the wear and tear of regular use on a long-term basis? Is high-quality hardware being used for things like the hinges, drawer rollers, and door and drawer pulls? Is the entire cabinet frame of a high-quality, or just the doors and drawers? The latter is sometimes the case to lower the cost of indoor and outdoor kitchen cabinets.
Ease of maintenance: how easy is it to wipe up liquid and grease spills and clean the cabinets? Will the cabinets need any major maintenance work every few years?
Let's take a look at the key features of the most popular types of outdoor kitchen cabinet materials to help you make an informed buying decision. These materials are not listed in order of importance.
1. Stainless steel
Stainless steel kitchen cabinets are popular because they're very well-suited for an outdoor cooking space. One of their biggest benefits is their durability, provided you invest in cabinets constructed with high-quality stainless steel.
Naturally, rust will be your biggest concern with steel cabinetry that sits outdoors. Top outdoor kitchen cabinet manufacturers like Home Refinements use 304 or 316L grade stainless steels that are corrosion-resistant. Powder coated finishes provide further protection against rusting.
Pay attention to the thickness of the steel in the cabinets you buy. This is measured in gauges and the lower the number, the thicker the steel will be (which means the structural integrity will be higher). Aim for steel cabinets with a thickness in the 16-20 gauge range.
Another important thing to look for with your steel kitchen cabinets is the craftsmanship that goes into them. Ensure that they have strong frames with welded corners that won't start falling apart after a few years.
Stainless steel is also one of the most popular outdoor kitchen cabinet materials because of its design versatility. Powder coating technology doesn't only prevent corrosion, it allows for a wide array of decorative finishes to be used. This includes using solid colours, creating unique patterns, and even replicating the look of real wood.
The natural look of steel matches well with the aesthetic of an outdoor kitchen's appliances as well, which gives the space a stylish, contemporary appearance.
2. Marine-grade aluminum
Another metal cabinet material worth considering is aluminum, but not just any old aluminum. Aluminum is naturally corrosion-resistant, which is why it is commonly used for marine applications.
The marine-grade aluminum used to make cabinets for outdoor kitchens comes in thick gauges, which ensures structural stability. Aluminum cabinets are also a bit lighter than steel cabinets.
This type of cabinet can be powder coated as well, so marine-grade aluminum cabinets from a reliable manufacturer like Urban Bonfire (which is made in Canada) should last for years.
They offer a viable alternative to stainless steel cabinets, while also giving you lots of flexibility to customize the type of finish and add optional features like pullout drawers and accessory racks.
3. Masonry
Masonry cabinetry involves covering a metal frame or concrete blocks with a stucco veneer, decorative stone, or brick.
The natural look of masonry cabinetry gives your outdoor kitchen a unique aesthetic with more of a built-in design. You can choose materials that blend nicely with the exterior appearance of your home or surrounding features, too, such as the patio or a rock wall.
As you would expect, masonry cabinet structures are very sturdy and highly resilient in most types of climates and weather conditions.
Some downsides of masonry outdoor kitchen cabinets are that they can take longer to design, are more expensive to install, and are more difficult to accessorize with.
4. PVC and resin
One of the relatively newer types of outdoor kitchen cabinet materials is PVC (polyvinyl chloride), which is a synthetic polymer material.
PVC is one of the most widely used kinds of plastics. Although it was invented well over a century ago, only recently has it been used for outdoor kitchen cabinet manufacturing.
It makes a lot of sense why, as PVC is 100% weatherproof and can't rust or stain. Like aluminum, this resilient material is often used for marine-related applications.
Cheaper PVC or vinyl kitchen cabinets are susceptible to colour fading from prolonged UV exposure and can warp when temperatures fluctuate significantly. This is why if you do want PVC cabinetry for your outdoor kitchen, invest in a high-end brand like NatureKast.
NatureKast PVC cabinets are in a class of their own because they use an advanced hi-density resin system that perfectly replicates the natural colour and texture of real wood, without the maintenance and deterioration that comes with wood cabinetry.
And PVC kitchen cabinets are extremely easy to maintain and clean. Since they're completely waterproof, all you have to do is clean them with a hose or pressure washer.
5. Wood
Genuine wood cabinets are less commonly found in outdoor kitchens than the other types of cabinets listed above, but some homeowners prefer them for a few reasons.
Although high-quality PVC cabinets can be designed to look just like real wood, some people simply don't care for the sterile, less organic nature of plastic compared to wood.
There is certainly no doubt that the natural look of real wood cabinets gives an outdoor kitchen a warm, classic feel.
Wood's delicate nature makes it challenging to use in an outdoor kitchen setting, however, especially in Canada. It wouldn't be practical to buy wood cabinets unless your outdoor cooking space was covered.
You need to use a more weather-resistant type of wood, such as teak, mahogany, and white oak. These specialty woods can get expensive and require a lot more maintenance than other outdoor kitchen cabinet materials. To preserve outdoor wood cabinets, repeat applications of water seals, oils, and stains will be required, depending on the type of wood.
Customize your outdoor kitchen cabinets
Now that you're more informed about what your outdoor kitchen cabinet material options are, which type suits your needs best to create your dream outdoor living space?
Our design experts can answer any further questions you might have about outdoor kitchen cabinets and outdoor kitchens in general.
Schedule a free design consultation with us today.
Please share this post if you found it useful.
See also: