Remember the days when backyard cooking areas were simple and rather boring?
They included little more than a basic grill and a wobbly side table overloaded with meats, condiments, and grilling tools.
This may even describe your current outdoor cooking setup.
Times have changed, however. Current outdoor kitchen trends have seen the outdoor living experience go upscale.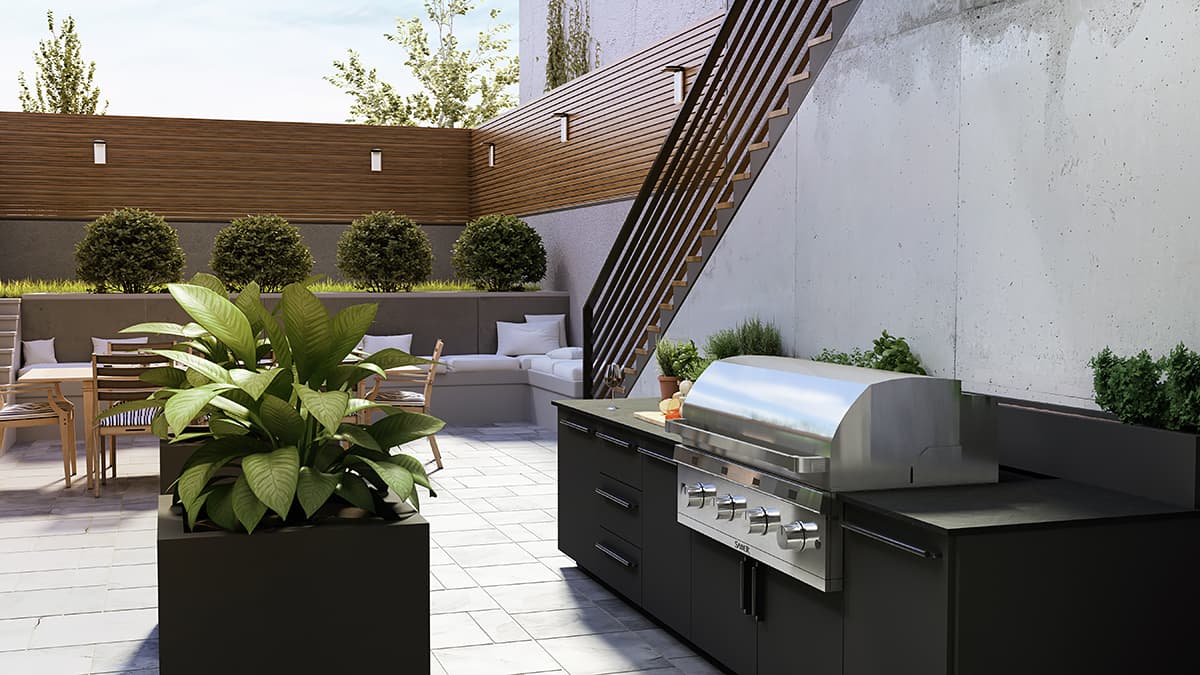 Modern outdoor kitchen designs can provide homeowners with attractive, high-functioning spaces. That extends to entertaining outdoors, too. After all, grilling and outdoor entertaining go hand in hand!
Is one of your New Year's resolutions to make some home upgrades? Adding an outdoor cooking and entertaining space in 2021 is a great way to get more enjoyment from your home.
Outdoor kitchens are the most popular kitchen upgrade project
Forbes recently wrote that "outdoor kitchens and living areas are trending strongly and richly, with more enhancements than ever before".
An American Institute of Architects' Home Design Trends Survey also shows the popularity of outdoor kitchen additions.
500 design professionals were asked about their predictions for home design trends. 45% of the architects believed outdoor kitchens would be the most popular kitchen product and feature in the coming years.
This is a big deal because that's among any kitchen project, including indoor kitchens.
Outdoor kitchen trends to make your space great
We all spent more time at home in 2020 than ever before. Getting outdoors whenever the weather was nice provided a welcome escape from the confines of our indoor spaces.
Unfortunately, it was difficult to enjoy many warm weather activities. Opportunities to travel, go to the beach, attend outdoor concerts, or go to an amusement park were few and far between.
That made our backyards incredibly vital. Did your backyard allow you to fully enjoy the time that was spent outdoors in the spring, summer, and early fall?
Life will soon return to normal. Eventually, social activities like having our friends, families, and neighbours over for a backyard cookout will be something that's appreciated more than ever.
An outdoor kitchen doesn't require a lot of room. They typically range from 100 to 400 square feet. A smaller, relatively simple kitchen setup in the corner of a deck or patio can do quite a lot.
Or you can go bigger and more elaborate with your outdoor kitchen design. The more sophisticated designs of modern interior kitchens are being used in outdoor spaces. Adding a dining and lounging area to an outdoor kitchen space gives you the full outdoor living experience.
In 2021, make plans to extend your home's living space to the backyard with an outdoor kitchen and entertaining area.
We took a look at what real estate and home design professionals are projecting to be the hot outdoor kitchen trends. Use their expertise about what essential features your outdoor living space should include to make it exceptional.
1. Use a premium grill
The grill is an outdoor kitchen's centrepiece. Any upscale exterior kitchen needs a high-quality cooking appliance worthy of a professional chef.
Consider premium grill brands like Alfresco, Coyote, Lynx, and DCS. They make fine-tuned products that are far superior to even the highest-end grill models you'll find in your local big-box store.
It starts with the construction. Any grill needs to be able to last and work properly in the ever-changing Canadian weather, even if it's covered up during the winter.
Premium propane and natural gas grills use high-quality stainless steel and construction materials. This ensures long-lasting durability and reliable performance.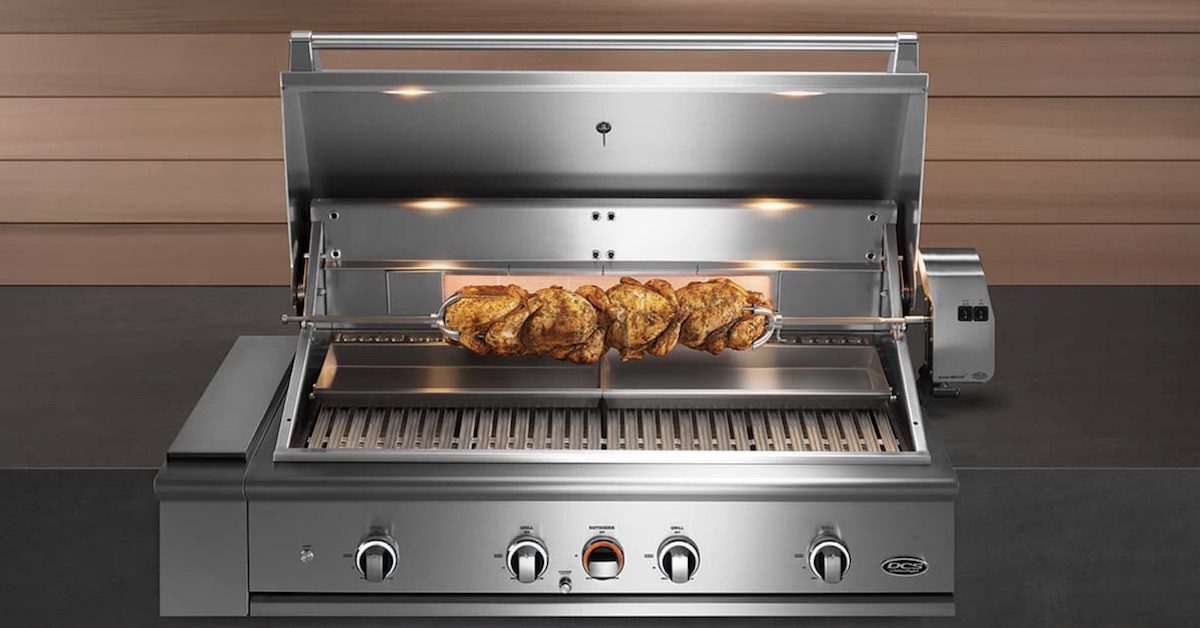 Grills with expansive cooking surfaces are a must-have for anyone who likes to entertain. Handy extras like a smoking box and rotisserie are also essential for those who take their grilling seriously.
Today's luxury grills also come with some very swanky modern features. Here are a few examples:
backlit control knobs, interior lighting, and halogen surface lights
advanced tech to automatically maintain a preset temperature
smart controls that respond to voice commands and smart devices
hood assist systems that make opening the grill hood almost effortless
Standalone grills used to be the standard for an outdoor cooking space. One of the growing outdoor kitchen trends includes incorporating a built-in grill into the kitchen's design. This saves space, looks professional and elegant, and creates a more efficient workspace.
2. Plenty of kitchen storage space
You can't call a space a kitchen without cabinetry. Naturally, an outdoor kitchen requires a special type of cabinetry.
Outdoor kitchen cabinets must be durable enough to handle being outdoors and look appealing. They need to maximize your kitchen's storage space as well.
Stainless steel cabinets have a sleek look that can be customized to match your style preferences. They also complement nicely with the look of your grill and other outdoor kitchen features.
Another weatherproof cabinet option is a hi-density resin cabinet system. NatureKast offers this type of cabinet, which replicates the texture and natural colour of real wood remarkably well.
Marine-grade aluminum kitchen cabinets are also engineered to withstand harsh weather and climates. Quebec's Urban Bonfire is one of the leading manufacturers of this type of outdoor cabinet.
3. A sturdy and attractive outdoor kitchen countertop
An outdoor kitchen countertop has three main functions. It has to:
have a resilient surface that can handle the requirements for a food prep area
be engineered for long-lasting structural and aesthetic integrity outdoors
visually complement the kitchen's other stylish features
Some of the more common types of countertop materials include marble, granite, porcelain, soapstone, and concrete.
One of the outdoor kitchen trends we're seeing more with countertops is to use surfaces made with sintering technology. This high-tech manufacturing process produces extremely durable surfaces that are highly customizable.
Any higher-quality outdoor kitchen countertop will be non-porous. It should also provide strong resistance to abrasions, stains, chemicals, and ultraviolet light (which prevents the surface colour from fading over time).
4. A full-service food prep area
A well-designed outdoor kitchen should include a full-service food prep area. A practical layout for everything allows you to work more efficiently.
The need for good lighting and an ample amount of counter space is a given.
Having every amenity you'll need to handle all of your food prep is helpful, too. Cooking for a group of people is a lot of work. There's no time to waste shuttling in and out of the house to use cooking appliances or retrieve a needed item!
There are a full complement of interior kitchen amenities that can be added to an outdoor kitchen. Here are a few examples, including some essential outdoor kitchen appliances:
faucet and sink
built-in countertop side burners
flat-top grill
outdoor pizza oven
countertop steam table
warming drawer
refrigeration and ice-making appliances
5. Plenty of refrigeration
Let's look a little closer at refrigeration in an outdoor kitchen. Having enough ice and keeping things cool are both a big part of the outdoor cooking and entertaining experience.
Have your outdoor kitchen designed so it's fully equipped to take care of both the host's and guest's refrigeration needs.
An outdoor cooking area with proper refrigeration saves you from making trips to your indoor fridge or freezer to restock on meats.
It saves guests from needing to make trips inside to get a fresh, cold drink. You also won't have to keep coolers or tubs of ice filled with bottled beverages scattered around your outdoor entertaining area.

There's no shortage of outdoor kitchen refrigeration options available. Top outdoor appliance brands like Alfresco and Lynx offer under-grill refrigerators, wine fridges, built-in under-counter fridges, and professional fridge/freezer combos.
How about adding an outdoor ice machine? Lynx has an energy-efficient appliance that can produce almost 40 pounds of ice. It even provides audible alerts and programmed cleaning reminders.
6. Tasteful décor
The attention you pay to the design and décor of an indoor living space should extend to your outdoor living space as well.
The modern concept of "style continuity" in the home (where there's a natural decorative flow from room to room) drives another of the outdoor kitchen trends designers love.
More and more, the décor of outdoor kitchens complements the style of an interior kitchen or the closest room to the outdoor kitchen.
Decorative flair can also be used to accentuate the already-impressive looks of a premium grill, cabinet system, and countertop. Extra touches like including cabinet backsplashes and decorative moulding elements add to the kitchen's visual appeal.
7. Add-on outdoor kitchen features
We've covered a lot with these outdoor kitchen trends and ideas, but there's still more you can do to elevate your outdoor living experience.
Here are some more features and design elements to consider adding to your outdoor living space:
an outdoor fireplace or fire pit
high-end outdoor furniture
an outdoor TV
landscape lighting to boost the ambiance in your outdoor lounge area

an integrated sound system with hidden speakers and wiring

a herb garden close to the food prep area
overhead covering for added comfort
Adopt these outdoor kitchen trends for your cooking space
All of these outdoor kitchen trends and essential features will contribute immensely to your enjoyment of your backyard.
When you can enjoy the full outdoor living experience, you just might find that your backyard even replaces the living room as your home's go-to social hub!
If you're planning to upgrade or add an outdoor kitchen in your home this year, request a design consultation with Outeriors.
Please share this post if you found it useful.
See also: