Home improvement projects to add or upgrade outdoor living spaces have been on an upward trend in the last few years.
In a recent Home Design Trends Survey, 45% of the architects polled predicted that outdoor kitchen additions would become the most popular type of remodelling project in the kitchen category.
When so many in-the-know professionals believe outdoor cooking space additions will be more popular than traditional indoor kitchen makeovers, that's saying something.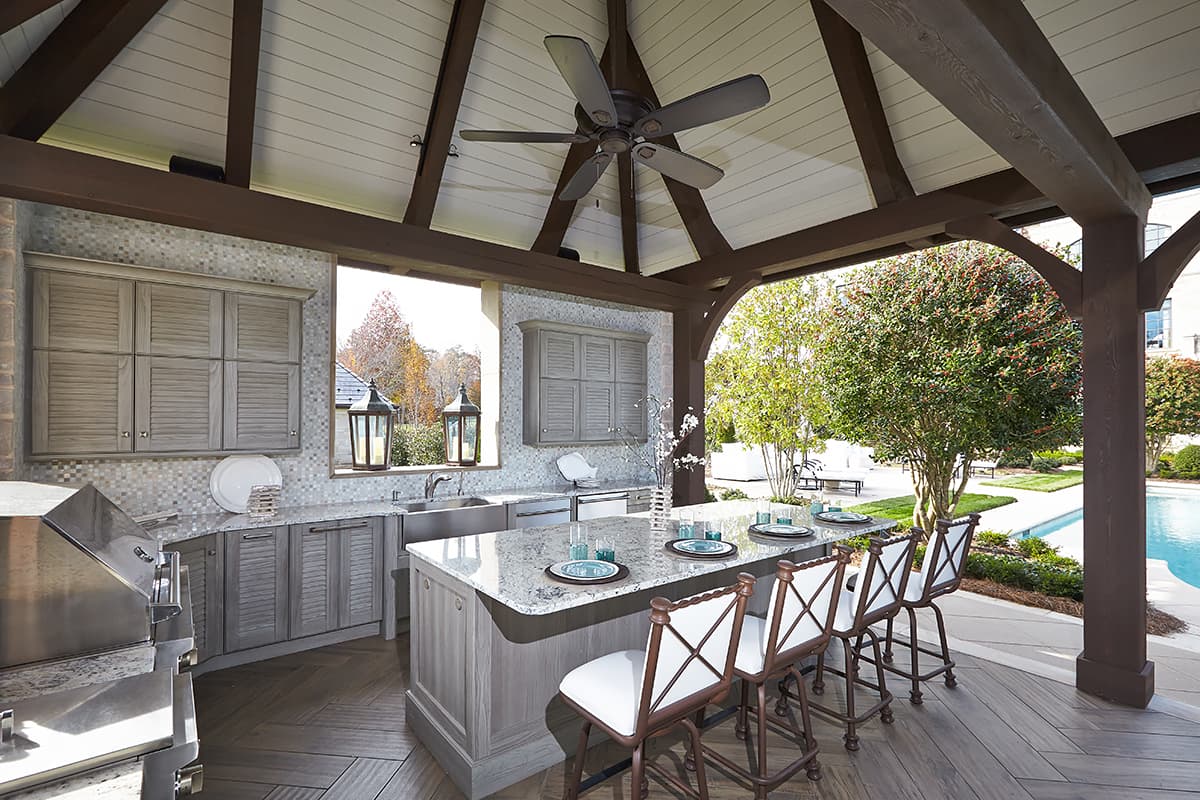 With the pandemic dramatically shifting how we live and function, maximizing the comfort level in our homes has become even more of a priority for a lot of homeowners.
The desire to enhance our lifestyle by creating more livable outdoor space in the backyard or at the cottage has made exterior kitchens very in-demand right now.
There are a number of questions you probably have about what goes into an outdoor kitchen design, so let's provide some answers.
1. Who should I trust with my outdoor kitchen design?
Anyone can buy a new grill and patio dining set and call it an outdoor living space, but there's so much more the outdoor living experience can offer. Think bigger.
Hiring a skilled designer to create an outdoor kitchen and living space will result in a finished project that serves your family's needs better and has a high-end, professional look.
As a division of the storage and organization experts at Garage Living, Outeriors has the same high standards for our outdoor kitchen designs as we do for our garage designs. This includes working with only the finest gourmet grills, cabinetry, and appliances.
Our skilled designers are dedicated to creating one-of-a-kind outdoor kitchens that are customized to our clients' style preferences and functional needs.
One thing that sets Outeriors apart is the full-service approach we bring to our kitchen projects. From design to installation, we take care of everything with your outdoor kitchen. This includes handling all aspects related to an outdoor living space's:
cabinetry
grills
appliances
countertops
2. What's the best location for an outdoor kitchen?
One of the biggest decisions you'll need to make is where the outdoor kitchen will be located in your backyard.
If you have an existing deck or patio where you want the outdoor kitchen to go then it's an easier decision, but it's good to take a few of the following factors into consideration.
Most homeowners prefer to have their outdoor cooking area located close to the house. This makes an outdoor kitchen and dining area feel more like an extension of the living space. The house also acts as a shelter from the wind and, depending on the design of the house, can provide shade.
This type of setup may be more desirable just for the sake of convenience when you're cooking outdoors and want quick access to anything inside. Having an outdoor kitchen within close proximity of the house makes installing plumbing, electrical, and natural gas connections a bit easier, too.
Locating an exterior kitchen and entertaining area further from the house if you have a larger backyard has its benefits as well.
A poolside area outfitted with a cooking and lounging space can make your backyard experience feel like you're staying at a nice resort and give you more room to get creative with your outdoor kitchen design.
Nothing beats the taste of grilled foods and even during the frigid Canadian winter, a lot of us still like to fire up the grill. If you fall into this category, keep that in mind when choosing your outdoor kitchen's location. After all, you probably don't want to trudge through a couple of feet of snow to get to that poolside grill in mid-February!
3. Is a patio or deck better for my cooking space?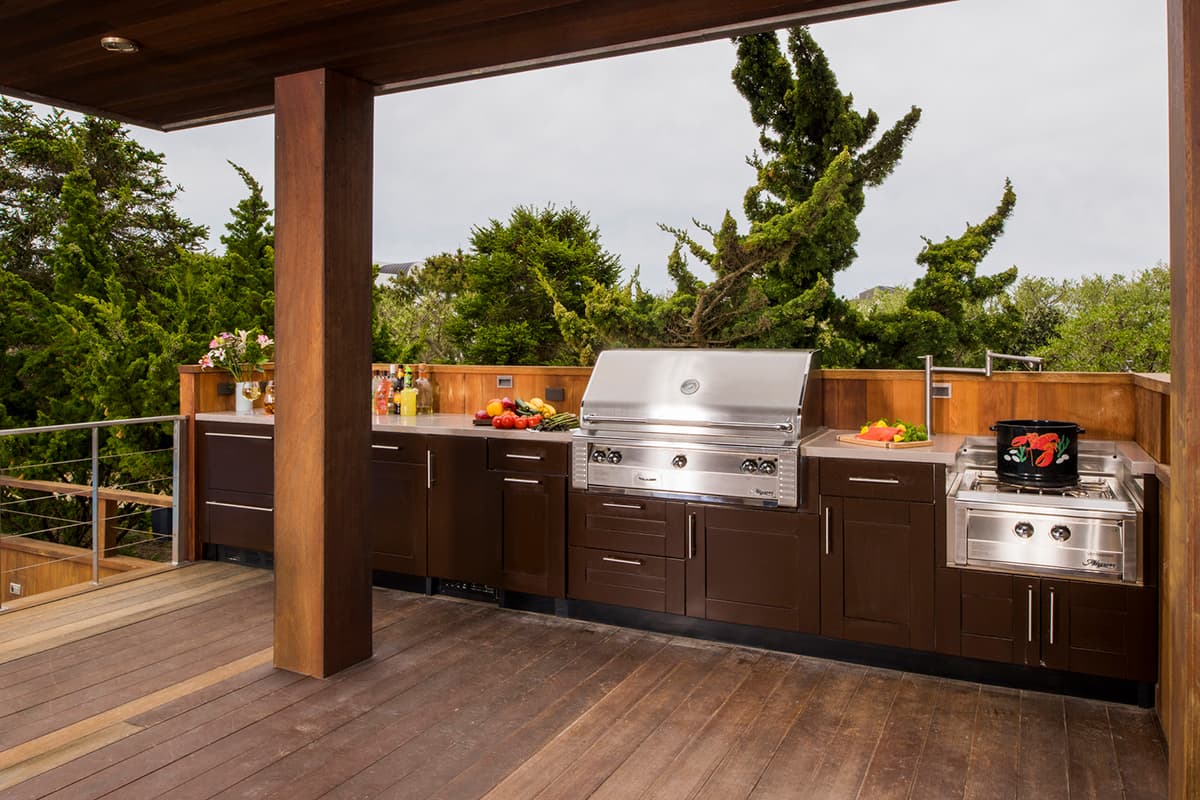 The deck versus patio argument has been around for ages and if you're looking to add either one for an outdoor kitchen, there are some basic facts you should know. Let's take a look at some of the pros and cons of each.
Patio
Compared to wood decks, patios are a little more cost-effective because they're less expensive to install and tend to last a bit longer. Well-maintained wood decks should last about 10-15 years and a patio that has been properly maintained will last approximately 15-20 years.
Patios provide a wealth of options in terms of shapes, designs, and colours of paver and patio stones. This can help you create a patio design that beautifully complements your home's exterior.
While you don't have to worry about weight restrictions with a patio like you do with decks, you are limited to having it on the ground floor.
Deck
Decks typically cost more to build than patios but do provide a slightly higher return on investment (around 75% compared to approximately 70% for a patio).
One advantage decks have over patios is they give you more flexibility in terms of where they can be installed. A raised deck may be preferable to you depending on the layout of your home and an elevated deck also offers a nicer view if you live in a picturesque location. That last fact can also mean less privacy if you have neighbours living right beside you, however.
One issue you need to concern yourself with when it comes to raised decks is they need to be sturdy enough to handle the weight of an outdoor living space and its occupants. Elevated decks will also require some type of railing.
Wood decks will require occasional maintenance, naturally. There shouldn't be much of a concern with wood decks posing a fire hazard if you take the following precautions:
locate your grill in a safe area (not too close to wood railings or any combustible materials)
work with a professional who will know how to design a cooking space that's safe
apply a flame-retardant treatment to the deck wood
To eliminate the need for deck maintenance, you could choose a more premium type of deck material like aluminum or composite (the latter has a lifespan that ranges anywhere from 25-50 years).
4. What type of outdoor kitchen layout do I need?
How you plan to use your outdoor kitchen should be the primary factor that determines how the layout is designed.
Do you need a large or small food prep area? How much space do you need for storage or to add appliances or a sink? Do you want to incorporate a dining area into the cooking space? Where should the grill go?
There are many things to take into consideration in order to choose a kitchen configuration that will maximize your enjoyment of the space.
If you have a lot of room to work with and desire a fully-functioning outdoor kitchen, a U-shaped or L-shaped configuration is ideal.
These types of layouts will provide you with an ample amount of counter and storage space in your food prep area, as well as more room to add a sink, some appliances, and a larger grill.
Part of the countertop can even be used as a bar area with seating for guests. Another option is to incorporate an island into the kitchen's layout, which can be used as an extra work surface (where you could put the sink), a bar area, or additional storage.
What if you're working with a smaller budget, have a limited amount of space, or just aren't looking to create a large outdoor kitchen? No worries – you can still create a beautiful outdoor cooking space with a nice grill, a modest amount of countertop space, and a few cabinets and drawers.
5. Is a premium grill worth it?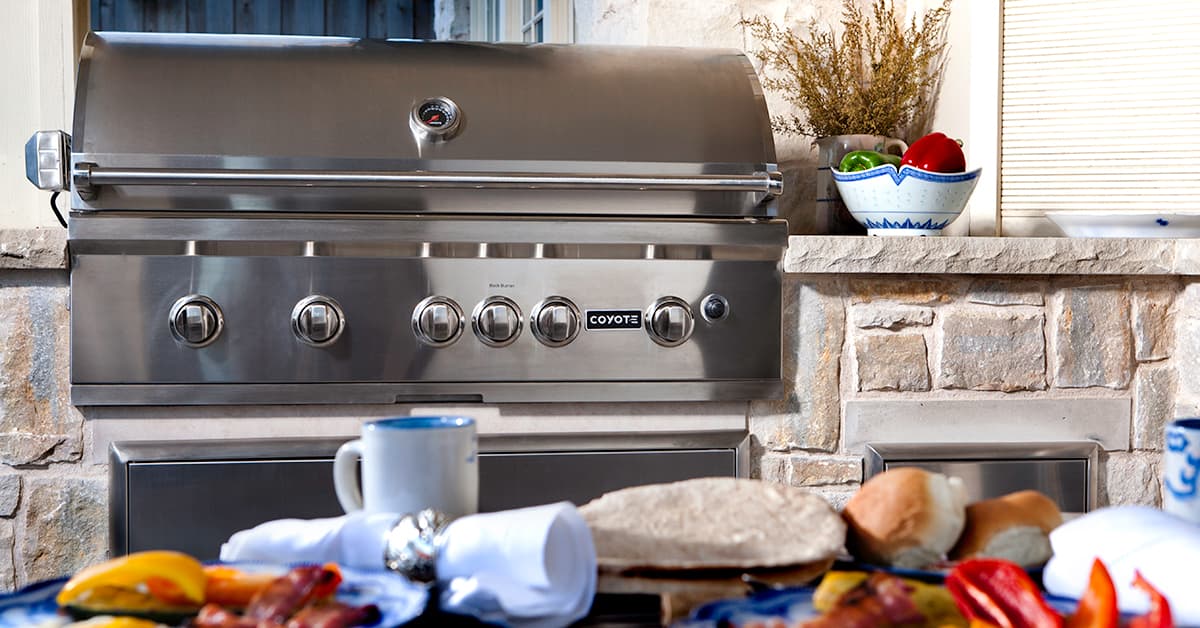 If you're used to paying a few hundred dollars for a grill that is perfectly fine and functional, there are several reasons why you should spend a little more for a premium grill.
Premium grills are built to last. Inexpensive barbecues cost what they do because a lot of manufacturers use cheap metals and parts that rust and break quickly. Spend a little more for a grill that has higher-grade construction materials like 304 stainless steel.
A high-quality grill just looks and feels nicer. One of the first things anyone looking at an outdoor kitchen will notice is the grill. Premium grills project a professional, upscale look and that superior quality is evident when you get hands-on with one, too.
A premium grill is more reliable and safe to use. If you get more than a couple of years of use out of the starter switch on a cheap grill before it's toast, you're probably happy. Luxury grills will work more reliably, from starting up every time to retaining their heat effectively to distributing heat more efficiently than budget grills (which reduces the occurrence of dangerous flare-ups).
Luxury grills work better for a custom outdoor kitchen design. If you're putting the time and expense into getting a professionally designed outdoor living space, a premium grill is a must-have. You'll have a number of style and size options to choose from to ensure the grill effectively complements the rest of the kitchen's stylish features.
Premium grills come with convenient high-tech features. How would you like to fire up your grill or adjust the temperature with a voice command or by tapping a smartphone screen? Wouldn't it be nice to use a grill with sensors that were so precise they could keep cooking temperatures at the perfect level? These are just some of the available features on modern smart grills.
6. What should I know about outdoor kitchen cabinetry?
Outdoor kitchen cabinetry works hard.
It needs to look great, provide you with efficient storage space, and be durable enough to withstand the diverse weather of Canada's four seasons.
Oh, and it would be helpful if it was low-maintenance, too.
That's a lot to ask of one product, but premium outdoor kitchen cabinet brands like Home Refinements, Urban Bonfire, and NatureKast are up to the task.
They offer high-quality outdoor cabinet solutions with a range of materials, colours, finishes, and styles to make customizing your outdoor kitchen design easier.
Like grills, outdoor kitchen cabinetry needs to be made from high-quality materials that won't rust or wear down rapidly. Here are three resilient cabinet materials worth considering:
commercial-grade stainless steel with a powder coating finish
PVC (which replicates the look of real wood and is very low-maintenance)
marine-grade aluminum
7. What type of countertop should I buy?
Another hard-working part of any outdoor kitchen are the countertops, which need to have a high resistance to scratches, stains, and high temperatures, in addition to being outdoor-proof and visually appealing.
High-end outdoor kitchen countertops from manufacturers like Dekton and Neolith are made with the latest in countertop design technology.
A highly advanced manufacturing process that involves using sintering particle technology can create work and dining surfaces that are exceptionally strong and durable.
They are also highly customizable, giving you an endless array of options for materials, colours, patterns, and textures.
8. How can I complement my outdoor cooking space?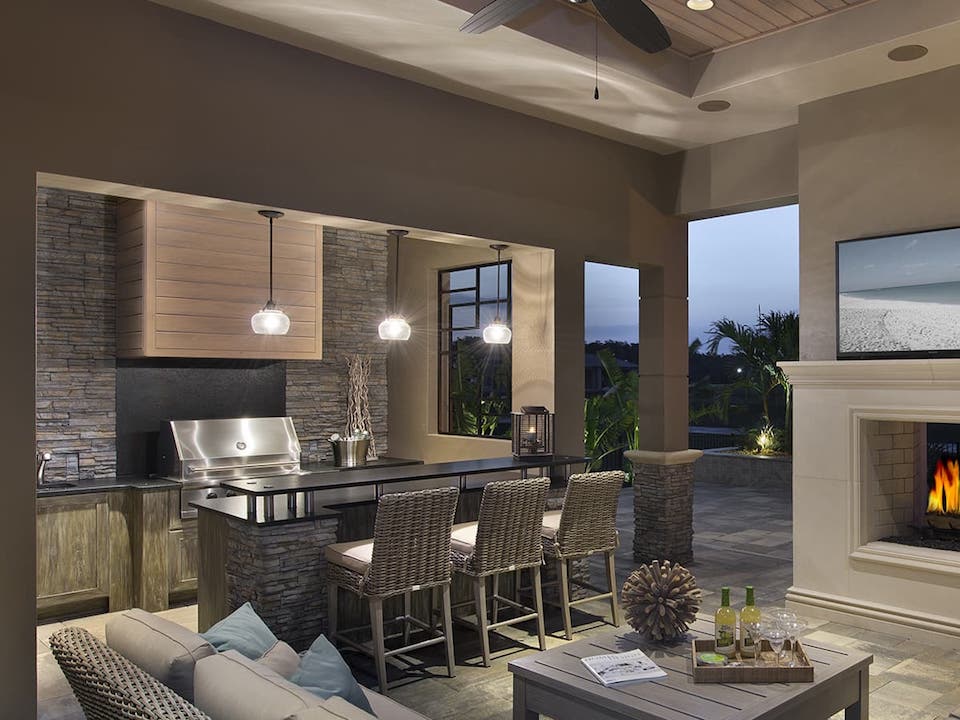 An outdoor kitchen adds stylish functionality to your backyard, but what are some ways you can complement it to create a complete outdoor living space?
There's no shortage of ideas to add to your outdoor kitchen design and make your backyard a more comfortable and attractive extension of your living space.
An outdoor living and entertaining space and relaxation go hand in hand, so some comfy seating like a sofa, loveseat, or recliners are a must. Get a high-quality dining set built for the outdoors to make dining al fresco more enjoyable.
Proper lighting for an outdoor living area and the surrounding landscaping also makes a big difference. Strategically placed lighting accentuates the living space, adds ambiance, and allows it to be more functional and safe.
Here are some additional things that can be included in an outdoor living space:
an outdoor fireplace, fire pit, or patio heater
ceiling fans
an outdoor TV
an outdoor bar/beverage centre
a hot tub
outdoor rugs
a pergola, awning, or pavilion
an in-ground garden or a vertical garden with fresh herbs and vegetables
9. What are the best outdoor kitchen appliances?
An exterior kitchen's main appliance – the grill – can do a lot of the "heavy lifting" when it comes to preparing outdoor meals, but what if you want to expand your cooking repertoire?
That's where outdoor kitchen appliances come in. An outdoor kitchen design can incorporate a number of specialty appliances that give you more cooking options, which allows you to get more creative in the kitchen.
Appliances like a smoker, pizza oven, flattop/cooktop grill, outdoor oven, side burners, and warming drawers can, in many cases, be installed as built-in units that make efficient use of the kitchen space.
Some non-cooking outdoor appliances that also bring the amenities of an indoor kitchen to your outdoor living space include refrigerators, freezers, and ice machines.
Bring us your outdoor kitchen design ideas
Let's talk about your outdoor kitchen and living space design ideas. We'll work together to create an incredible and unique outdoor cooking and entertaining space for your home or cottage.
Request a free design consultation with us to start planning your outdoor kitchen project.
Please share this post if you found it useful.
See also: