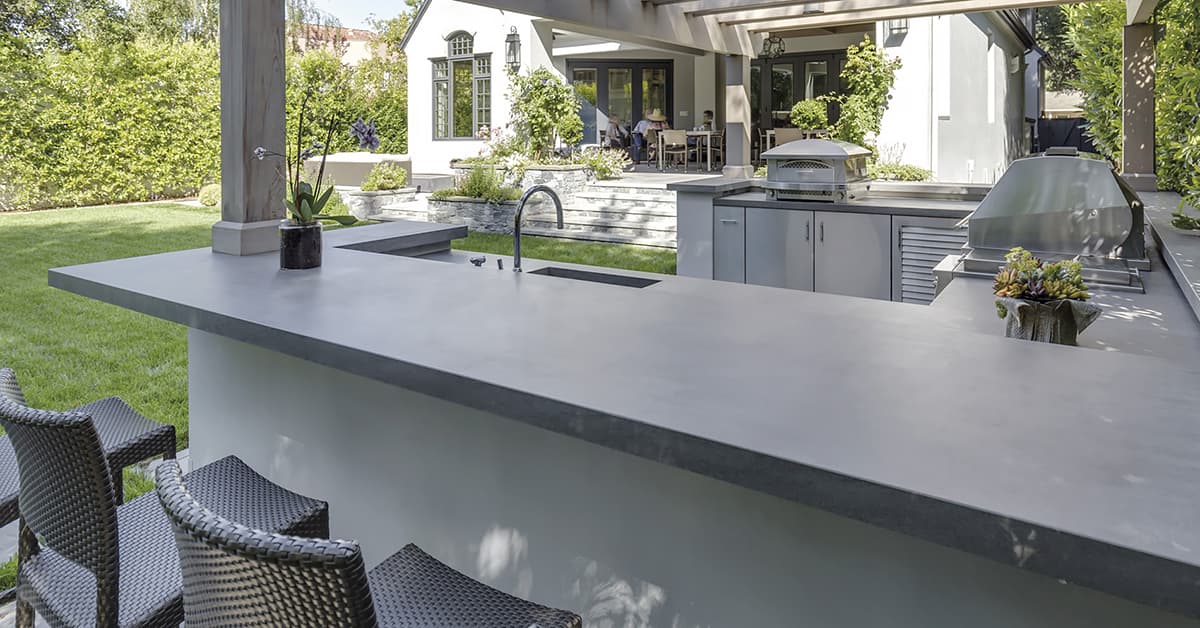 Remodeling magazine's annual Cost vs. Value report measures which home improvement projects retain the best value over time.
The 2020 Cost vs. Value report determined that nine of the top ten renovation projects that delivered the highest value returns were outdoor home improvement projects.
Homeowners want their houses and property to be something they can show off and be proud of. Investing in the right outdoor home improvement projects can turn an average-looking house and property into something special that can make your home really stand out in the neighbourhood.
Boosting curb appeal doesn't just have aesthetic benefits, however. Investing in your home's exterior appearance also enhances your comfort level and adds value to your home that can be recouped to varying degrees whenever you move.
7 smart outdoor home improvement projects
Curb appeal isn't restricted to only your home's street-facing features, either. Sprucing up the backyard is also important and we're seeing more interest in this area of home improvement.
It pays to do your homework about which outdoor home improvement projects pay off and which ones don't.
Adding a pool, for example, might provide you and your family with many hours of enjoyment for as long as you own your house. Unfortunately, pools have a notoriously lousy return on investment (typically in the 40-50% range). The vast majority of anyone buying a home views pools as the least appealing outdoor feature for a house.
Which outdoor home improvement projects are considered the smartest picks if you want to invest in your curb appeal and retain a higher amount of your remodeling investment?
Here are seven worthwhile projects that will refresh the exterior appearance of your house and add value to your home.
1. A new roof
As you can see from the Remodeling Impact Report infographic below from the National Association of Realtors (NAR), a new roof provides an outstanding return on investment.
Not only is redoing a roof a wise investment and great for curb appeal, but it also ranks very high when it comes to the satisfaction of consumers with their outdoor home improvement projects.
The NAR's "Joy Score" measures the happiness of homeowners with their renovations on a scale of 1-10 and a new roof gets a score of 9.2.
Giving your roof a facelift isn't cheap, so it tends to be one of those outdoor home improvement projects that get put off for as long as possible. The lifespan of asphalt roofing shingles in Canada ranges anywhere from 15-30 years, depending on the quality of the shingles.
However, waiting to replace your shingles isn't the kind of thing you want to procrastinate on for too long, as anyone who has dealt with a leaky roof can attest. Even if a roof isn't leaking, missing and faded shingles, along with other types of roof damage, can present your house in a poor light.
Performing annual roof inspections yourself can mitigate unexpected roofing issues in the future. Look for wind damage that may have caused some shingles to get ripped off or loosened, curled shingles, an excess of missing granules on the surface of shingles, and damage from hail. Ensure your downspouts and gutters are regularly cleaned, as clogs can potentially cause roof damage.
If you can afford it, a roof upgrade project also presents a good opportunity to upgrade your home's energy efficiency and value. A study by Zillow (a leading real estate and rental digital company) found that homes with solar panels sold for more than homes without solar energy systems.
Some people don't care for the aesthetics of roof solar panels, which Tesla has addressed with its Solar Roof system. It replaces the large, shiny, and futuristic look of traditional roof solar panels with much smaller high-efficiency solar panels that replicate the look of a traditional shingled roof.
2. Front door replacement
One of the more cost-effective outdoor home improvement projects worth doing is replacing your front entry door. A stylish and modern front door creates a strong first impression to anyone entering your home.
A professionally installed new front door typically falls in the $1,000-$5,000 range. Larger doors that have high-end hardware and include more intricate glass designs will naturally increase the price of the project.
New front doors provide a solid return on investment of around 70-75%. On the most recent Remodeling Impact Report, homeowners who had gotten recent fibreglass and steel front door replacements rated their project a 9.7 on the Joy Score scale.
Steel and fibreglass exterior entry doors are popular with homeowners nowadays because they cost less than most wood doors. Unlike wood doors, steel and fibreglass also requires little to no maintenance.
In addition to aesthetics, one of the reasons given by homeowners for a steel or fibreglass exterior door replacement was energy efficiency considerations. Homeowners also cited security concerns as a reason for getting a modern door that was sturdier than their old door.
If your budget doesn't allow for getting a new front door, even sprucing up your existing door is beneficial to your home's appearance.
A fresh coat of paint or stain for your door and upgrading hardware features like the lock, knob, handle, and knocker can make an old front door look brand new. You can also update the door by adding a smart lock system.
3. Adding an outdoor kitchen

Kitchen remodels are consistently one of the most popular home improvement projects. The American Institute of Architects' recent Home Design Trends Survey is taking this concept to a whole new level.
45% of the 500 members of residential architecture firms surveyed predict that outdoor kitchen additions will become the most popular type of home improvement project in the kitchen category in the coming years.
Adding an outdoor kitchen gives Canadians who are looking to maximize their time outdoors when the weather is nice with another option when it comes to cooking at home. And when we say "option", we're not just talking about using a single grill with a side burner.
Outdoor kitchens are capable of truly bringing the indoors outside, implementing many of the amenities and features of a traditional kitchen into an outdoor cooking space.
A professional outdoor kitchen design company like Outeriors can create a cooking space that is fit for a gourmet cook.
From design to installation, we take care of everything for your outdoor cooking space. Our outdoor kitchens have a sophisticated, high-end look and are designed to incorporate all of the features your cooking needs require. This includes:
custom outdoor cabinetry
outdoor kitchen countertops
A creative and thoughtful touch like adding a nearby garden (or a vertical garden that's actually right in the kitchen) with fresh herbs and veggies for your meals is also an option for an outdoor kitchen.
4. Adding an outdoor living space
To complement an exterior cooking area, adding an outdoor living space can really help you get the most out of your backyard and connect more with the great outdoors.
An outdoor living room with plenty of comfortable seating and an area for dining al fresco extends your home's living space.
Backyard living spaces also create an ideal space for entertaining during the warmer months of the year. These attractive benefits are why many buyers of new luxury homes consider an outdoor living room a must-have feature.
Outdoor living spaces can be designed to accommodate all types of budgets and sizes of backyards. A simple design for a small patio or a larger, more lavish outdoor living space design will improve your comfort level while at home.
A talented designer will ensure your outdoor living space and outdoor kitchen blend seamlessly with your existing home's style and décor.
A few extra amenities worth considering for an outdoor living space are:
an outdoor fire pit or fireplace
a pergola or retractable awning for sun and rain protection, as well as for privacy
an outdoor audio system
lighting upgrades for more ambiance and functionality
a weatherproof/outdoor TV
5. Home siding or stone veneer upgrade
Appearance-conscious homeowners should consider a siding replacement if their home's siding has seen better days.
This home improvement project can greatly impact your curb appeal. Compared to siding products from 20-30 years ago, modern siding is a lot more durable, is easier to maintain, and gives you a lot more design options with a variety of profiles and colours.
While the return on investment for vinyl and fibre cement siding is in the 65-75% range, a siding replacement left homeowners who undertook the project very satisfied with a 9.3 Joy Score.
For a different look that stands out from the long horizontal panels used for siding on most homes, you could choose textured shake siding made from engineered wood.
Another visually impressive alternative is to add a stone veneer to your home's exterior for a distinct, natural look. While it's not cheap, adding a manufactured stone veneer to your home had one of the highest returns on investment in the latest Cost vs. Value report at 96%.
6. New garage doors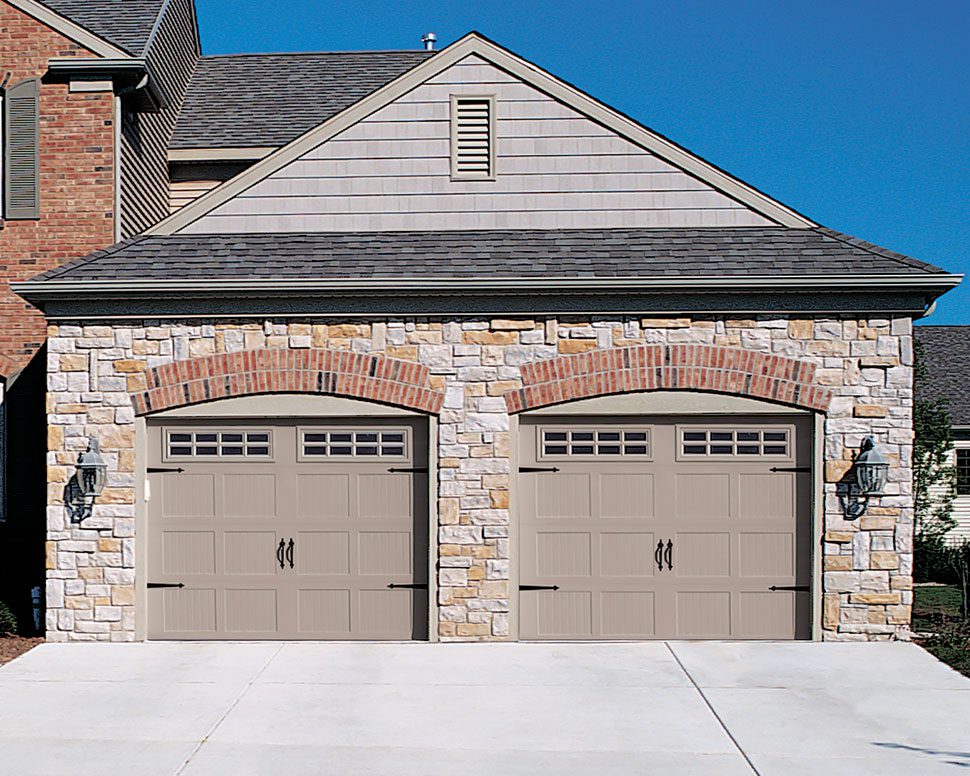 One of the home's major focal points is the garage doors, which can account for as much as a third of a house's front exterior. It's a simple fact that attractive garage doors and strong curb appeal go hand in hand.
While the approximate returns on investment for various renovation projects can vary from year to year depending on trends, new garage doors are as rock-solid an investment as it gets in home improvement for the amount recouped. Year after year, they stay in the 85-95% range for return on investment.
Like front doors, garage doors offer a wealth of styles and customization options nowadays to effectively complement a house's exterior, in addition to improving the energy efficiency of homes.
An aluminum capping upgrade is a rather underappreciated way to add to a home's exterior visual appeal, too. Most people aren't familiar with what aluminum capping is. It involves wrapping a garage doorframe in aluminum sheeting that is colour-matched to the garage doors and home exterior, which gives a house a clean, more finished look.
7. Upgrading or adding a deck or patio
Decks ranked number one among the features wanted most by homebuyers, according to the Homeowners' Most Wanted survey from Porch, an online home improvement resource.
Their return on investment is in the 70-75% range, with wood decks recouping slightly more than decks made from composite materials.
It's no surprise that a deck or patio upgrade or addition is usually one of the most popular outdoor home improvement projects in Canada during the spring and summer.
These areas are the foundation of a backyard cooking and living space. Whether you're working on a tan, cooking for your family or guests, or just relaxing with friends, there's a real value in having a spacious, comfortable area at the ready in your backyard.
If you already have a wood deck, giving it a little TLC every few years by spending a weekend restaining it can give this part of your home a beneficial refresh. Deck stain applications will last for about five years.
Get started on your outdoor home improvement projects!
Which outdoor home improvement projects are on your to-do list this spring and summer?
If an outdoor cooking and living space is something you've always wanted, make this the year your dream becomes a reality.
Request a consultation with Outeriors to start planning your outdoor project now so you'll be able to maximize the use of your outdoor kitchen and living space this summer.
Please share this post if you found it useful.
See also: