Investing in a home improvement project that expands your living space is a big commitment. Building an outdoor kitchen is no exception.
Taking on this project is no easy task, which is why hiring an outdoor kitchen company is smarter than trying to DIY it.
A survey from Porch.com found that 55% of homeowners DIYed a recent home improvement project. Only 31% of them admitted that the project was a success.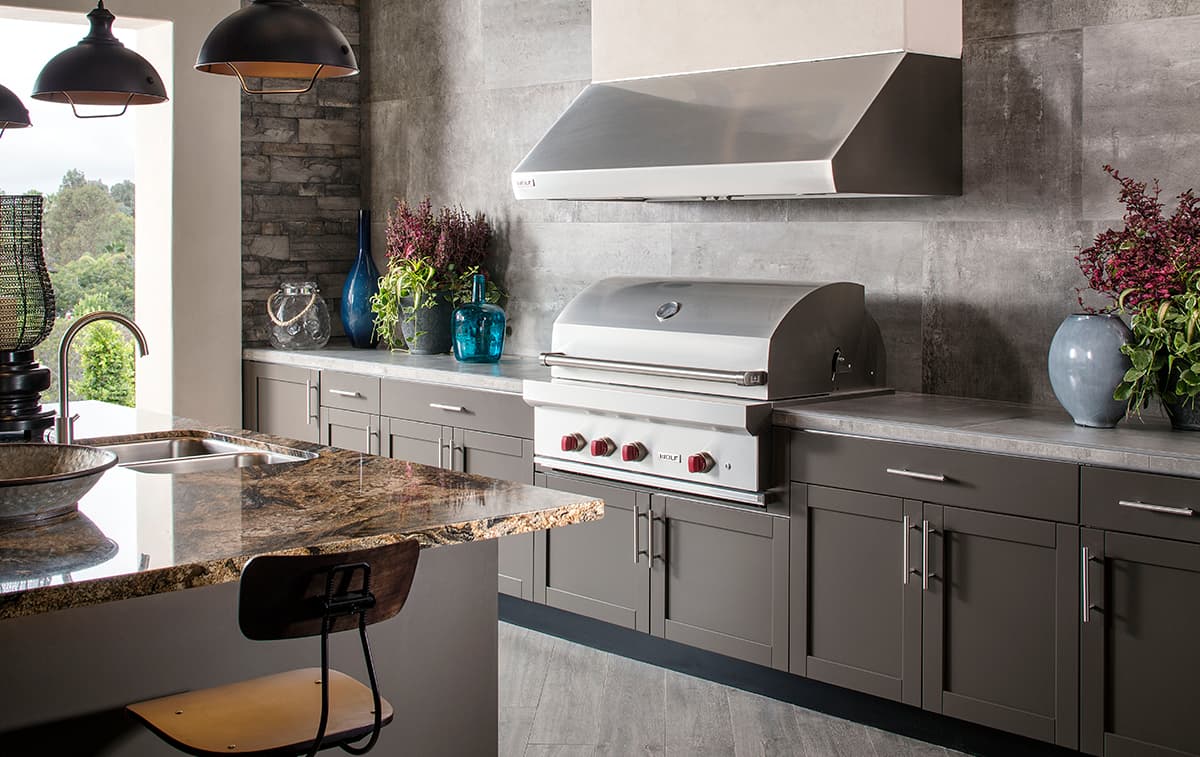 Sure, DIYing an outdoor kitchen has its benefits. Saving some money and getting that satisfying feeling knowing you've improved your home with your own two hands is nothing to sneeze at.
There are a lot more benefits of letting a professional handle the job, however. Here are seven reasons to hire an outdoor kitchen company for your backyard building project.
1. An outdoor kitchen company has experience
A ship needs a good captain to guide the vessel safely and efficiently along its journey. Any ship embarking out to sea is always under the guidance of someone with lots of on-the-job experience.
An outdoor kitchen company designer is very much the captain of any building project they're involved with, ensuring everything runs smoothly.
There is no substitute for experience
Call it experience, expertise, know-how, or whichever word for "knowing what you're doing" you prefer – they all definitely matter with an outdoor kitchen building project.
Building an outdoor kitchen and entertaining space from scratch by yourself is beyond the skill level of most homeowners. Some weekend DIYers could put together a serviceable space for cooking outside. Why settle for just serviceable, though? It also may not be the safest to use, nor will it have the professional, high-end look that an experienced outdoor kitchen company can create.
"Figuring it out as you go along" may work for doing a small plumbing repair using a helpful YouTube video to guide you. An outdoor kitchen build is on a whole other skill level, though.
There are a lot of moving pieces involved when designing and building an outdoor kitchen. Finishes and colours need to complement one another and be tailored to the homeowners' taste. The backyard space where the kitchen is being installed needs to be utilized efficiently. And complicated tasks like hooking up gas, water, and electrical lines need to be handled.
And that's just scratching the surface of what's involved.
Measuring twice, building once
A reliable outdoor kitchen company will have a tried-and-true work process in place that makes the project run efficiently. That's starting from the initial design consultation right through to the point where the company's truck is leaving your driveway after the installation is completed.
An honest contractor knows that time is money – both yours and theirs. They are more likely to adhere to the "measure twice, build once" philosophy that ensures the job is done right the first time.
DIYers often need to go back and fix up things they didn't install or build properly, which wastes their time and isn't cost-effective. In many cases, these homeowners end up having to hire a pro to fix the work they've done, which only makes the project's cost balloon even further.
Another area where experience from your contractor is important is problem-solving. An experienced contractor can come up with a quick solution to an unexpected problem because they've probably seen it before. There's no hitting a building roadblock as you try to work out a conundrum like why that darn upper-right cabinet isn't aligning with the bottom-right cabinet.
2. Convenience
The convenience of having a good contractor handle your home improvement project is something virtually everyone can appreciate (other than perhaps the most skilled DIYers).
Ontario summers are all too short. Hiring an outdoor kitchen company will allow you to use your free time to spend on other summer activities that don't include a time-consuming construction project. A professional with experience building outdoor kitchens will get the job done faster, too. That lets you start using your backyard kitchen space that much sooner!
Everything is designed at the same time to create a unified, attractive look with every component functioning in perfect harmony. There's no need to inconveniently add accessories or make design changes later on that don't aesthetically fit and stand out as a design afterthought.
For the ultimate in convenience, hire a full-service outdoor kitchen company like Outeriors that can design and install a complete outdoor living space.
3. Customize your outdoor kitchen design
If you're building an outdoor cooking space by yourself, you're obviously customizing it to look the way you want.
That's not quite the same as working with a professional designer on a customized outdoor kitchen design, however.
The best outdoor kitchen companies will have designers who can take your core ideas and design goals and elevate your vision into something truly special.
The ability to create customized contemporary outdoor kitchen designs with a limitless number of design options is one of several difference-makers between DIYing the kitchen and working with an expert.
They can create an outdoor living space that is tailored to fit your lifestyle, cooking habits, design preferences, and backyard space.
Dealing with customization challenges
Of course, customizing means there's a higher chance you'll encounter some design challenges.
Where a custom outdoor kitchen design concept begins is rarely how it eventually turns out. Tweaks, improvements, and modifications are usually involved, especially when clients get a better visual idea of what their finished kitchen will look like with 3D CAD renderings.
You'll find that a creative, flexible designer who can solve problems quickly and adapt to any challenges is worth their weight in gold.
4. Work with the best outdoor kitchen products
Your outdoor kitchen company should have high standards for the products they will use when building your kitchen. If you're DIYing a kitchen and unfamiliar with the various brands of outdoor kitchen products available, you might not know any better that a certain brand you didn't buy was a better choice.
Doing some research online will help educate you. Once again, there's no substitute for the experience that comes with working in the industry. A good designer will stay up-to-date on all the latest products and the pros and cons of certain models of outdoor kitchen appliances, for example.
Outeriors works with only the best outdoor kitchen equipment brands in the industry. We know that manufacturers like NatureKast, Lynx, Coyote, and Dekton offer the highest quality outdoor kitchen products that look stunning, perform exceptionally, and last for years.
You get what you pay for
Remember that the quality of the outdoor kitchen products you buy will have a big impact on the project's final cost.
It's in an area like this where going with the contractor who gives you the cheapest quote can come back to haunt you. One reason you might be getting an attractive low quote is because the contractor uses cheap outdoor kitchen products that won't last.
Visiting a showroom always helps
Another way to tell if an outdoor kitchen company you're considering hiring is a fly-by-night type of operation is whether or not they have a showroom.
If they don't, it certainly doesn't mean they can't be trusted. They may just be a small one or two-person operation.
If they do have a showroom where you can get a better sense of their product offerings and standards, however, that's a strong indicator that they're more established and going to be around for a while.
5. Attention to details matter
When we say "attention to details" with an outdoor kitchen, what exactly are we referring to?
Here's an example. Outeriors president Daniel Albo was interviewed by the Toronto Sun and explains why the finishes and colours used in an outdoor kitchen aren't just about aesthetics. He tells the Sun that finishes with darker colours are harder to maintain and keep clean in an outdoor setting.
Albo goes on to say, "Darker surfaces also absorb more heat from the sun and can be hot to the touch if open to above. Earth-tone colours are typically easier to keep looking great."
Important considerations like this indicate that you're working with a professional that has your best interests in mind. A reputable outdoor kitchen company wants you to love your kitchen 10 years from now, not just until the warranties run out and they're off the hook for fixing any issues.
A shady contractor often only cares about meeting the bare minimum of the project requirement so they can get just paid and quickly move on to their next project. Remember that with unscrupulous contractors, corner-cutting is a feature, not a defect or bug.
Attention to detail when designing and building an outdoor kitchen also matters in other areas you may not have considered.
Building safely and pricing responsibly
Safety is one example. A kitchen that uses natural gas, electricity, and running water outdoors and has an open grill flame and hot cooking surfaces needs to be designed with safety in mind. This is even more essential if kids and pets will be around the kitchen.
Attention to detail also matters when you're discussing pricing with the outdoor kitchen company you've hired. Get a detailed summary upfront of the costs for each product and the services that will be performed so there are no surprises with hidden fees later on. That's a move right out of the shady contractor's handbook!
6. Peace of mind
Hiring any contractor requires some homework on your part to differentiate between which companies have a reliable track record and which ones don't instil confidence in you to handle your building project.
Home renovations rarely come without some degree of stress. Getting things off on the right foot by doing your research and finding a reliable outdoor kitchen company that does great work will provide you with a comforting peace of mind.
Always check online reviews, references, and ask a potential contractor for a portfolio of their past work. Make sure you can verify that any photos they're showing you are, in fact, from projects they've worked on and not just impressive outdoor kitchen photos they found online.
Positive word-of-mouth or a glowing reference from someone you know is perhaps the best way to find out how an outdoor kitchen company works. 
Make sure your contractor isn't just qualified to do the work, but that they're properly insured, will work safely, and will build everything to code.
7. Accountability for your building project
A reputable outdoor kitchen builder who cares about the work they do and strives to keep their clients satisfied will stay accountable throughout the design and building process.
Poor communication between a contractor and client results in inconvenient scheduling, disputes over a project's cost, frustration on both sides, and a customer who ultimately isn't happy with their experience.
Outeriors is a division of Garage Living, a trusted leader in the field of garage remodels. Garage Living has been around since 2005 and transformed thousands of garages across North America into stylish, more functional extensions of their clients' living spaces.
We're an outdoor kitchen company that brings that same philosophy and high level of standards to the backyard with every outdoor living space project we work on.
Our design professionals stay connected with our clients as their project progresses, receiving their input and providing clear timelines on the work being done.
Our goals are one and the same – we want your outdoor kitchen space to look stunning!
Hire an outdoor kitchen company you can trust
Don't get in over your head trying to build your own outdoor kitchen. Hire a reliable outdoor kitchen company that can transform your backyard into a one-of-a-kind outdoor living space.
As one home improvement professional told CTV News in the early days of the pandemic, "My advice for starting any DIY during COVID-19 is keep it within your abilities. The last thing you want is to be staring at a half-finished project in your home (that's) adding to your stress levels."
If you're looking for a qualified outdoor kitchen company in Toronto that can handle your building project, look no further than Outeriors. We specialize in designing outdoor kitchen and living spaces of all sizes.
Get a free quote for your planned outdoor kitchen by scheduling a free design consultation with us.
Please share this post if you found it useful.
See also: