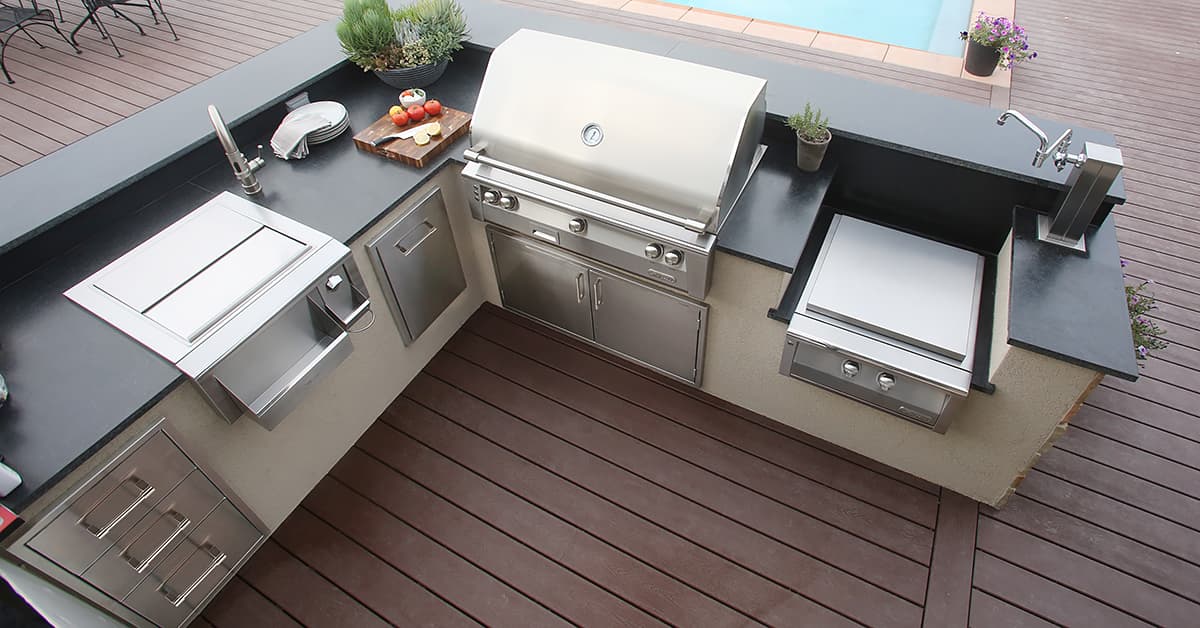 With the right design, an outdoor kitchen and entertaining space can become a backyard oasis that expands a home's living space.
If your goal is to create an outdoor cooking area that projects a stunning high-end look, a premium grill is a must-have.
Creating a luxury outdoor kitchen and using a cheap grill makes as much sense as wearing a pair of Crocs with a tuxedo or parking luxury cars in a rundown garage. The entire aesthetic is just plain wrong.
A premium grill does cost more, but as that familiar expression goes, "you get what you pay for".
Here's a more original and thoughtful way to justify spending more to get more with a grill, using the words of a writer from the 1800s: "The bitterness of poor quality lingers long after the sweetness of low price is forgotten."
What premium grill benefits should buyers be aware of when they're putting together an outdoor kitchen design? It all comes down to looks, functionality, and durability.
5 premium grill benefits
Many people think that a premium grill is one of those larger, fancier, more expensive barbecue models they've admired on display at their local big-box store.
While these types of barbecues are an undeniable step up from the inexpensive, low-quality models that can found elsewhere in a store's grill department, they're actually just barely scratching the surface of what is truly "premium".
Any discussion about high-end grills involves premium brands such as DCS, Kalamazoo, Lynx, Komodo Kamado, Coyote, and Alfresco being part of the conversation.
A natural gas or propane grill is the foundation of an outdoor cooking space. Choosing the right grill model can be the make-or-break difference between being merely content with your outdoor kitchen or the area being one of your favourite home spaces.
And it's a premium grill that is found in the finest outdoor kitchens.
These five premium grill benefits explain why it's worth going upscale when buying your primary outdoor cooking appliance.
1. Premium grills are built to last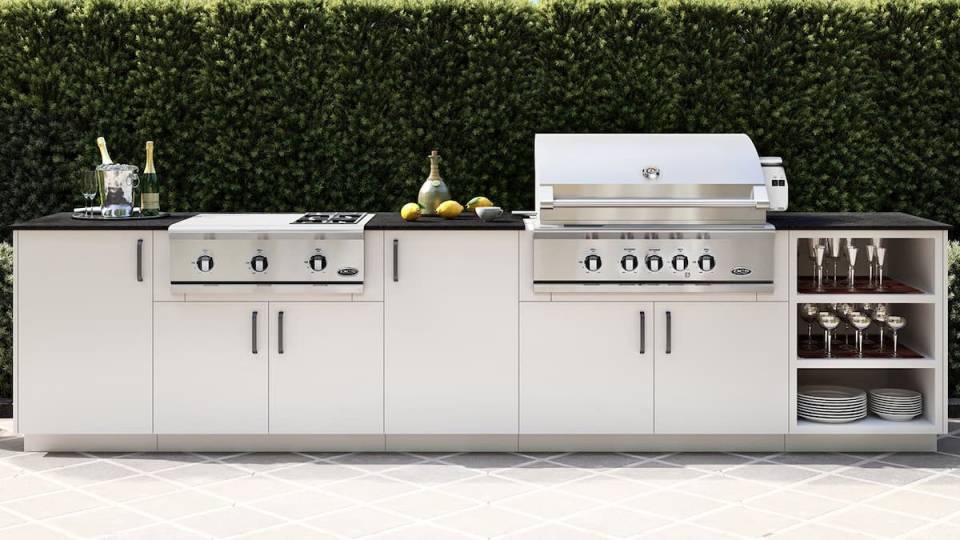 Even with proper care and maintenance, cheap grills are notorious for rusting after a short amount of time.
Either you or someone you know has had that frustrating experience where a relatively new barbecue is found to be showing signs of rust, despite the fact a grill cover was always used.
If any grill is kept outside, using a good cover certainly helps to prolong its life. A grill used in Canada is still going to have to contend with extreme temperature shifts and moisture that collects underneath its cover, however.
That's one of many reasons the quality of a grill's construction materials is so important.
Cheap grills keep costs down by cutting corners on virtually all aspects of the manufacturing process, starting with the construction materials.
Budget grills rust quickly because the metals they use (including steel, iron, and aluminum) are typically low-grade and sourced overseas. They are often made from thin steels and inferior cast aluminum, which doesn't offer much durability.
Superior grill materials are essential
One of the biggest premium grill benefits is that they last much longer than cheap grills because metals of superior quality are used in the manufacturing process. Cheap steel manufactured in many countries, for example, includes a lot of recycled materials and can't compare in quality to most North American-made steels.
Premium grills from manufacturers like Coyote and Alfresco are commonly made with 304 stainless steel (also known as 18/8 stainless steel in the commercial cookware industry). This thicker, higher quality steel provides excellent corrosion resistance and more grill durability.
Starter switches on cheap grills are notorious for how quickly they stop working. With a premium grill, you get better hardware and components that last longer and are more dependable. Lynx grills, for example, use high-performance ceramic and brass burners that won't need replacing after only a few years.
The design and construction of a premium grill also pay more attention to important details like how the grill is welded. Cheap grills have poor designs with seams and gaps that let heat escape and cause a mess with leaking grease.
2. A premium grill looks and feels nicer
A major incentive in taking on any home upgrade project is to make your living space look its best and be something you can't wait to show off to visitors.
As the focal point of an outdoor cooking space, the grill is going to get its fair share of attention. You don't want a low-end grill to detract from the high-end aesthetic of an outdoor kitchen that includes cabinetry, countertops, and additional appliances.
Even a grilling novice will immediately recognize the higher level of quality that a premium outdoor cooking appliance displays, compared to a cheap grill.
Those higher quality materials, heavy-duty construction, and the meticulously crafted design result in a sleek, finely-tuned outdoor cooking appliance.
Special aesthetic touches like integrated illumination via backlit designer knobs and high-intensity halogen lighting inside the premium grill cover not only enhance the look of the appliance, they also have practical applications. 
The "touch test" is another of the premium grill benefits that shouldn't be overlooked. A luxury grill just feels nicer to the touch and provides a more satisfying tactile experience.
Superior grill quality becomes evident in the small details like having knobs that turn smoothly and consistently, or doors and drawers that open and close easily. And one of the real tests of a grill's quality is whether or not these parts still work perfectly after a few years of use.
Keep in mind that another benefit of buying a premium grill is that they come with better warranties than cheap grills.
3. You get a better, safer cooking experience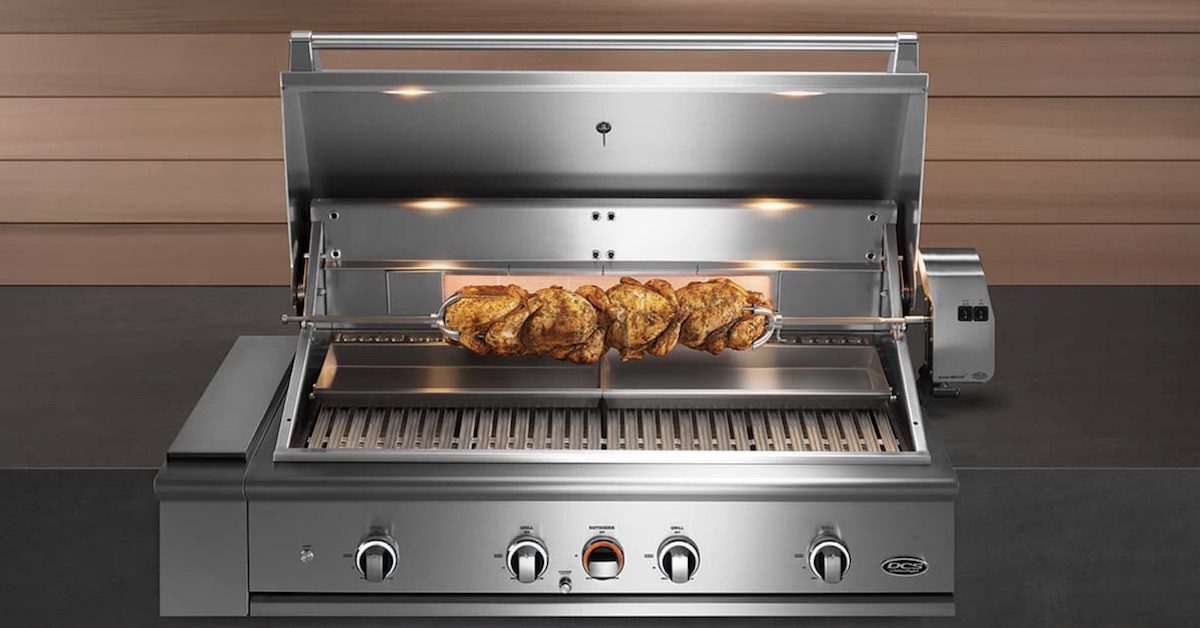 Our summers in Canada are all too short. Who wants to waste the limited amount of outdoor enjoyment time the summer offers dealing with an undependable, frustrating-to-use grill?
Premium grills provide a more consistent level of functionality and dependability, which translates into a better outdoor cooking experience.
Standard features on premium grills like long-lasting ignition switches that always work and spring-assisted lids that easily open and close are the kinds of smaller user-friendly details that you'll appreciate after years of using cheap grills.
Grills with better designs and high-quality metals do a better job of retaining heat and distributing the heat more evenly, which results in more reliable cooking performance.
A higher-quality grill is safer to use, too. In addition to the aforementioned lighting features, they include, premium grills also use advanced heating systems that allow you to use different temperatures across the cooking area. This not only gives you more flexibility when grilling different types of food, but it also minimizes the occurrence of dangerous flame flare-ups.
Having a grill with a reliable ignition switch naturally makes the appliance safer to use as well. You won't need to go through the nerve-wracking experience of standing over a grill to light it with a match or stick lighter because that darn starter switch stopped working!
And let's not forget the convenient smart features included in some models of premium grills, which simplifies the grilling process even more. Find out more about this premium grill benefit a little further on in this post.
4. You can customize a premium grill
Another reason a premium grill is a must-have for an outdoor cooking space is you'll want to take advantage of the ability to customize it for your kitchen design.
Luxury outdoor kitchens typically don't have standalone grills – they incorporate the grill right into the kitchen's countertop and cabinet design.
This built-in design creates a clean, seamless look and allows the kitchen to be set up for an optimal level of convenience and work efficiency for the chef(s) when preparing and cooking meals.
Even a big-box store's best grills tend to only come in one or two sizes. Premium grills offer many more size options and allow you to customize extras like the sizes of warming drawers and side burners.
Additional outdoor kitchen appliance options that expand the cooking space's versatility include products like refrigerators, flat-top grills, pizza ovens, and beverage centres.
You can ensure the kitchen's aesthetic remains consistent by choosing outdoor kitchen appliances and accessories with finishes and styles that complement each other and your grill.
5. Smart grills = easier outdoor cooking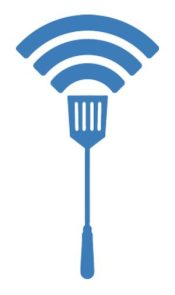 Smart technology has made its way into many of the appliances we use, from refrigerators with touchscreens that allow you to order groceries to dishwashers that can send a message to your smartphone telling you when the wash cycle is done.
Grills are another home appliance that have convenient smart features available. You won't find them on grill models that can be picked up at the local big-box store for a few hundred dollars, however.
It's only the high-end barbecues that integrate this state-of-the-art technology into their designs, such as the Lynx Professional Smart Series of grills.
Use MyChef for smarter grilling
These grills use Lynx's innovative MyChef technology. Check out a few of the impressive things this intelligent tech can do when you're grilling:
voice or smart device-activated commands can start the cooking process and adjust temperatures
sensors in the smart grill keep cooking temperatures at the perfect level
the grill is connected to an online database with hundreds of recipes and instructs you on how to get the best grilling results
updates to the grill's learning module are made based on the user's input and cooking habits
a smartphone or tablet app monitors temperatures and cooking times and sends you an alert when the food needs to be flipped or is done
You'll love what a premium grill offers
Have these premium grill benefits convinced you that they're worth the investment?
Enjoying a superior outdoor cooking experience starts with your grill, so don't settle for anything less than one of the top premium grill brands.
Outeriors only works with the finest grill manufacturers, including Lynx, Alfresco, Coyote, and DCS.
Schedule a free design consultation with us to look at your premium grill options for your outdoor kitchen project.
Please share this post if you found it useful.
See also: