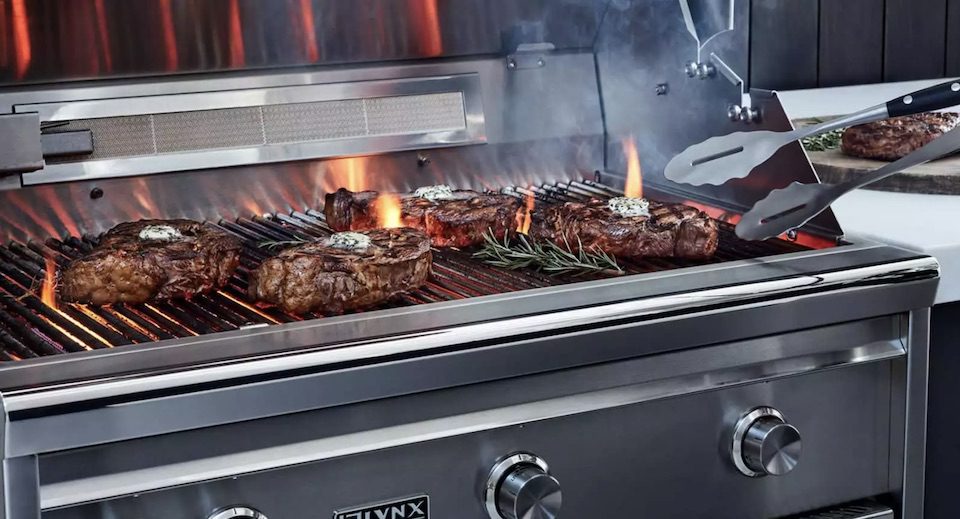 Grilling is a beloved part of Canadian summers. Cooking and dining outdoors are responsible for some of our most memorable summer experiences.
Any opportunity to get outside and enjoy the precious few months of warm weather we get is an opportunity worth taking. And if enjoying the best weather of the year can be combined with the many benefits of grilling, it's a win-win.
There's something about the combination of the outdoors, cold beverages, a hot grill, and good company that never gets old. As chef, restaurateur, and TV personality Bobby Flay says, "Grilling means good times, good friends, and hopefully, great food."
Being able to grill and eat outdoors provided us with a welcome escape from the inside of our homes during the pandemic and gave us a brief sense of normalcy, even if it was a short trip to the backyard.
10 interesting grilling facts and stats
Before we get into the benefits of grilling, let's take a look at some revealing facts and stats that show how we use our grills.
80% of Canadians own an outdoor grill or smoker. 
The most popular foods to grill for Canadians are (in order): steak, hamburgers, ribs, sausages and hot dogs, vegetables, fish and seafood, and chicken.
The top reasons given for why people use their grill: flavour (72%), lifestyle (52%), entertainment (40%), convenience (33%), and health (18%).
22% of Canadian grill owners use the appliance 4-6 times per week during the summer. 27% of Ontarians use their grill that frequently.
56% of men say they grill year-round, compared to 45% of women.
Corn is the most popular grilled side dish for Canadians, followed by potatoes.
7% of surveyed Canadians said they cook all of their meals in the summer on the grill. Conversely, 9% of people who own grills never use them.
During the summer, 65% of grill owners clean the appliance after every use. 32% only clean it "a few times", and 3% never clean their grill (yuck!).
67% of men surveyed said they were their family's primary griller. 18% of the women surveyed stated that they were most likely to be in charge of grilling duties in their home.
The most popular day of the year for Canadians to grill is on Canada Day.
*Data taken from surveys, polls, and studies conducted by the Hearth, Patio & Barbecue Association, Research Co., Michigan State University, and Applegate. 
7 benefits of grilling everyone should know
"I profoundly believe that the power of food has a primal place in our homes, that binds us to the best bits of life." – Jamie Oliver
We couldn't agree more with the cooking guru. Grilling plays a big role in this concept, which is one of many reasons so many of us enjoy firing up the barbecue so often.
As for that mysterious 9% of grill owners who say they never touch their appliance, all we can say is that it's their loss!
You're likely familiar with some of the benefits of grilling. However, you might not know why, for example, food cooked over a flame tastes better compared to other cooking methods. We'll explain why.
Almost no one (except about 9% of people who own grills, apparently) needs much coaxing to fire up their grills more. When you find out more about the benefits of grilling, however, your chef's apron will become a staple of your summer wardrobe.
1. Grilling is a healthier way to cook
The world-renowned Mayo Clinic says in this article, "Healthy cooking doesn't mean that you have to become a gourmet chef or invest in expensive cookware. You can use basic cooking techniques to prepare food in healthy ways."
The most effective ways to cook healthier food include:
grilling
boiling
steaming
baking
stir-frying
One of the biggest benefits of grilling is that cooking meat on grates causes a lot of the excess fat to melt and drip off instead of being reabsorbed into the meat, as it would in a pan. The cooked meats still retain their juiciness and all of that extra burned-off fat never enters your body.
Grilling over flames and using high cooking temperatures also reduces the amount of time required to cook food. That helps meats retain important nutrients like thiamine and riboflavin.
The benefits of grilling also extend to another food group – vegetables. Shorter cooking times by grilling helps veggies retain more of their vitamins and minerals, as well as their flavour, colour, and texture.
While traditional vegetable cooking methods like boiling and steaming are relatively healthy, more of the food's nutrients and some of their flavour get left behind in the water they've been cooked in.
Another reason it's easier to lower your calorie intake by grilling your food is you don't need to cook as much with butter and oils.
There are a few more things you can do to eat healthier when grilling:
spend a little extra to buy organic meats
cook leaner cuts of meat like sirloin steak, chicken, pork tenderloin, and extra lean ground beef
trim as much visible fat and skin from your meats before grilling them
make your own healthier sauces and marinades instead of using store-bought grilling condiments, which are loaded with sugar
2. You can't beat the taste of grilled food
"Grilling is the best way to cook, bar none. There is no other cooking technique that gives you this much flavour for your effort." – Elizabeth Karmel (chef, author, and all-around grilling expert)
This quote highlights another of the main benefits of grilling – it doesn't require any extra work to produce delicious tasting food. The unique flavour that only comes from grilling is simply inherent to the cooking process.
Why is that the taste of a burger cooked in an oven or on an electric grill inside can't compare to the taste of a burger cooked on an outdoor grill, though?
A George Foreman electric grill isn't in the same league as even the cheapest outdoor grill when it comes to the taste test for a few scientific reasons. Here's a simplified breakdown of "the science of grilling". It involves three main factors.
Smoke
Most people think the distinct flavour from grilled meats comes from the smoke generated while cooking, but it's only one part of the equation.
This smoke is created when dripping fat hits the hot briquettes and burner in a gas or propane grill, or charcoal briquettes in a charcoal grill. Other methods can be used to generate smoke while grilling, such as cooking with flavoured wood chunks and chips, as well as smoking pellets.
Smoke functions essentially like a cooking ingredient. As the food absorbs the smoke, new flavours develop to produce that smoky taste.
The Maillard reaction
What do toast, coffee, and grilled meat all have in common? They all derive part of their taste from something called the Maillard reaction. It's a reaction that occurs when you cook with temperatures in the 280 to 300°F range (138 to 149°C).
Food with amino acids react with the sugar molecules and break down to produce new flavour molecules. This process occurs on the surface of the food and produces that charred brown crust that enhances its taste so much.
Caramelization
A chemical reaction called caramelization plays another role in how grilled meat tastes. Once again, cooking with high heat activates the sugar molecules in food to bring out a sweeter taste.
Caramelization is very similar to the Maillard reaction, except it occurs in foods without protein. Meat has protein, so the caramelization process occurs with the foods you use to cook your meat with, such as sauces, marinades, and rubs.
Grill marks look nice, but don't add flavour
Since we're discussing where grilled foods get some of their flavours from, let's briefly talk about grill marks. Grill marks don't add flavour to food, despite the prevailing myth that's out there.
Most people prefer the taste of grilled meat more than meat that is cooked with other methods. The association of seeing meat with grill marks has a powerful effect on us because we instantly make the association the food will taste better.
The association we make is so strong that food manufacturers and fast food chains have capitalized on this by adding artificial grill marks to some of their food products.
I've been fooled by this visual trickery for years. It's only by researching this article that I've come to realize that most of the grill marks on the frozen and fast food I've bought over the years were nothing more than fake and superficial branding. How disappointing.
3. Grilling gets you outside
"The key to good grilling is to recognize that you are setting yourself up to cook in a whole new environment. This is actually one of the main purposes of grilling – to get yourself outside." – Barton Seaver (chef, author, and seafood expert)
Canadians don't need much of an excuse to get outside during the summer. As long as the temperature is at least 15°C, less than 40°C, and it's not raining cats and dogs, most of us are good to go for some outdoor time.
Another of the big benefits of grilling is that it gets you outside and one of the benefits of being outside is that your body gets vitamin D naturally from the sun. Vitamin D helps the body absorb minerals we get from food like phosphate and calcium, which keep our bones and muscles healthy.
You might be surprised to learn that the quality of air inside most homes is worse than the air quality in most outdoor settings. Spending more time outside is good for our health in the following ways:
fresh air has fewer pollutants than indoor air, which boosts the cleansing function of the lungs
your body gets more energy from being outside
fresh air improves our mood
fresh air improves your ability to focus
our cells get more oxygen when we're outside, which helps us digest food better and heal faster
4. Grilling outdoors is more convenient
One reason we love grilling so much is that it's the most convenient way to cook next to using the microwave.
This is the case, at least, if you have a much easier to use gas or propane grill instead of a charcoal grill. Charcoal grills are comparatively harder to light and can take 30-45 minutes before they're ready to use. Gas and propane grills are ready to cook on in about 10-15 minutes.
The food prep times may be the same as when we cook inside, but it's the faster cooking times that is the real difference-maker with grills.
Cooking a meal outside when the weather is hot also doesn't add heat to your interior living space. Even if you have air conditioning, the appliance will have to work harder to keep the house cooler when the oven is running.
One more of the benefits of grilling we love is that cooking right on the grates means there are fewer pots and pans to wash up.
5. Grilling is a great way to socialize
"Grilling takes the formality out of entertaining. Everyone wants to get involved.  I love the culture of grilling. It creates an atmosphere that is festive but casual." – Bobby Flay
When we celebrate special occasions and holidays during the summer like Canada Day, Mother's Day, Father's Day, and Labour Day, it's often outside with the grill fired up.
Compared to other cooking methods, grilling is more sociable. At a backyard gathering, people tend to gravitate around the cooking area, which gives anyone operating the grill an opportunity to socialize with their guests. This makes grilling ideal for entertaining at home.
Barbecuing appeals to all of our senses (with the exception of touch), so it's not surprising that the grill becomes a spot where people congregate. Everyone loves the smell of grilling food, which is accompanied by the sizzling sounds of dripping grease and the satisfying "plop" a juicy burger or steak makes when it's flipped over.
There's also the sight of the grill's flames, the billowing smoke, and the mouth-watering sight of food you can't wait to devour. And finally, there's the all-important moment when we finally get to savour the delicious taste of freshly grilled food.
The combination of all of these things ends up making grilling feel a lot less like tedious work, especially if you're cooking for a large group of people.
6. You can grill almost anything
Grilling is one of the most versatile cooking methods because almost anything can be cooked on a grill – and we mean anything.
Adventurous and resourceful cooks know that barbecuing staples like meat, seafood, potatoes, and vegetables are a tiny fraction of what you can cook on a grill.
To get you thinking outside the box with your summer menu options, here are some ideas for unconventional things to cook on the grill that will surprise you:
bread
fruit (pineapple, peaches, and watermelon are particularly tasty)
pizza
quesadillas
rice (try this recipe)
eggs and bacon
7. Anyone can cook on a grill
One of the many things that makes grilling so great is that virtually anyone can do it. Cooking on a barbecue is so user-friendly that even someone who is a lost cause around a stove can create delicious grilled foods.
Anyone can toss a stack of burgers or steaks on the grill and all they have to do is make sure the meat isn't undercooked or too well done (unless the person eating it wants it cooked that way).
Sure, an otherwise bad cook may have a limited repertoire of menu items, but they're still cooking, right?
Naturally, grilling with high-quality meats and using condiments and spices will produce better results, but that's fairly easy to do. And if someone isn't into doing prep work like making their own burgers, there are many great buying options for pre-made burgers at butcher shops or high-quality frozen burger products in food stores.
After a while, any grilling newbie can spread their wings a little. There are an endless amount of burger recipes online worth trying that are well within the skill range of an amateur griller. A cooking novice can even produce tasty results with easy gourmet burger recipes for something like blue cheese burgers (not to be confused with blue cheeseburgers, which you probably shouldn't eat).
Enjoy the benefits of grilling in the perfect outdoor kitchen
These are just some of the many benefits of grilling.
Is your outdoor cooking space doing all it can to allow you to savour the taste of outdoor grilling as much as you'd like?
Make a great investment in your home, health, and happiness by transforming your backyard into the perfect outdoor kitchen and living space.
Outeriors can handle your complete outdoor kitchen design and installation. We carry the highest-quality grills, countertops, cabinetry, appliances, and fire pits to give your family everything they need to enjoy your backyard more.
Get your project started by scheduling a free design consultation with us.
Please share this post if you found it useful.
See also: