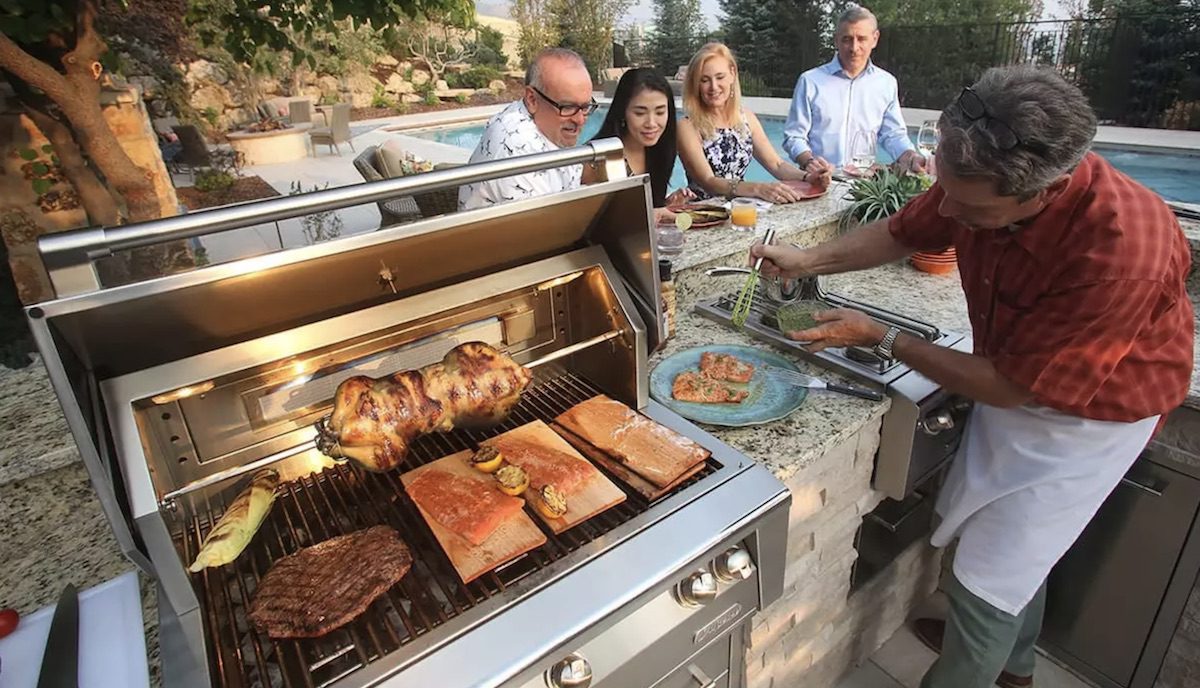 Summer is finally here. The sunny, hot weather can't come soon enough for Ontarians who had to endure another winter indoors during a pandemic lockdown.
There are only a precious few months ahead to enjoy your backyard. For most of us, summer grilling will be at or near the top of the list of our favourite summertime activities.
Whether it's with your family or increasingly with more friends as things become safer, there are always ways to improve your outdoor cooking and dining experience.
These summer grilling ideas cover everything from outdoor kitchen design tips to menu suggestions to bug control tips. See you in the backyard!
1. Create the ultimate summer grilling space
If you're grilling outside regularly during the summer and preparing meals for large groups of people, a proper outdoor cooking space is essential.
That cheap, rusty grill that flares up more often than Alec Baldwin on a Manhattan street and burns your meat regularly just isn't up to the task.
Having a backyard cooking setup that includes wobbly plastic tables to hold your serving plates, cutlery, uncooked food, and grilling tools also falls well short of what you need. And those beat-up plastic coolers for ice and keeping drinks cold? No, you can do a lot better.
Invest in a professionally designed kitchen that includes everything you could possibly need for cooking in the backyard.
As Outeriors president Daniel Albo told The Toronto Sun, "For the luxury homeowner, the days of a freestanding cart barbecue simply don't cut it, as an outdoor kitchen has become the final frontier of any renovation project."
Essentials for an outdoor kitchen
Outdoor kitchens can be designed in all shapes and sizes. That can range anywhere from a small space in a patio corner with a few cabinets and a built-in grill all the way to a fully-outfitted cooking space worthy of a professional chef.
Start with a built-in premium grill that is engineered to deliver a superior cooking performance. Add any appliances that fit your cooking style, such as an outdoor oven, side burners, smoker, and warming drawers.
Ditch your portable coolers and get a fridge and ice-making machine to handle all your outdoor refrigeration needs. Including a sink in your kitchen design plan is a great idea, too.
That covers everything required to make your outdoor meals. Next, surround your cooking appliances with attractive outdoor kitchen cabinetry for storage, along with weather-proof countertops for dining and meal preparation.
Now you're really cooking with a kitchen space that is set up perfectly for summer grilling!
2. Go beyond dogs and burgers
Burgers and hot dogs are a reliable summer grilling staple, but why not change up your menu once in a while?
Here are a few suggestions for delicious grilled dishes that aren't so predictable:
Grilled pizza: Pizza can be cooked right on your grill grates. For a well-done crust, cook the pizza dough on one side for a few minutes. Then flip it over and add your favourite pizza sauce and toppings. Cook it until the cheese is melted. For a softer crust, skip the step of cooking the dough by itself and just grill the whole pizza in one go.
Using a wood-fired or gas-fired outdoor pizza oven is another way to cook homemade pizza. Outdoor pizza ovens cook at a very high heat and can have your pizza cooked in only a few minutes.
Grilled quesadillas: Quesadillas offer a limitless variety of recipe options that can be tailored to the taste of you and your hungry diners.
Keep experimenting with different types of meats, fishes, vegetables, cheeses, spices, and cooking oils for new tastes that will surprise you.
The popular Mexican dish is super-easy to make and is perfect for the grill. This recipe explains how to prepare and grill quesadillas.
5 less obvious summer menu ideas
Are you looking for some other less obvious foods and dishes (compared to burgers, hot dogs, and steak) to cook on the grill? Here are a few ideas:
seafood like salmon, tuna, and shrimp
grilled steak tacos
pork
lamb chops
brisket
Don't forget the vegans: For the vegans being served at your outdoor cookout, there are lots of tasty recipes available that might even win over the carnivores at your dinner table. Here are 15 vegan grilling recipes you can try.
3. Appetizer, dessert, and side dish grilling ideas
Grilled bread: Instead of just serving up bread right out of the bag, Eataly.com recommends grilling up half-inch thick slices of hard crust bread that are brushed lightly with extra virgin olive oil. Add some fresh garlic to bring out more flavour.
After a couple of minutes over a medium heat, grill marks should appear, which tells you they're ready.
BBQ bacon meatball skewers: We found this intriguing recipe for bacon meatball skewers that sounds very tasty. Two types of grilled meat together in one appetizer? What's not to love?
The meatballs cans be made with ground beef, chicken, or turkey and the whole dish can be prepped and cooked in just over 20 minutes.
Grilled fruit: Everyone knows how amazing grilled veggies taste, but grilled fruit is equally worth throwing on the barbecue as a dessert or appetizer option.
Cut larger sections of harder fruits like watermelon, apples, pears, pineapple, and tomatoes (yes, they're a fruit). You can put them right on the grill as is or add some extra flavour by basting them with a sauce.
The grilled fruit's natural sugars will caramelize and give them a pleasant, distinct taste that will make you view them in a whole new way.
4. The best summer wines
Chilled white wines tend to be the beverage of choice for a lot of us when we're spending time outdoors in the warm weather. Their crisp and refreshing lighter taste is ideal for a summer grilling and dining setting.
White wines usually have less alcohol than reds, which means anyone enjoying them won't get dehydrated as quickly during hot weather. You can't go wrong with a good dry white Bordeaux, Sauvignon blanc, Pinot Grigio, or Riesling.
For the devoted red wine drinkers at your backyard gathering, a chilled rosé is always a good choice. Light-to-medium-bodied reds like a Pinot Noir, Cabernet Franc, or Merlot are also ideal.
Wine pairing recommendations for grilled meats
Grilled food tastes even better when it's served with the right wine. Here are a few meat and wine pairings that work well:
Steak: Malbec, Cabernet Sauvignon, Zinfandel, and Shiraz
Pork: Rosé, Riesling, and Pinot Noir
Hamburgers: Cabernet Sauvignon or Franc, Shiraz, and Sangiovese
Chicken: Chardonnay, Pinot Noir, Riesling, and Sauvignon Blanc
5. Summer grilling the healthy way
As great as grilled food tastes, not all of it is the healthiest for you. Some of the menu suggestions listed above do have less fat and fewer calories.
Here are a few healthier grilling ideas and tips worth trying:
Use leaner cuts of meat like veal, chicken, turkey, sirloin or porterhouse steaks, lamb, and pork chops or tenderloin.
Fish is a healthier alternative to meat and has less fat and high protein. Many types of fish are also chock-full of omega-3 fatty acids, which are good for your heart.
Store-bought condiments, barbecue sauces, and marinades are loaded with sugar and salt. Look online for some easy-to-make homemade recipes that are a little healthier.
Some people like their grilled meats well-done, but don't overcook things until they're charred. Charred meat can potentially form harmful carcinogenic compounds.
6. Grilling safety tips
Where there's fire there's always danger, so it pays to always be diligent when the grill is fired up. Always open the lid on a natural gas or propane grill when lighting them. Put all the burners on high and let the grill heat up for 5-10 minutes before starting to cook. This burns away any residual food and grease.
Wire grill brushes are the most common tool used to clean off a grill, but it's actually not a good idea to use them. The wire bristles can break off and end up in your food the next time you grill. Consumer Reports advises against using wire grill brushes and using a grill stone, non-wire brush, or a scrubbing pad instead.
Avoid using spray-on grill cleaning products, even if they're advertised as being safe for cooking surfaces. They probably still contain chemicals that aren't good for your health. Use natural cleaners like vinegar or baking soda to get the job done.
Here's a post-grilling safety tip: don't leave your food out for too long in the summer heat (and especially not in the hot sun).
Cooked and uncooked food can spoil after two hours outdoors when the temperature hits 31°C. If it's even hotter, food can spoil in only an hour. Not only will some good food go to waste, anyone who eats it could get food poisoning. Talk about putting a damper on the party.
7. Tips for keeping the bugs away
Fewer things ruin a pleasurable summer evening in the backyard than a bunch of annoying mosquitoes who are hungrier than you were before dinner was served.
Relying on the smoke from your grill as a mosquito repellent is a bad strategy. It's probably just as annoying to anyone around your cooking space!
Instead, try these more practical bug repellent solutions:
Eliminate pools of standing water: Small pools of stagnant water are breeding grounds for mosquitoes. If possible, avoid having any of them on your property to limit the mosquito population around your house. Target areas like garden ponds without running water and other things that collect rainwater like flower pots, buckets, and inflatable pools.
Screen in your outdoor living space: If the smell of citronella candles and bug repellent is a turn-off, set up mesh netting around your outdoor living space to keep the mosquitoes out.
Ensure your lights aren't bug-friendly: Incandescent bulbs are a magnet for mosquitoes and other bugs. Switch the bulbs around your outdoor kitchen to yellow-hued LED bulbs that won't attract as much attention from any unwanted visitors.
Use fans: Using ceiling fans and standup fans on your patio can be a moderately effective deterrent for bugs. The moving air not only makes it harder for mosquitoes to fly, it also disperses the human scents the pests target to feed on. One downside of using fans outdoors is that they may be a little too noisy for your liking.
Savour the taste of summer grilling!
The weather isn't the only thing heating up – grilling season is, too!
Use these summer grilling ideas and tips to maximize your enjoyment in your backyard over the next few months.
We can help you create a complete outdoor living space. Schedule a free design consultation with us today so you can get the most out of your backyard or cottage this summer.
Please share this post if you found it useful.
See also: