The outdoor cooking season is never long enough in Canada and the time arrives every year when an outdoor kitchen needs to closed up until next spring, unfortunately.
To protect the investment you've made in your outdoor kitchen, there are a few things you need to do to prepare the space for its months of winter inactivity.
Take the time once a year to follow these steps to winterize your outdoor kitchen. You'll extend the life of your kitchen and its components.
Doing a little extra work now also results in minimal set-up being required when you're itching to get that first big outdoor cookout started in the spring.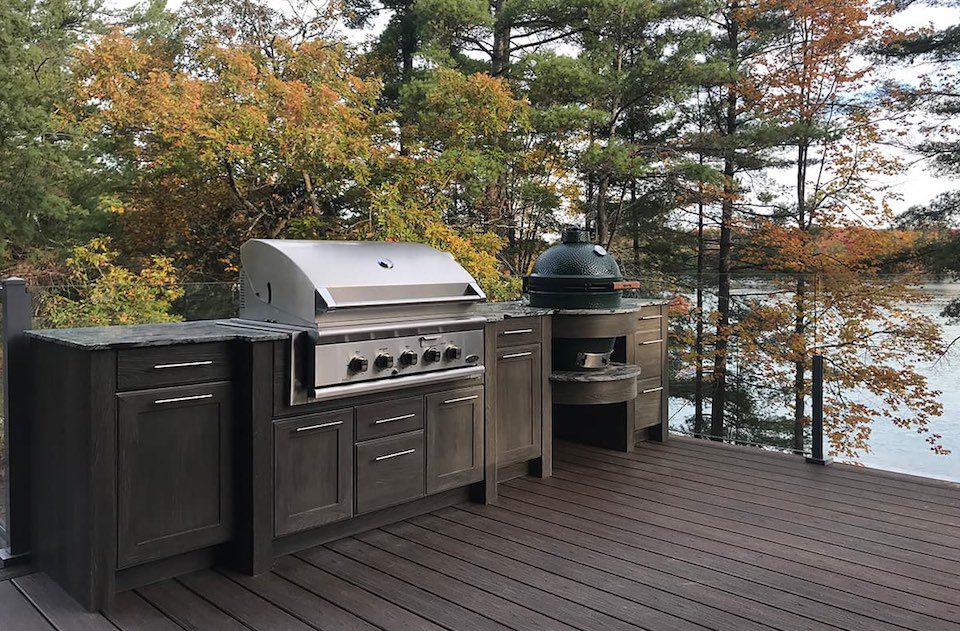 Shut off your outdoor kitchen's water supply
Turning off an outdoor cooking space's water connection is one of the most important steps to winterize your outdoor kitchen.
Frozen water lines and burst pipes can cause expensive damage not just to your plumbing infrastructure, but to the outdoor sink and appliances they're hooked up to.
Once your outdoor water connection has been shut off, drain the water supply lines by turning on the sink's faucet(s). Make sure any water is also drained from any lines hooked up to your outdoor fridge and ice maker.
Winterize your outdoor kitchen sink
With the water supply shut off and all water lines and pipes drained, there are only a few more quick steps to winterize your outdoor kitchen sink.
Even though your outdoor sink is made with durable stainless steel, it should still be covered up to protect it from unnecessary exposure to the elements over the winter months.
You don't want it filling up with rain water, snow, and sleet that will go down your drain and potentially cause damage. A sink cover is also needed to keep out any type of debris that can clog up your pipes, such as leaves.
Try to find a sink cover that is made specifically for your outdoor sink model so that it fits snugly. It's worth paying a little more for a high-quality sink cover that won't deteriorate or start fading after a few years of use. Covers made with carbon fibre vinyl are considered quite reliable.
A good sink cover should cover up the faucet as well, but you may wish to disconnect your faucet and store it inside over the winter, especially if it's expensive.
Get your grill winter-ready
The end of the cooking season is when outdoor grills should get the most cleaning and maintenance attention. Give your grill some TLC so it will be good to go in the spring or be ready to use if you get a mid-January craving for some barbecued steaks.
Remove the grill's grates and warming rack and scrub off any grease and food residue with a degreaser using a wire brush. Make an effort to get to all those other hard-to-reach corners of the grill and don't forget to clean up around the burners, too. Once all the heavy-duty grill cleaning is done, use a stainless steel cleaner to give the grill a good polish.
Grilling experts recommend seasoning your grill regularly and before being stored for the winter. This involves firing up the grill (without food) for a short period after coating the grates and burners with a cooking oil to protect against rust, prevent food from sticking, and to remove contaminants.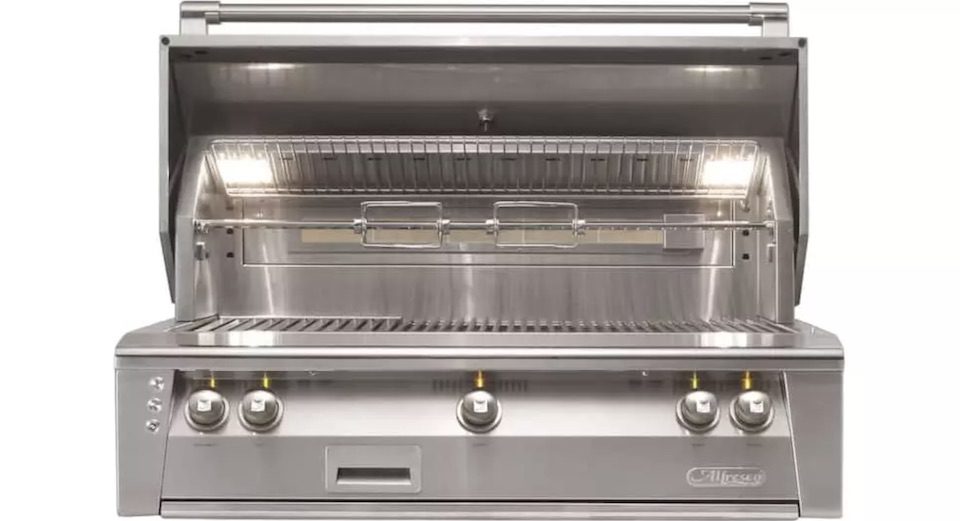 Afterwards, shut off the gas line if it's a natural gas grill. Disconnect the gas line and cover up any openings on the end of the line and where it connects to the grill so no insects get inside.
If you have a propane grill and don't plan to use it in the winter, disconnect the propane tank and store it upright outdoors in a well-ventilated area. To prevent the tank from rusting, keep it in a covered area (you can purchase a fabric cover or a tank container for winter storage). Never store a propane tank in an enclosed space like a garage or shed.
Your final step to winterize your outdoor kitchen grill is to cover it. As with the sink, use a cover made specifically for the appliance. A weatherproof cover made with a synthetic material that can breathe a little will prevent moisture from being trapped inside the cover.
Winterize your outdoor kitchen cabinets
What you do to winterize your outdoor kitchen cabinets will depend on what type of material they're made from.
Stainless steel is one of the most common types of outdoor cabinet material. High-quality stainless steel cabinets are usually made with highly rust-resistant metal, such as 304 and 316L grade stainless steel.
High-end stainless steel cabinets also have low-maintenance powder-coated finishes that provide additional protection against the weather. A stainless steel polish can also help preserve the cabinets' appearance and minimize the effects of exposure to moisture.
Cabinet manufacturer Danver advises that "although powder-coated stainless steel can be left uncovered in the winter months, covering adds extra protection which can never hurt".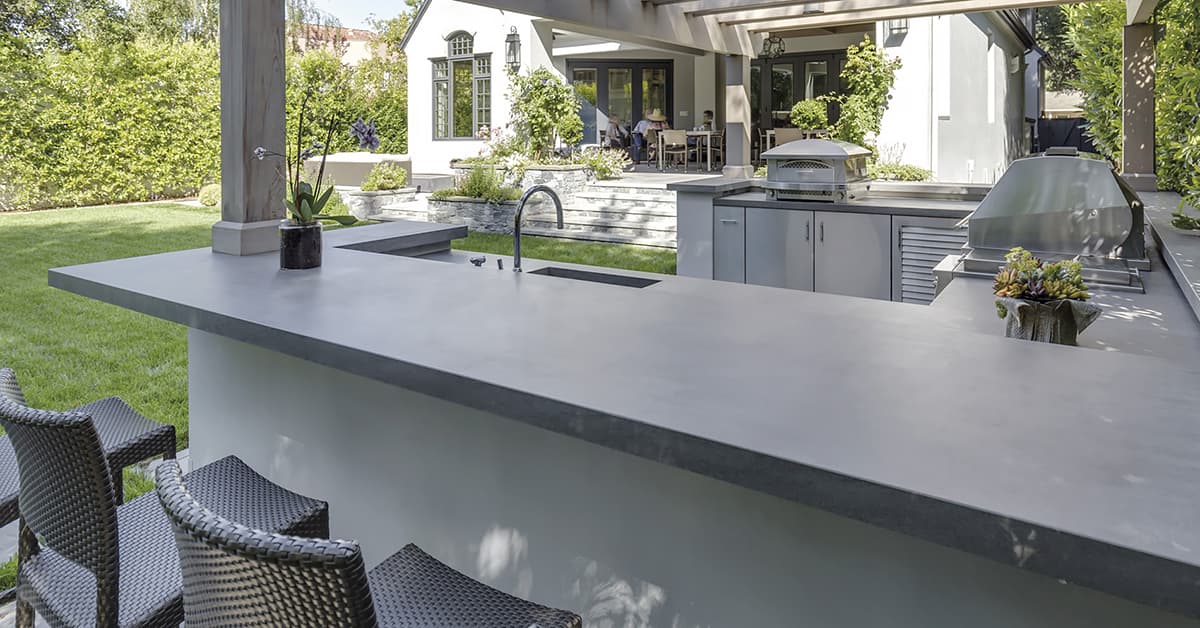 NatureKast makes a unique type of outdoor cabinet that is 100% weatherproof. Manufactured using a technologically advanced hi-resin system that replicates the look of real wood, their PVC cabinets are as maintenance-free as it gets. As you can see in this gallery on their site, their cabinets can sit uncovered throughout the winter, even in areas that get lots of snow.
Wood outdoor cabinets will require the most maintenance to get them ready for the winter. Wood is more susceptible to warping and moisture damage, so they need to be sealed or oiled every year.
Outdoor countertop winter preparation
As you have noticed, there's a recurring theme that comes up when describing the materials the items in an outdoor kitchen are manufactured with – resilience.
Outdoor kitchen countertops are no exception. A premium outdoor countertop should last you for many years and modern technology allows manufacturers to engineer them for multiple applications including:
weather-proofing construction that provides moisture, UV, and thermal expansion protection
superior durability as both a work and dining surface that protects against scratches, stains, and heat
the ability to create an endless number of attractive custom designs
As with outdoor cabinets, the countertop's material will determine what you need to do with them when winter arrives. Certain types of countertops require occasional sealer applications to prevent the finish from wearing down from prolonged exposure to the elements.
Some countertop brands offer products that require no sealer applications. Dekton is one of them. Their countertops are made using a highly advanced sinterized particle technology that produces ultra-resilient work surfaces.
Winterize your outdoor kitchen appliances
Unplug all of your outdoor kitchen appliances. Most high-quality outdoor kitchen appliances shouldn't need to be brought indoors for the winter because they're specifically constructed to withstand long-term exposure outside.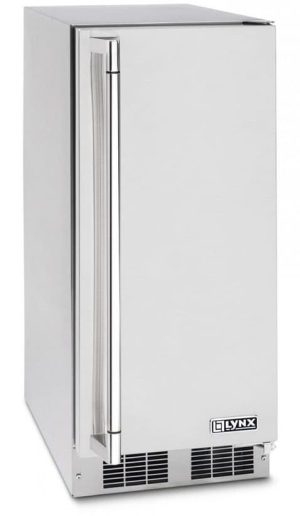 It may seem wise to cover all of your outdoor kitchen appliances for their winter hibernation, but this can do more harm than good in some cases.
Things like built-in side burners and flattop grills will likely need covering, but covering some of your other appliances may trap moisture, which can potentially cause damage to the product. Check the manuals of your appliances to see what the manufacturer recommends for them in preparation for the winter.
It's advisable that during the cooking season, you give your appliances an occasional cleaning. They should always be thoroughly cleaned when your outdoor kitchen is closed up for the year to preserve their finish and create less cleaning work in the spring.
Ensure all the water is drained from the lines of any outdoor kitchen appliances that are connected to a water supply, such as a fridge, ice maker, beverage dispenser, and dishwasher.
Once all the food and condiments have been removed from an outdoor fridge, clean the inside of it with some soap and water and make sure the interior is dry.
Don't forget about the outdoor range hood
Some grills that are in an enclosed or semi-enclosed area have grill hoods installed. They work just like an indoor range hood by extracting smoke, odours, grease, and heat.
Because of the nature of what they do, an exterior grill hood is probably the item in your kitchen that gets the dirtiest during the cooking season aside from the grill itself.
Outdoor range hoods are most commonly made with stainless steel, so give the inside and outside of the hood a thorough cleaning with a good stainless steel cleaner. If there is a lot of grease and grime built up in some areas, use a degreaser.
Many outdoor range hood models also have removable filters that are dishwasher-safe.
Tips for extending your outdoor kitchen season
How can you extend your outdoor kitchen's season to get a little more enjoyment out of it when the weather won't cooperate?
A roof covering for a porch or attached patio will help all year-round, not just for your comfort but to keep the contents of an outdoor kitchen shielded from any precipitation. Having an enclosed or semi-enclosed outdoor cooking space is even better.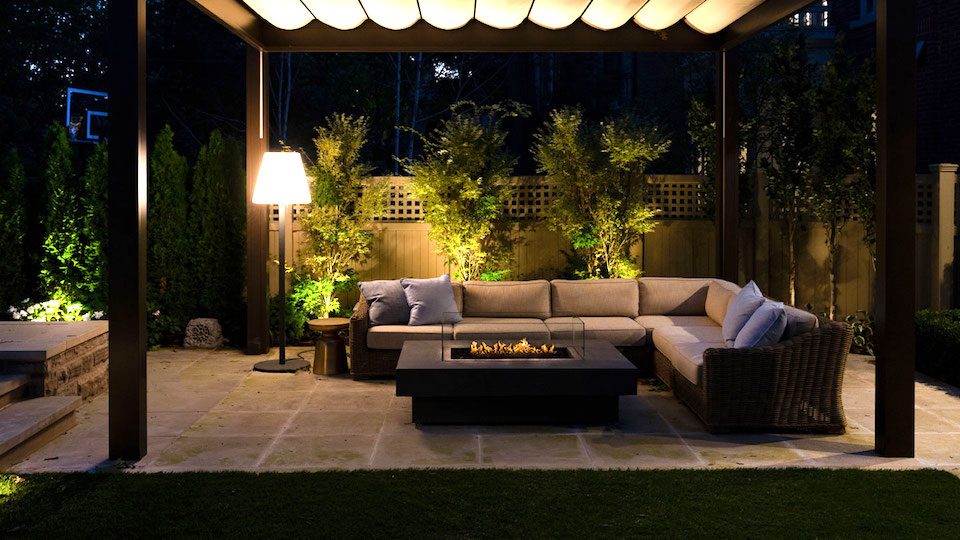 A few types of heat sources can be added to an outdoor cooking and entertaining space for ambiance and more comfort. The most popular options include:
outdoor fireplaces or wood stoves
patio heaters
Upgrade or design your outdoor kitchen space
We hope these tips for helping you winterize your outdoor kitchen have been helpful.
Keep in mind that these are general guidelines that will help maintain the appearance and functionality of your outdoor kitchen. With a new kitchen you're preparing for the winter for the first time, double-check with the product manufacturers and your outdoor kitchen installer to ensure you're using the best kitchen care practices.
If the outdoor kitchen you're planning to winterize could use some upgrades to turn it into an even more valuable extension of your living space, contact us.
Outeriors will work with you to create a beautiful outdoor cooking space you'll be disappointed to close up in the late fall and look forward to using when the spring arrives.
Schedule a design consultation with us.
Please share this post if you found it useful.
See also: