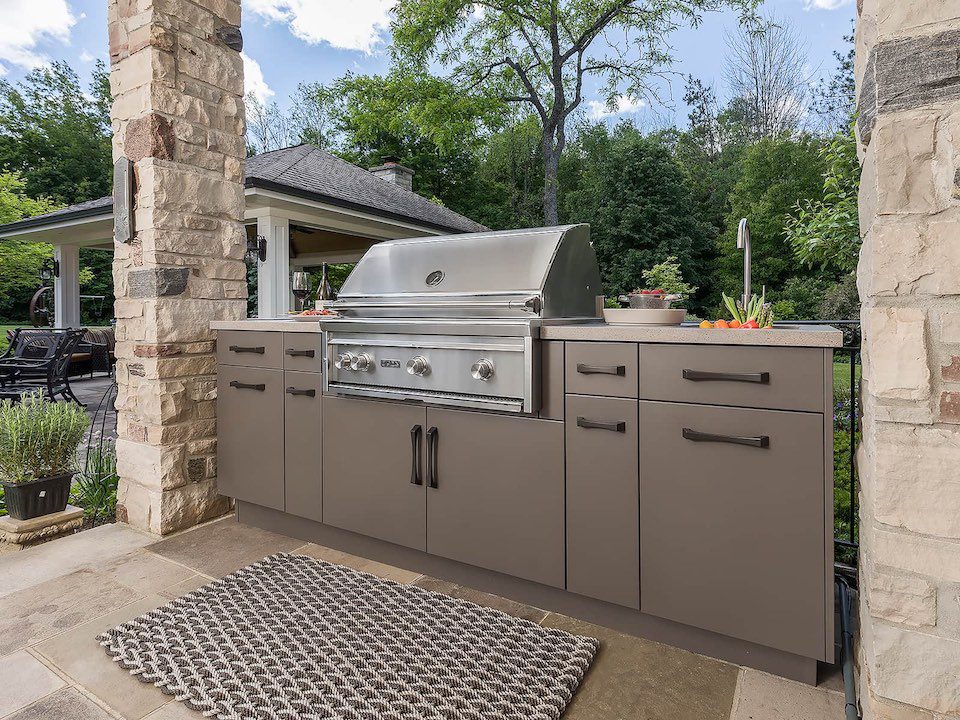 Outdoor grilling has become a fundamental part of the lifestyles of Canadians.
Even our long winters do little to discourage many of us from firing up a snow-covered grill for some juicy burgers and tender veggies.
70% of Canadians own a grill or smoker, according to the 2023 State of the Barbecue Industry Report. A 2019 Research Co. poll found that 27% of Ontarians use their outdoor grills an average of five times per week during the summer.
With barbecuing being such an essential and regular part of our cooking routine, you may be thinking of buying a new grill. There a several types to choose from including gas, charcoal, wood pellet, and electric grills.
We'll explain why buying a gas grill is your best option and seven of the most important things you should consider before making a purchase.
Benefits of buying a gas grill
There's a good reason gas grills are the most popular type of grill in Canada and the U.S. Research from the Hearth, Patio & Barbecue Association (HPBA) shows that 64% of grill owners have gas models.
Whether you favour natural gas or propane, here are some of the benefits of buying a gas grill to do your backyard cooking:
push-button ignitions make lighting easy and safe
quick heat-up times
control cooking temperatures
create zones to cook different foods
more time-efficient than charcoal grilling
low-maintenance and easy to clean
more cooking options with extra features like side burners and rotisserie attachments
Propane versus natural gas grills
"Gas grill" is a somewhat broad term that can be a little confusing for some people. That's because gas grills come in two different types: propane and natural gas.
Both types share numerous similarities, but they do have some notable differences. Here's a brief comparison of some key natural gas and propane grill features:
Fuel: most propane grills use a refillable 20-pound propane tank (some cottages and rural homes use a larger propane tank that is refilled onsite). Natural gas grills require a hookup to a residential natural gas line.
Convenience: both grill types are super-convenient to use. One of the few differences in this area is that propane grills can run out of fuel and need regular tank changes, whereas natural gas grills have a constant fuel supply. Unlike natural gas grills, propane grills have some mobility, too.
Product cost: Natural gas grills typically cost a little more than comparable propane models. They have a slightly more complex design and come with a longer connection hose and fitting. If a natural gas line has to be installed, that will also add anywhere from a few hundred to a couple of thousand dollars extra to your upfront cost.
Fuel cost: the prices of propane and natural gas fluctuate, but natural gas is always cheaper to use than propane.
Taste: there's no difference in taste between identical items cooked on each type of grill.
Heat output: The heat output on propane and natural gas grills is comparable. Propane grills typically have higher BTU ratings (British Thermal Units), which measures how much heat energy a grill's main burners produce per hour. Propane and natural gas grill burners function a little differently from one another, so it's harder to make a direct BTU comparison between the two.
Environmental friendliness: propane and natural gas are clean-burning fuels (in fact, propane is considered the cleanest-burning fossil fuel). Both fuels are far more eco-friendly to use for grilling than charcoal.
7 considerations when buying a gas grill
Buying a major appliance for your home isn't something to take lightly and buying a gas grill is no exception.
The grill you buy has to serve your cooking needs, be reliable and safe to use, make grilling easier, last a long time, and look good in your outdoor cooking area.
If you're looking for the best barbecue for your needs, consider these seven essential things before buying a gas grill.
1. Your budget
New gas grills can cost as little as $100 and as much as $10,000 or more for the highest-end models. Needless to say, you get what you pay for.
Cheap grills are cheap for a reason: corners have been cut for everything from the product's design to the construction materials to the assembly. We've probably all used a cheap grill with a flimsy-feeling lid or ignition button that never works. That doesn't make for an enjoyable grilling experience.
Low-quality and even medium-quality gas grills that are poorly cared for can rust out and be landfill-bound after only three or four years.
That's why you should invest as much as you can in a high-quality gas grill that will last you for at least a decade. It's not unreasonable to spend as much on a new grill as you would on a new indoor kitchen range.
Grills are the anchor and workhorse of an outdoor kitchen. If you grill a lot during the spring and summer, consider that your backyard cooking space may be getting used more often than your indoor kitchen.
Some luxury grills come with convenient features like:
digital control panels
interior lighting
LED backlit control knobs
lid lift-assist systems
smart tech
Learn more about the benefits of buying a premium grill.
2. Grill manufacturer reputation
The global grill market has grown rapidly in recent years and there are more grill manufacturers than ever before. When you start looking for a grill to buy, there's a good chance you won't be familiar with the majority of the brands you come across.
With so many grills available to buy, you need to do your homework to ensure you're buying a gas grill from a reliable manufacturer.
Online reviews are one of the best resources to determine which manufacturers not only make high-quality products, but also how good their customer service is.
Reputable and well-established grill manufacturers typically provide better, more accessible customer service for their products.
Many American and Canadian premium grill brands do all of their manufacturing and assembly in-house. Most of the grill brands sold at big-box retailers are made overseas. That can make it harder to get good customer support and replacement parts in a timely manner.
Higher-quality grills also tend to come with better warranties (10 years or more). Buying a gas grill from an established brand gives you the peace of mind that a longer warranty will be honoured years down the road.  
Outeriors only carries premium grill brands that are synonymous with high quality, such as Lynx, Kalamazoo, Alfresco, and Coyote.
3. Construction material quality
Several factors will affect how long a grill lasts, including how often it's used and how much it's directly exposed to the elements. Perhaps the single biggest factor that impacts how durable a grill will be is the quality of the materials used to make it.
Consider the demands that are placed on grills: they're always outdoors, being heated to temperatures up to 600°F, and are regularly getting splattered with hot grease. It's no wonder cheap grills don't last very long.
That's why it's so important to spend a little more on a higher-quality grill that's made with more durable construction materials.
The metal a grill is built with is one of the most important details to look at if you're evaluating the appliance's construction materials. Many grades of stainless steel are used to make grills. You should choose a grill made with high-grade steel, such as 304 stainless steel.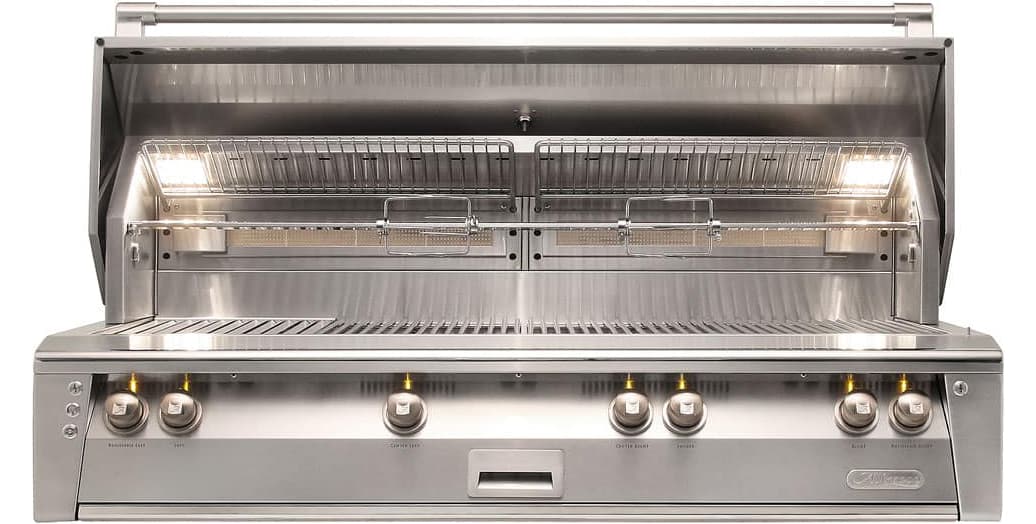 Here are some of the benefits of buying a gas grill that is constructed with thicker gauge, high-quality stainless steel:
they're more rust-resistant
your grill will last longer
they retain heat better
the finish won't discolour as fast
Better quality grill construction materials and parts, as well as higher craftsmanship and design standards, will result in a better cooking experience and fewer headaches. For example, you should encounter fewer issues with things like a starter that won't work, flare-ups while cooking, uneven heat distribution, and foods excessively sticking to grates with a well-designed grill.
4. How much functionality do you want?
Another thing to consider when buying a gas grill is your cooking style and how much functionality you want your grill to have.
Do you like to keep your menu simple with grilling staples like steaks, burgers, and hot dogs? Or do you like to regularly try new recipes and grill up a wider variety of foods? 
Grillers who like to keep things simple can get by with a simple grill to handle their basic cooking needs. More adventurous cooks will want to have access to some extra features that will enhance their grilling experience. Examples include:
warming racks
a smoker system
a rotisserie attachment
precise heat control for multi-zone cooking
a searing burner
smart tech functionality
Complete outdoor kitchens add even more functionality to a backyard than a lone grill can provide (even a high-end grill with lots of extra features). Complement a grill with cabinetry, countertops, and outdoor appliances and now you're really maximizing the functionality of your deck or patio!
5. Grill size
Choosing the right grill size is another thing you have to consider. Once again, your cooking style should factor into your decision-making process. A bigger cooking area will be needed if you tend to grill a number of different foods at a time.

Another factor that will guide you is how much deck or patio space you have. Putting an extra-large grill in a small outdoor cooking area isn't very practical, for example. And if you are having an outdoor kitchen designed, the grill has to be the right size to accommodate other kitchen features like appliances.
How many people you usually cook for is another important factor that should help determine the size your grill should be. If you rarely grill for anyone other than your family, a mid-size 30″-36″ grill will suffice.
If you're among the 40% of grill owners who use their grill for entertaining (according to another HPBA consumer survey), you'll naturally want something bigger for larger gatherings. Grills in the 42″-56″ range should provide a large enough cooking area to fulfill your hosting duties.
6. Freestanding or built-in?
If you're buying a gas grill, you have to decide whether you want a freestanding or built-in grill design.
Freestanding grills are the type most commonly sold in stores. They typically cost less than built-in grills, but don't last as long. Freestanding grills also have more mobility than built-in grills. Their wheels or casters allow you to move them around on a deck or patio and it's easier to take a freestanding grill with you if you move.
While freestanding models are the most popular type of grill, an increasing number of homeowners are choosing built-in grills for their backyards. Stationary built-in grills are incorporated into a fixed structure like an outdoor kitchen island or cabinet design, which is either prefabricated or custom-made.
Although they come with a higher price tag than freestanding grills, built-in grills are essential for an outdoor kitchen. Not only are they the focal point of an outdoor kitchen, but they also provide a more professional, high-end appearance if you're looking to create a showpiece in your backyard.
7. Grill colour
For a lot of grill buyers, aesthetics won't be much of a concern. Most people are more concerned about a grill's functionality, not how it looks.
Anyone who is buying a gas grill to install in a professionally-designed outdoor kitchen will care about functionality and looks, however. Their grill style and colour have to complement the rest of their outdoor kitchen décor.
Gas grills mainly come in neutral colours, notably stainless steel and black. Neutral colours match well with almost any design aesthetic. Grills made entirely with primary colour finishes are available, but can be harder to find.
If you're looking for a gas grill with a non-traditional look, premium brands like Aspire and Hestan have some stylish and creative options. They offer gas grills with attractive colour accents that add a distinct look to an outdoor kitchen.
Trex, the world's largest manufacturer of composite decking, has identified one trend that could affect what grill colour some consumers choose. Their 2023 Outdoor Living Forecast believes we'll see more nature-inspired, light neutral colours used for home exteriors, including outdoor kitchens.
Talk to an expert before buying a gas grill
We hope these tips for buying a gas grill help you make a more informed buying decision.
Here's one more interesting stat from a recent State of the Barbecue Industry survey we'll leave you with: did you know that 83% of grills are purchased in-store and only 15% are bought online?
Consumers clearly still appreciate the value of getting a hands-on experience with a grill before buying it.
Check out some of the finest premium grills on the market by visiting the Outeriors showroom. We have fully-outfitted outdoor kitchen displays featuring gas grills, cabinetry, appliances, countertops, fire pits, and more. While you're visiting, get some expert advice from our design professionals on how to choose the best gas grill for your backyard.
You can also schedule a free consultation to meet with one of our designers to plan your outdoor kitchen project.
Please share this post if you found it useful.
See also: