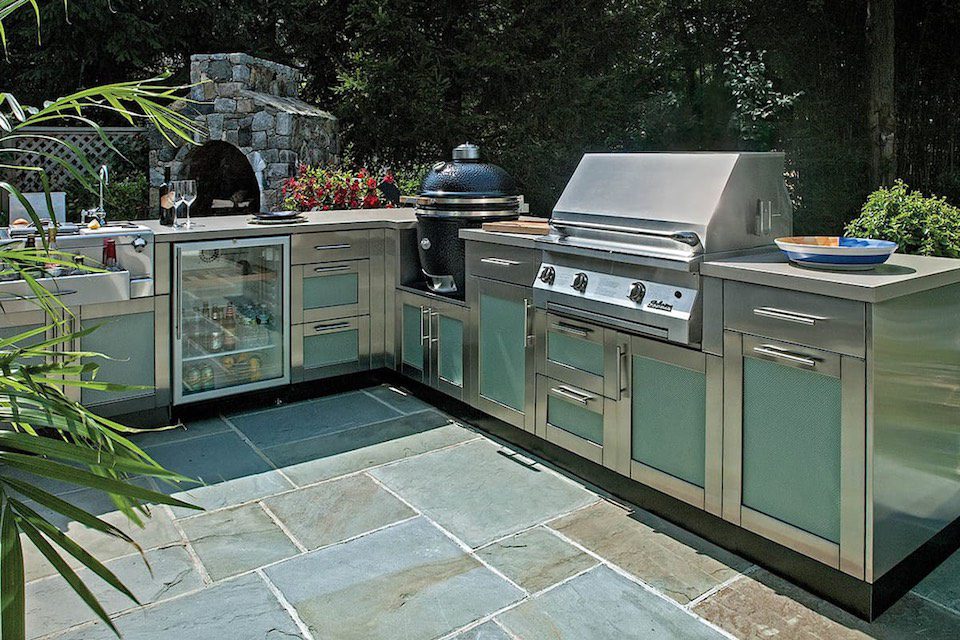 An outdoor kitchen gives you a welcome break from cooking your meals indoors.
The only thing your backyard grilling space might be missing is enough outdoor kitchen appliances to match the cooking functionality of your indoor kitchen.
Imagine the convenience of having every possible cooking appliance at-the-ready for whichever al fresco menu favourites you wish to make!
There are a wide variety of outdoor kitchen appliances available to help save you valuable time and eat healthier. You can also use them to personalize your outdoor kitchen to better suit your culinary skills and open up a broad range of cooking possibilities.
What are the best outdoor kitchen appliances?
Everyone's familiar with common outdoor kitchen appliances like grills, side burners, and smokers.
That's only scratching the surface of the kind of appliances that can be used in a backyard kitchen. How about adding amenities such as an oven, fridge, beverage centre, and ice maker to your outdoor kitchen?
Modern outdoor kitchen designs can include convenient, luxurious extras like these to give you a fully-outfitted cooking space.
Let's look at some of the best outdoor kitchen appliances you can get to create the ultimate artisan outdoor cooking space.
1. Grills
A grill is the one appliance you're guaranteed to find in any outdoor kitchen. Don't rely on using any 'ol cheap grill as your outdoor cooking space's workhorse, however.
Buying a premium grill is a smart investment for many reasons. They last longer, look nicer, function more reliably, and offer extra luxury features beyond a basic rotisserie, side burners, and warming rack.
Some luxury grill models have smart technology that removes much of the guesswork and unpredictability that comes with grilling. Lynx's Smart Series grills use their innovative MyChef app, which ensures temperatures stay at the proper level for the perfect duration. When your food is finished cooking or needs to be flipped, a notification is sent to your smartphone. How convenient is that?
A charcoal grill involves a little more work to use than a propane or gas grill. That unique smoky flavour that charcoal adds to grilled food is worth it for some outdoor chefs, however. For the best of both worlds, you could get a hybrid grill that can be used for both gas and charcoal cooking.
2. Outdoor kitchen fridge
One of your outdoor kitchen essentials should include another hardworking appliance – a fridge.
Outdoor kitchen refrigerators are specially designed with weatherproof exteriors and electronics, as well as thicker insulation. They're smaller than indoor fridges and can be used as a standalone unit or space-saving built-in that can go underneath a grill or countertop.
With a fridge right in your outdoor cooking space, meats, veggies, condiments, cold beverages, and anything else on the menu is close at hand. There's no need to travel back and forth inside to retrieve things you're serving up.
Outdoor fridges are quite versatile and can include built-in freezers, ice makers, or even function as a kegerator that serves up chilled draft beer.
3. Side burners
Side burners are another essential outdoor kitchen appliance. With one or two extra outdoor cooking spaces you can multi-task and heat up savoury sauces, make side dishes, or boil water.
Many grills come with one or two built-in side burners. Separate gas side burners give you the freedom to place built-in appliances like this further away from your grilling area if desired. The beauty of a custom outdoor kitchen is it can be designed specifically for how you want to use it. 
High-quality side burners from manufacturers like Lynx, Alfresco, and Hestan deliver better cooking results. Features like high-performance burners and ceramic infrared searing systems cook your food faster.
Premium side burners are also made with superior materials and craftsmanship, which virtually eliminates the occurrence of dangerous flare-ups from dripping grease.
4. Warming drawers
When you're preparing food for a lot of people or cooking numerous things, good time management is important.
It's a shame when freshly made food gets neglected and goes cold and soggy because you had your hands full taking care of other cooking or hosting tasks. Outdoor kitchen and entertainment spaces usually have a more laid-back atmosphere, making it that much easier to get distracted chatting with your guests.
Pullout warming drawers are perfect for keeping food that's been cooked at the right temperature until it's ready to be served.
Warming drawers are also ideal for keeping food warm for friends or family arriving after your outdoor feast has started. You'll leave a lasting impression with latecomers for being such a thoughtful host!
5. Smoker
Cooking your food on a grill is great, but you might want to occasionally mix up your cooking routine.
Smokers are an excellent way to enhance the taste of meats with a delicious smoky flavour. They're ideal for ribs, brisket, and pork.
Not unlike a slow cooker, smokers cook foods for longer times at a low temperature setting. This produces juicy, tender cooked meats and veggies that taste better than slow cooking with a traditional oven.
Wood chips with flavours such as maple, mesquite, and hickory help give foods cooked in smokers their distinct taste. Smokers can run on a variety of fuel/power sources including:
natural gas
propane
charcoal
wood
wood pellets
electricity
If a full-sized smoker is more than your cooking needs require, it's possible to buy grills that have smaller smoker boxes that can produce that appealing smoky flavour.
6. Ice making machine
Outdoor kitchen and living spaces get used when the weather is warmest, so an ice making machine comes in quite handy.
Anyone who frequently entertains guests in their backyard will appreciate having fresh ice for drinks always available. There's no need to make trips to the store for bags of ice that get stored in a portable cooler.
Ice makers can be purchased as separate appliance units or as an additional feature on an outdoor fridge.
7. Outdoor kitchen oven
One appliance that adds a deluxe touch to a backyard kitchen is an outdoor oven that has lots of uses. You can bake, broil, or roast:
pizza
breads
calzones
meat and seafood
vegetables
desserts
Anyone with an oven in their outdoor kitchen probably has a model that runs on propane, natural gas, or electricity. Wood-fired ovens are also available. They involve a little more work to use but give your food an authentic smoky flavour.
Outdoor ovens can cook at higher temperatures than indoor ovens. This is one of the factors that makes pizzas cooked outdoors taste nicer and more like what you'd get at a high-quality pizzeria or restaurant. Cooking at higher temperatures means your pizza can be ready just a few minutes after being put in the oven, too.
Ovens powered by natural gas, propane, and electricity are typically made with stainless steel. Some kitchen owners want their ovens to have a more natural, vintage look. That can be achieved by hiring someone to build the oven using stucco or natural materials like stone and brick.
8. Flat-top grill or griddle
A flat-top grill or griddle is useful for cooking food that is too difficult (or impossible) to cook on a standard grill rack. Both appliances have a solid cooking surface without any holes or gaps.
Eggs, pancakes, bacon, hash browns, grilled cheese sandwiches, and Asian and Mexican dishes are just a few examples of food that is suited for these appliances.
You might be wondering what the difference is between a flat-top grill and a griddle. Griddles have a heating element that produces heating zones of various temperatures, which lets you cook several different types of food on the same surface.
Most flat-top grills use a heating coil that provides even heat distribution, which is ideal for cooking many pieces of the same food. Some high-end flat-top grill models like the Lynx Asado Cooktop have heating systems that produce independent cooking zones with variable temperatures.
9. Cocktail station/beverage centre
Wherever there's outdoor cooking, dining, and entertainment, some cold beverages are sure to be part of the fun.
Kick your hosting credibility up a notch with a cocktail station/beverage centre that caters to all your thirst-quenching needs. A beverage centre keeps all your drinks and drinking supplies organized and accessible.
It's all built right into your countertops and outdoor kitchen cabinetry for a seamless, professional look.
The bar is now open!
10. Grill exhaust hood
What are the two things people like least about outdoor grilling? Aside from the frustration of getting the appliance lit because the ignition switch on their ancient grill died ages ago, it's probably the grease and smoke.
That's why your outdoor kitchen should have a grill exhaust hood, particularly if the grill is in an enclosed or semi-enclosed space.
The appliance works just like the range hood over your oven. It extracts smoke, odours, grease, and heat to keep your cooking space cleaner and more comfortable.
11. Dishwasher
If an outdoor kitchen had every appliance listed above, you might be thinking your kitchen had all the amenities you could ever want.
Not so fast…we haven't gotten to the outdoor dishwasher yet.
An outdoor dishwasher not only does most of the work with one of our least favourite household chores, it's another great time-saver as well. Frequent treks inside with loads of dirty dishes, cookware, and kitchen tools will become a thing of the past.
Dirty pots, bowls, grilling tools, dining plates and utensils, and glasses can be washed right on the spot. That lets your outdoor kitchen countertops and dining surfaces stay clutter-free and available for cooking tasks or that next delicious course on the menu.
Like all of the outdoor kitchen appliances we've covered here, the dishwasher needs to be a model that is specifically built for outside use. Most outdoor appliances like a dishwasher can be left covered outside during the winter after completing a few easy maintenance tasks.
Don't forget the sink and faucet!
An outdoor sink and faucet are better categorized as fixtures rather than appliances. We're including them on our list of outdoor kitchen essentials, however. After all, cooking and cleaning do go hand in hand.
Having a faucet and sink in your outdoor kitchen allows you to keep up with the washing of dirty pots, pans, dishes, utensils, and glasses while waiting for things to finish cooking.
Even if you're lucky enough to have an outdoor kitchen dishwasher, an outdoor sink is still a must-have feature.
Adding an outdoor sink will involve an extra expense to hook up a water line, but consider that there are multiple uses you can get from the setup. In addition to having running water, the plumbing can also be hooked up to a fridge, beverage centre, dishwasher, and ice making machine.
Add the best outdoor kitchen appliances to your dream kitchen
Outdoor kitchen appliances maximize the functionality of an outdoor cooking space and save you time when meals are being prepared.
Outeriors carries many of the helpful appliances listed here. Our full-service approach to outdoor kitchen design involves taking care of everything needed to create an outdoor kitchen and living space your family will love.
Get started on putting together your customized outdoor kitchen design by scheduling a free design consultation with us.
Please share this post if you found it useful.
See also: