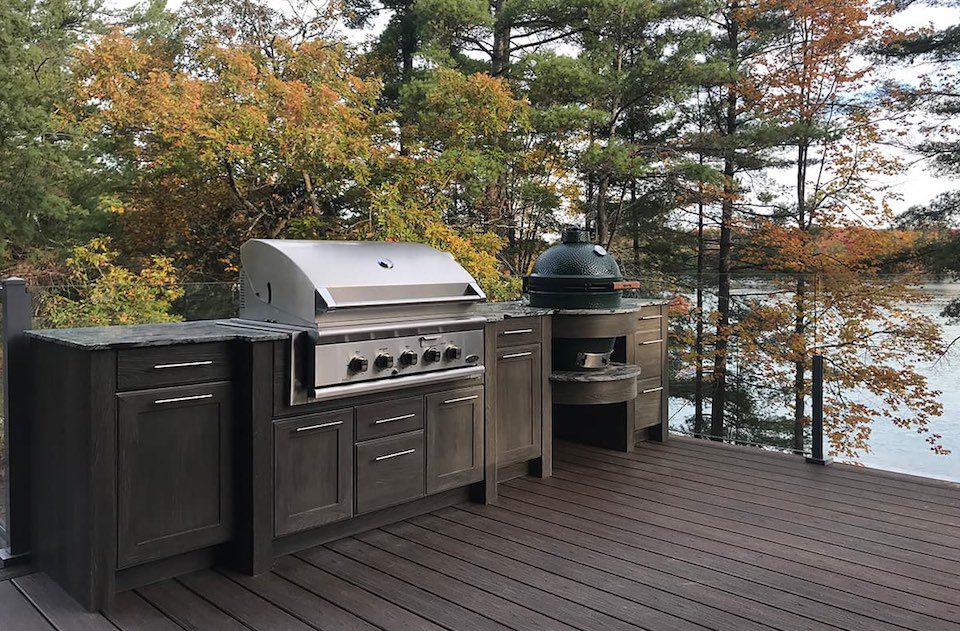 Your cottage's interior has been upgraded and remodelled to provide most of the modern conveniences of your GTA-area home.
There's a state-of-the-art kitchen, contemporary bathrooms, central air conditioning and heating, major appliances, and maybe even a wine cellar. 
Outside your cottage is a finished deck or patio, a newly rebuilt dock and boathouse, and a beachfront and property that is beautifully manicured. So what improvements remain to be done so your dream cottage will finally be complete?
Adding an outdoor kitchen and living space is the perfect way to complete your home away from home.
An outdoor kitchen and cottage life go hand in hand
Year after year, RE/MAX's annual Cabin and Cottage Trends Across Canada survey shows that the biggest reason anyone owns a cottage is to have a place where they can relax and spend time with family and friends.
We can't think of many better ways to enhance the experience of escaping the city for some R & R and hosting weekend get-togethers than by adding a cottage outdoor kitchen and living space.
An increasing number of suburban homeowners have recognized the benefits of adding an outdoor living space to their backyards or upgrading their existing deck or patio area. These additions enhance the functionality of a home and increase its amount of livable square footage.
Cottage country's "design renaissance"
Cottage owners are following suit. More cottagers are upgrading the exterior of their second home with a nicer cooking space and adding other features that boost their comfort level.
As the National Post writes, "Cottage country is undergoing a design renaissance. Cottage owners want meaningful amenities along with the great outdoors. They want to indulge in the simple pleasures they are too busy to enjoy in the city."
Most Ontarians would agree that our summers are way too short. That's why building a cottage that allows you to get as much enjoyment as possible from it during the warmest months of the year should be a high priority for any cottager.
Having a well-rounded cottage outdoor space for cooking, dining, and relaxing will make it even more of a valued summer getaway place you can't wait to get to and will hate to leave.
Why a cottage outdoor kitchen is a great investment
10% of Canadians own a cottage. Owning recreational properties in popular Ontario cottage country areas like Muskoka, the Kawarthas, and Haliburton has never been more desirable.
Even before the pandemic, there had been big demand and little supply for cottages in the province, especially for waterfront properties. The pandemic only made cottages more of a hot commodity, resulting in the current record-low levels of cottage inventory. 
The cottage market will eventually stabilize, but a well-located, remodelled Ontario cottage property will be in-demand for years to come. A big reason is that although Ontario may be a large province geographically, there are only a finite amount of easily accessible waterfront properties that are viable to build on.
Any major upgrades that can be done, such as adding a cottage outdoor kitchen, adds to the home's value and makes it that much more of an attractive property.
More often than not, luxury cottages that are newly built or that have been upgraded from a smaller cottage structure lack an outdoor cooking area befitting of the rest of their home. A well-appointed outdoor kitchen with space for dining and lounging is the perfect way to complete a high-end cottage building project.
Keep it in the family
Of course, a lot of cottage owners have no intention of ever selling their property and maintain the family tradition of passing it on from one generation to the next.
A long-term cottage ownership commitment makes investing in impactful upgrades that may cost a little more very practical. A new cottage outdoor kitchen and living space will be enjoyed right now, in your retirement years, and maybe even by your kids and grandkids years from now.
Additional outdoor kitchen benefits
A kitchen is called the heart of the home and cottage kitchens are no different. Doubling up on the amount of high-activity space your summer home has can only be a positive thing.
If you're still not convinced about why you should get a cottage outdoor kitchen, here are a few more outdoor kitchen benefits to consider:
an outdoor kitchen gives you more cottage cooking options
you can enjoy the natural beauty surrounding your cottage more
spending more time outside is good for your physical and mental health
cooking outdoors makes it easier to socialize with guests
grilling is one of the best ways to cook healthier meals
8 outdoor kitchen design principles
Any outdoor kitchen being built in Ontario should follow these design principles to create a cooking space with both form and function:
Design the kitchen to suit your lifestyle and how the space will be used. For example, if you plan to entertain a lot, a design that allows you to easily socialize with guests while preparing meals is ideal.
Choose durable, weather-resistant outdoor kitchen materials that won't rust or warp quickly, will retain their colours for a long time, and are low-maintenance.
Anchor the cottage outdoor kitchen with a built-in premium grill that cooks more reliably than a cheaper grill. Customize the size of the grill's cooking surface to accommodate how you will entertain.
Outfit the kitchen with enough cabinetry to take care of all your storage needs and cut down on the number of trips that need to be made into the cottage.
Add slightly more countertop space than you think you'll need so there's always enough room on the work surface for preparing meals, setting down cooked foods, etc.
Incorporate cooling appliances for easily accessible food and beverage storage. Extra appliances like side burners and warming drawers are also helpful amenities to have.
Consider adding a sink for added convenience if it's feasible with your cottage's plumbing infrastructure.
Take advantage of the wealth of styles, finishes, and colours available with your outdoor kitchen products to complement the exterior features of your cottage.
Unique design considerations for cottage outdoor kitchens
In addition to following these outdoor kitchen design principles, a cottage outdoor kitchen design gives you a few more things to consider.
The location and size of your cottage's deck or patio will largely determine how the kitchen design will come together. If you're lucky enough to own a cottage with a lakefront view, try to have your designer situate the outdoor living area where you can take full advantage of your scenic surroundings. Also factor in the position of the sun and the amount of wind that will affect the cooking and lounging areas.
Raised decks tend to be more common on cottage properties than residential ones, so deck support upgrades may be needed to handle the added weight of a kitchen.
Outdoor kitchens in traditional homes typically use a connection to a residential natural gas line to power their grills and fire pits or outdoor fireplaces. That option won't be available in most rural locations. Relying on several regular-sized propane tanks for your outdoor cooking needs isn't very practical, either.
The best solution is to get a large refillable natural gas or propane tank to fuel your outdoor kitchen and the inside of your cottage if needed.
Go big or go small
Outdoor kitchens come in all sizes and levels of design complexity. Cooking enthusiasts who love trying new recipes and having all the amenities of an interior kitchen can have a larger, fully-outfitted kitchen created so they can cook to their heart's content.
On the other hand, perhaps a small, simple outdoor kitchen design is more practical because you and your family are only casual grillers or your cottage's exterior has space limitations. A cottage outdoor kitchen design with a built-in grill, a little counter space, and a few storage cabinets beats a standalone grill and a rickety side table any day.
Expanding a smaller outdoor kitchen design, later on, is another option. Ask your designer to come up with a design that makes it easier to add on in the future if the need arises. It's always nice to have options, right?
Cottage outdoor living space ideas
The only thing nicer than having an outdoor kitchen at the cottage is having a kitchen that is accompanied by a bar, dining area, and outdoor living room.
A complete outdoor living space takes care of all of your cottage hosting needs as an evening on the lake unfolds. Your gathering of friends and family can move from pre-dinner mingling to dining al fresco with freshly grilled food, then ease effortlessly into the relaxation and entertainment portion of the evening in a comfy outdoor living room.
An outdoor bar or beverage station is tailor-made for entertaining at the cottage and keeping your guests happy with a cold beverage. Add some high-quality outdoor furniture to your cottage deck or patio to create a dining area where your grilled meals can be enjoyed in the great outdoors.
Enjoy the comforts of the indoors outside
Cottage outdoor lounging areas have evolved well beyond setting up a few fold-up chairs and some chaise lounges. Modern outdoor living rooms bring all the comfort of an interior living room out to your cottage deck or patio with furniture like couches, love seats, and recliners that are made for outdoor use. An ottoman and side and coffee tables can be added to round out your furniture arrangement and make the space feel like more of a living room.
Some Adirondack or Muskoka chairs (a cottage staple) and lounging furniture like a porch swing, rocking chair, or hanging chair will fit right in on a cottage deck or patio.
Another way to make any outdoor living space feel cozier while making a decorative statement is to add outdoor rugs and throw cushions for the furniture. Switch up the look of the area by occasionally changing the cushions and rugs (double-sided outdoor rugs are perfect for this).
Set up a cottage outdoor entertainment space
Some people like to escape to cottage country to reconnect with nature and disconnect a little from the things that contribute to the hustle and bustle of everyday life, such as modern tech. Others like to spend some of their time at the cottage enjoying the same entertainment options they're used to having at their primary home.
Enjoying things like movies, televised sports events, video games, and music nowadays makes it impossible to fully disentangle ourselves from the tech that powers our lives.
Setting up an outdoor entertainment space at the cottage is fairly simple. All you need is an outdoor television that is built with specialized components and parts that allows it to operate in damp and humid conditions. Outdoor TVs can also function in a wider range of temperatures than normal TVs, which makes them ideal for cottage use.
Boost the TV's sound quality with a wireless surround sound system or a high-quality sound bar. Now you're ready to enjoy the ball game or one of the latest Hollywood blockbusters in 4K with excellent audio quality.
Let the music play!
And we can't forget about music! Enjoying great summer tunes while lounging outdoors at the cottage is as much a part of the Ontario cottage experience as waterskiing or catching some rays on the dock. WiFi or Bluetooth wireless portable speakers let you bring your music anywhere around the cottage area.
Another option is to get a wireless audio system installed at your cottage. Weatherproof, low-profile wireless speakers with great sound can be strategically positioned to provide complete sound coverage on your cottage property.
How to stay connected while you're at the cottage
A good WiFi signal will be required to use most of the aforementioned tech, which can be an issue for remotely located cottages. Some luxury grills have smart tech that requires a WiFi signal. Having internet access at the cottage is also useful so you can spend more time at your family retreat by working remotely.
If your cottage is unable to get a "traditional" internet connection via land-based cable, phone, and fibre optic network systems, here are a few solutions to get online while you're at the cottage:
Set up a WiFi hotspot via a smartphone's cellular data connection. Using a tablet or laptop with a SIM card will work, too. If your cellular signal is weak, a cell signal booster will help.
Use a wireless internet service that is tailor-made for rural areas. This method works by using a small antenna installed outside a cottage which connects to a wireless network.
Get a satellite internet system like SpaceX's Starlink, which uses a satellite dish to receive a signal from space that provides you with high-speed internet access.
Keep in mind that the first two cottage internet solutions (especially the WiFi hotspot method) won't give you the kind of ultra-fast internet speeds you're used to in the city and suburbs. They can still provide enough functionality to serve most of your online needs at the cottage.
Keep things cool, dry, and (almost) bug-free
Cottagers like to be outdoors as much as possible, but a rainy day can spoil the fun. An overhead covering for a cottage outdoor kitchen and living area comes in very handy when you want to stay dry or stay cool on a hot, sunny day.
Nothing says "I'm at the cottage" more than the strong smell of bug repellant and having to constantly swat away mosquitoes, horseflies, and other pests.
A screened-in deck or patio is an effective and less intrusive way to reduce the number of insects around a cottage deck or patio. You won't have to hear the constant sound of bugs being fried by a bug zapper or take in the aroma of burning citronella candles or coils. Get a screen enclosure system that can be rolled up or retracted during the day.
A fire pit extends your cottage season
An outdoor living room at the cottage provides a comfortable place to relax and wind down after a sun-filled day of water activities. A natural gas or propane fire pit adds to your outdoor living enjoyment and is perfect for the laid-back, cottage lifestyle.
Fire pits boost the ambiance in any outdoor setting. Natural gas and propane fire pits are easier and safer to use than wood-burning fire pits (which may not even be allowed in some cottage areas).
Another benefit of having a fire pit is that it can help extend your cottage season. They provide a steady, controllable level of heat that can take the chill off a deck or patio in the early spring and late fall.
"Today, more than ever before, cottage buyers are using their properties year-round, making them even more valuable," said John O'Rourke, a Royal LePage Lakes of Muskoka broker.
Savour life outdoors at your cottage
Outeriors doesn't just create amazing outdoor kitchens in Toronto and its surrounding area – we also design cottage outdoor kitchen and living spaces.
Work with us to create a personalized cottage outdoor kitchen and living space that will make your home away from home an in-demand summer destination for friends and family.
We take care of everything. Our full-service approach is designed to make your project stress-free.
Schedule a free design consultation with us to get your outdoor kitchen and living space project started.
Please share this post if you found it useful.
See also: